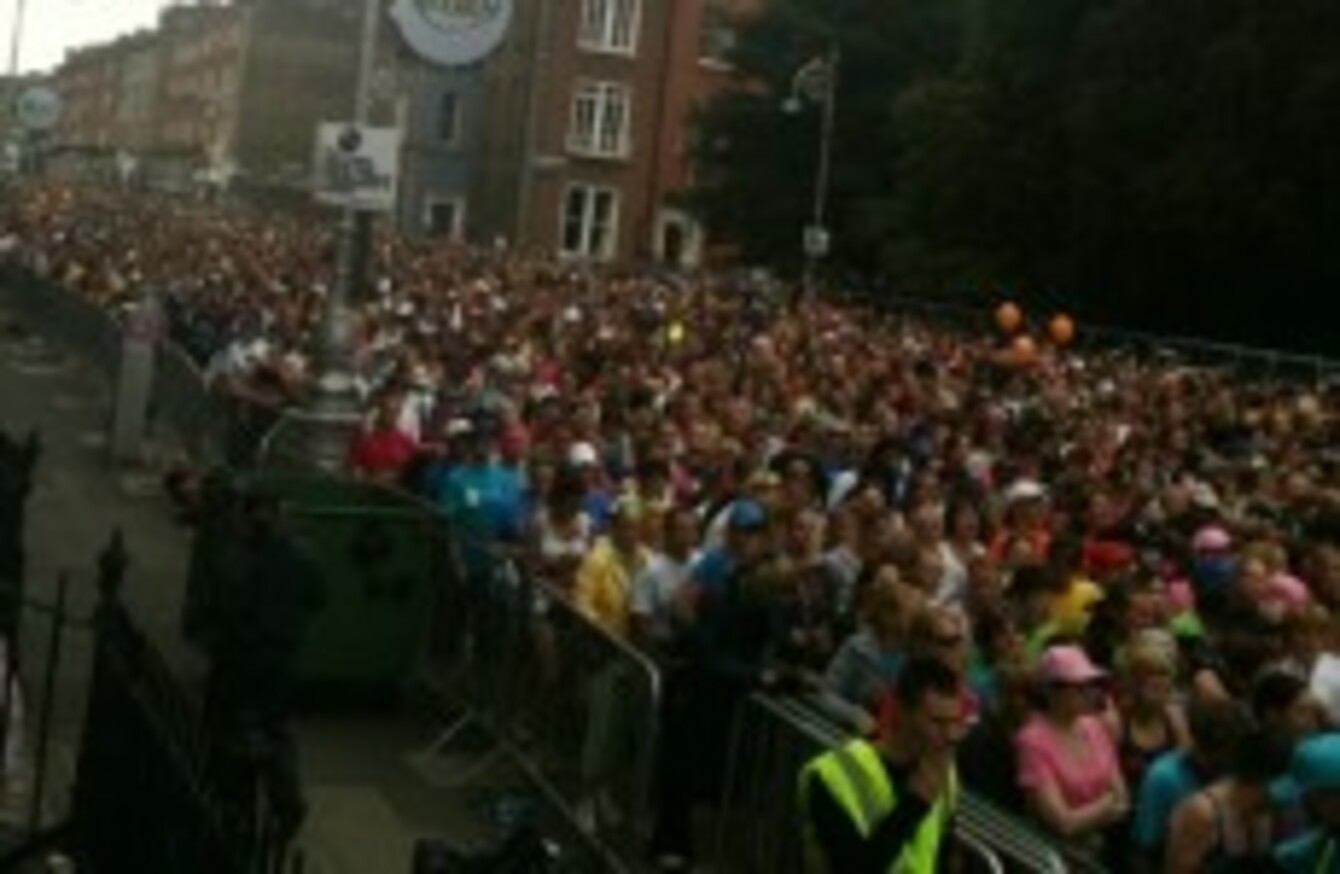 Tens of thousands taking part in the 2011 Flora Womens' Mini Marathon
Tens of thousands taking part in the 2011 Flora Womens' Mini Marathon
Updated 3.15pm
NEARLY FIFTY THOUSAND woman will run, jog, walk, roll or maybe even crawl over the 10km course of the Flora Women's Mini Marathon this afternoon.
The Mini Marathon has been run in Dublin since 1983 and is the world's biggest female-only race. The Irish Independent reports that €10 million will have been raised for charity by this evening, and that €137 million has been collected in the history of the marathon.
The race got underway from Fitzwilliam Square at 3pm this afternoon, and The Irish Times reports that by the time some of the runners have reached the finish line at St. Stephen's Green, some of the women will just be heading off from the starting line.
Independent TD Catherine Murphy (fifth from right) prepares to run the Mini Marathon for Special Needs Parents (image: @spneedsparents via Twitter)
Traffic restrictions have been in place along the route since early this morning. The following roads will be closed for various time periods:
6am – 6.30pm: St. Stephens Green East, Earlsfort Terrace closed
8am – 4.30pm: Fitzwilliam St Upper and Lower, Fitzwilliam Place, Merrion Square East, Merrion Square North all closed
8am – 6.30pm: St. Stephens Green South, Lower Leeson Street, Hatch Street closed
8am – 7pm: Merrion Square South, Merrion Square West, Merrion Street Upper closed
12.30pm – 6.30pm: St.Stephens Green North, Kildare Street closed
3pm – 4.45pm: Nutley Lane closed
There will also be traffic diversions in operation along the following routes:
Mount Stree
Northumberland Road
Lansdowne Road
Pembroke Road
Ballsbridge
Merrion Road
Nutley Lane
Stillorgan Road from Belfield to Donnybrook
Donnybrook Village
Morehampton Road
Leeson Street
Some Dublin Bus services are also affected so check with their website before you head out.
Meanwhile the Cork City Marathon got underway at 9am this morning, with 26 miles stretching out in front of the runners there. The Irish Independent tells the story of 18 friends who are running their first marathon in Cork today to raise funds for a friend who has been diagnosed with motor neurone disease. €3 million will  have been raised by the time the last runner crosses the line.
Traffic diversions are also in place in Cork will some closures lasting until 5pm. The event started on Patrick Street and that will remain closed until 5pm. Some areas have alread reopened as the marathon got underway at 9am, but bear in mind that closures will continue throughout the afternoon.