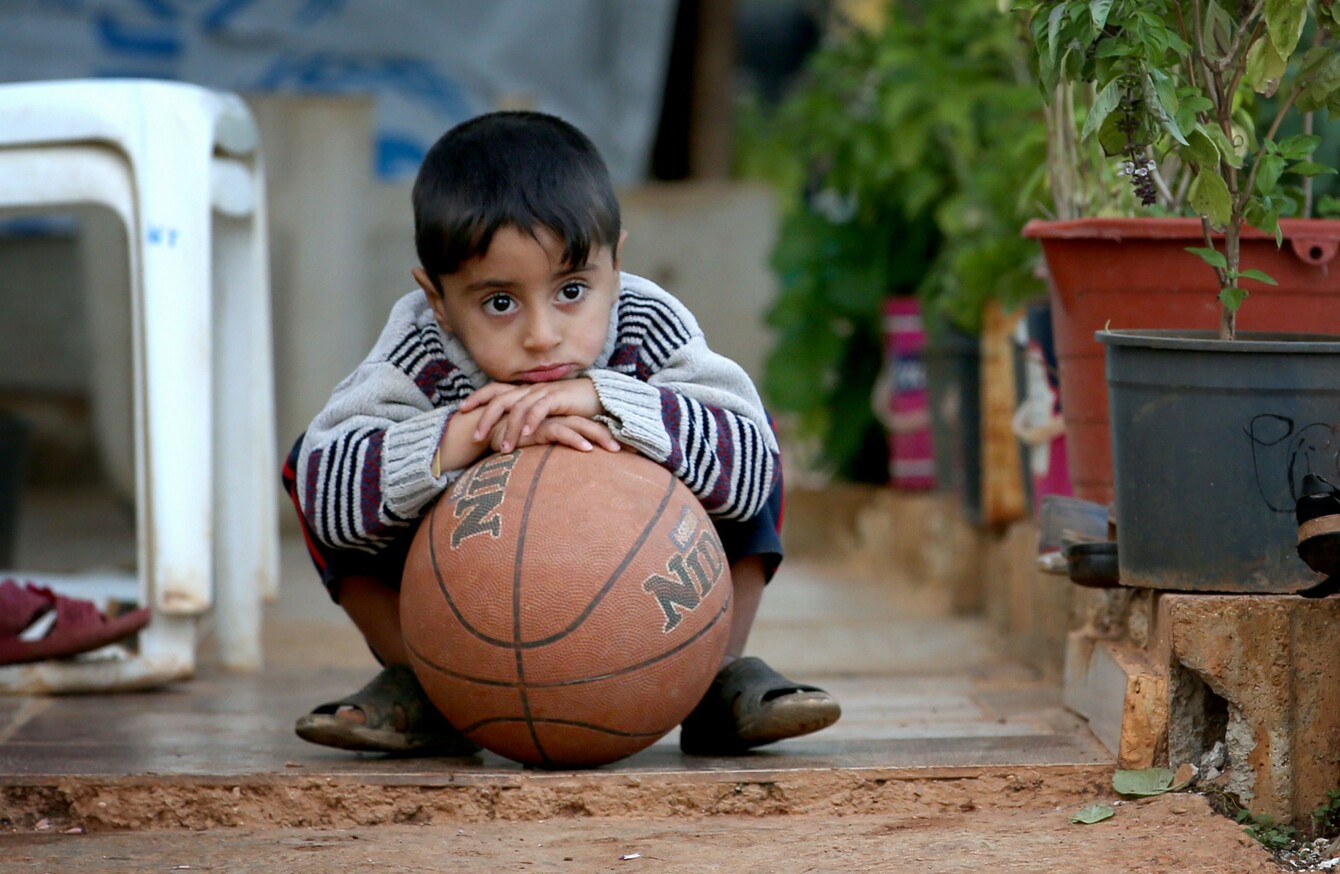 A Syrian refugee child in Lebanon on Sunday.
Image: PA Wire/PA Images
A Syrian refugee child in Lebanon on Sunday.
Image: PA Wire/PA Images
THE NUMBER OF refugees resettled in Ireland has doubled in the last two years, but the overall number resettled remains low – both in the context of the crisis and compared to some other countries in Europe.
That's according to a report from state-backed think-tank the ESRI.
Ireland pledged to resettle 520 under an EU programme, almost double the number proposed by the European Commission.
As of November 2016, according to the report, Ireland had resettled 98% of this total – ahead of schedule.
The majority of those resettled have been of Syrian origin.
"This study shows that Ireland has a well-established and respected resettlement programme and that the number of refugees admitted under this programme has increased significantly in recent years," report author Samantha Arnold said.
"Ireland is also doing well in meeting European-level resettlement commitments ahead of schedule. The private sponsorship programme available in 2014 represented a new and innovative way to bring family members of Syrian nationals to safety in Ireland.
"However, in the context of the crisis, Ireland and the EU continue to be criticised for pledging to resettle such a small proportion of those in need of refuge.
The forthcoming restriction on family reunification in Ireland will impact negatively on the ability of refugees, including resettled refugees, to reunify with family members left behind.

UN refugee agency the UNHCR has expressed concern that the International Protection Act 2015 will limit the scope of family reunification for refugees in Ireland.
According to the ESRI:
When the Act is fully commenced family reunification will be restricted to a refugee's immediate family members and a 12 month time limit for applications will be introduced. Where possible, Ireland currently resettles whole nuclear families.
Criticism 
Ireland responded to the refugee crisis by establishing umbrella group the Irish Refugee Protection Programme to manage the resettlement programme – which also covers the relocation of asylum applicants from within Europe and the integration of new arrivals here.
Formal orientation courses and longer-term targeted integration supports are provided for resettled refugees as part of the resettlement programme.
There have also been calls to extend such supports to refugees exiting the direct provision system. The Irish Refugee Council said back in July that the State should support people leaving direct provision centres in the same way it helped people arriving here from world trouble spots.
Lebanon 
Answering questions on the issue in the Dáil recently Minister of State for Justice David Stanton said by mid-December "all but one of the quota of 520 resettled refugees for 2015/2016 are expected to have arrived".
Responding to Labour's Joan Burton, he said:
"In addition, the Government recently announced that it is extending the resettlement programme to take in a further 520 refugees from Lebanon in 2017."
260 refugees had already been selected during a selection mission to Lebanon in October of this year and are expected to arrive in spring, he said.
Most of these refugees are also Syrian. A further selection mission to Lebanon will be arranged in the coming months to select the remaining refugees due to come to Ireland in 2017 under the resettlement programme.