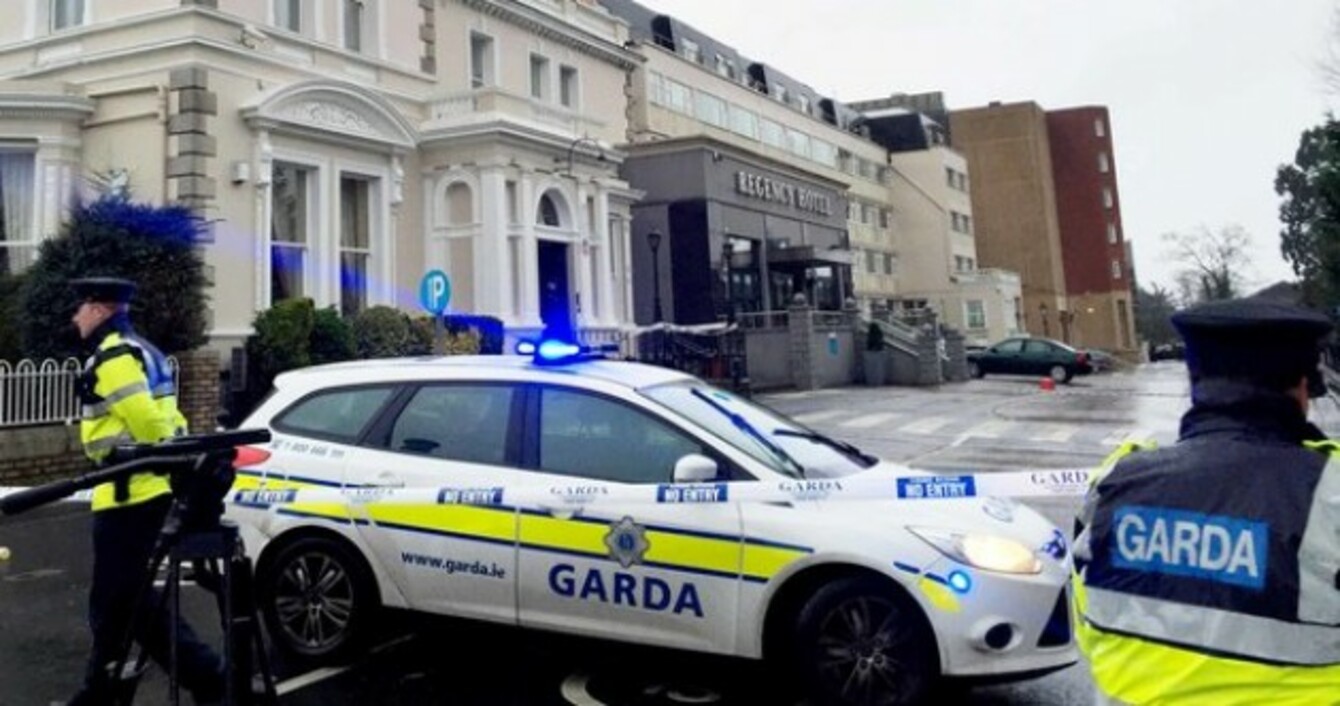 Image: Sasko Lazarov/RollingNews.ie
Image: Sasko Lazarov/RollingNews.ie
JUST AFTER 2PM on 5 February last year, shots started to ring out inside Dublin's Regency Hotel.
A boxing weigh-in had been underway, ahead of an MGM event called 'Clash of the Clans'. Footage from inside the hotel showed crowds running from the venue, a crying child asking: "Daddy, what was that?"
"Things were pretty chaotic," recalled Garda Assistant Commissioner Jack Nolan, when he spoke to TheJournal.ie recently.
There were people running around, people leaving the scene, scattering in all directions.
A number of gunmen had entered the venue – some posing as armed gardaí, another dressed as a woman – causing havoc. One man, 32-year-old David Byrne, an associate of the Kinahan drug cartel, was shot dead. Two other men, aged 30 and 25, were also injured.
"Suddenly I'm looking at a man lying beside me, covered in blood," hotel manager John Glynn said while describing to RTÉ how he heard a bang, believing it to be a bottle smashing.
Kevin McAnena, a BBC journalist who was standing in the crowded lobby and witnessed the assassination, today says it is "all a bit blurry looking back on it".
"People all started rushing into it from the hallway leading to the function room where the weigh-in was happening," he recalls.
"I didn't know why so I stood to the side by the reception desk and then I heard a couple of really loud bangs.
"Then two men dressed up in SWAT team outfits rushed in through the front doors. I remember a real feeling of danger and panic coming over me then. Somewhere in the middle of this, one man tried to run through the lobby and one of the gunmen turned and shot him right beside me.
It seemed like you could feel the power of the gun in the air around us, and the noise from it was unbelievable.
In a terrifying turn, McAnena was then briefly targeted by the shooters.
"I jumped over the reception desk to take cover and one of the gunmen then came and pointed the gun down at me on the ground. I think when they saw my face and heard my voice they knew I wasn't one of the targets."
Not from Dublin, McAnena told TheJournal.ie that he had "zero knowledge" of any criminal connections. 

"At the time, I didn't know shots were fired in the weigh in room first, I just saw people running, and then the gunmen dressed up as police rushing in. So I sort of still thought it was police in the minutes afterwards, although the way they just turned and shot the man made me question that – but I was also thinking, 'people dressed up as police would be too outrageous, that couldn't be right'.
"It all happened so quickly and was such a blur that I couldn't make sense of it, and it was very confusing."
In the aftermath, he hid in a back office room with a staff member who also knew nothing of gangs in Dublin.
"I remember him saying 'This is like Paris all over again', so he was thinking it was another Bataclan incident. That was only a couple of months previous.
I just remember this almost childlike sense of panic and helplessness that was all around. All of us were at the mercy of these men and it really felt like we might die.
Garda response
"During my career, my 36 years, I've seen a lot, and a lot of things that you would prefer not to see and a lot of things that have caused a lot of harm to individuals and unfortunately a lot of lives that have been lost," Garda Commissioner Nóirin O'Sullivan commented at a media briefing this week.
The Regency, yes it was labelled as spectacular, it was spectacular, it was quite, I suppose, an elaborate murder – but that's what it is, it's a murder.
"It was pretty unusual activity for three armed people to enter a hotel and open fire on the people who were inside. And for people to be dressed up in pseudo garda Emergency Response Unit uniforms. Of course to the trained eye you could easily see they were fakes but to people present, I'm sure they were pretty much disconcerted with what they'd seen," Assistant Commissioner Nolan added.
"It was a crime on a pretty unprecedented scale, you don't have incidents of multiple armed people going into a venue and opening fire indiscriminately."
Though there was speculation in the immediate aftermath that the incident was a terrorist attack, Nolan said gardaí were – at an early stage – "pretty sure this was crime-related rather than either a national terrorist issue or an international terrorist issue".
At the time of the shooting, senior gardaí insisted there had been "no specific intelligence" about a potential incident at the boxing weigh-in. The Assistant Commissioner repeated this comment when he spoke recently to TheJournal.ie, adding that "nobody was really sure what would happen next".
"But in gangland type killings like this, it is pretty usual that there is some form of retaliation," Nolan said.
The murder of Eddie Hutch, brother of Gerry 'The Monk' Hutch came just three days after the attack at the Regency Hotel. Since then, another seven men have been killed in this feud.
Paddy Haughey, one of the founders of the local Plough Youth Club, said it was a frightening time for families in the area.
"It was a reminder of how vicious and evil these people can be," he told TheJournal.ie
"They don't seem to have any conscience, then can kill one another and don't see the harm they're doing at all."
Through his work with young people in the Ballymun area since the mid-80s, Haughey has watched the damage done to his community by drug gangs.
"Some of the kids who come to us are already so far gone – we had two of them in not long ago totally running amok, we had to get the guards in. The dealers, they've giving them free drugs to get them started and then they get hooked and have to pay for them. These kids' lives are destroyed." 
Lasting impact
Staff at the Regency Hotel and surrounding businesses were reluctant to talk to reporters this week as the anniversary approached. The hotel said in the aftermath of the attack that it suffered an "immense loss of business" and serious reputational damage.
A number of people have been charged in connection with the gangland feud in the last 12 months – including Patrick Hutch Junior, over the murder of David Byrne at the Regency Hotel. He will be tried in the non-jury Special Criminal Court.
"There has been a significant amount of progress. I think with the scale of the investigation, it would be hard for people unconnected with it to understand the amount of effort and time and resources and money that have been put into it," Nolan said.
He said 12 shootings have been prevented by gardaí based on intelligence over the last 12 months and there has been a 47% reduction in discharge of firearm incidents in Dublin.
I think there will be other arrests and charges in the course of the coming months. I think the amount of property that has been seized – significant seizures by CAB of cars of luxury goods, significant sums of cash and that has run all year along.
He referenced Operation Thistle, which he said focused on "what we could call the levels beneath the main players in this operation".
"We have taken a lot of their property and we will continue to do that for the coming year," he said.
There will be portrayals that these are only dents in big players' operations but all of these dents have an impact. I'm pretty confident of that.
"We have disrupted persons who have affiliations to both sides on this. Something that we are conscious of and that we keep at the front of our minds – that there are two sides to this. We don't underestimate any of the players in this."
For the witnesses to the 5 February event, they've tried to get on with their lives.
McAnena, the BBC journalist caught up in the incident, says he doesn't look back.
"I was obviously rattled for the next day or so, but after that I felt no lasting effect from it. I moved to Canada shortly after so I wasn't meeting people who were asking me about it for the next few months, so that meant I could draw a line under it.
"Thinking on it now, it was a bizarre and crazy situation, especially with the way things spiralled in the weeks afterwards with more shootings. And it's obviously very sad for the people involved who have had friends or family killed."