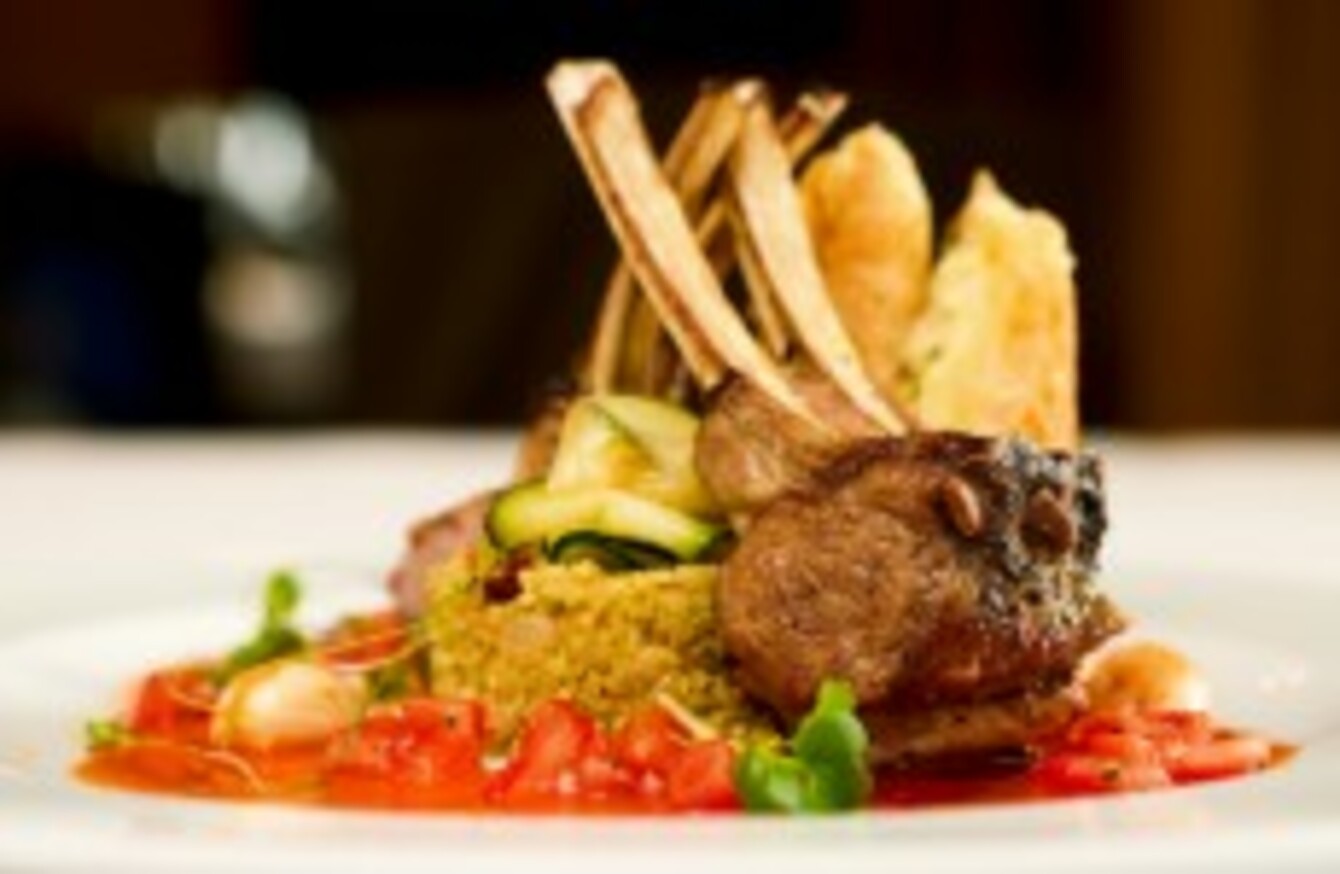 Image: Shutterstock/Maksim Toome
Image: Shutterstock/Maksim Toome
LOOKING FOR AN eating experience to knock your taste buds into orbit? It seems Restaurant Patrick Guilbaud in Dublin's south city centre is the place to go.
The top-of-the-range Merrion Street eatery won the title of Ireland's best restaurant at last night's Irish Restaurant Awards at the Doubletree Hilton on Burlington Road.
Speaking to TheJournal.ie, restaurant manager at Patrick Guilbaud Stéphane Robin said that everyone involved with the establishment is "thrilled" at the result.
"For the whole team this is fantastic. It's recognition of a lot of hard work, and it's recognition from both other restaurateurs and the public, so it means a lot," he said.
We had a fabulous celebration, everyone is thrilled, including our clientele who are all very excited and have been congratulating us all day.
The menu for the six-course gala event was designed by five chefs who had previously won the title of Best Chef at the awards.
Voting for the awards is both public and private, with 30,000 separate nominations received during the three-week public phase. Once the nominations are received the various restaurants were rated by both judging panels and a mystery guest visit.
The award for Best Chef went to Mickael Viljanen of The Greenhouse, Dublin, while Best Hotel Restaurant was given to The Oakroom  at the Adare Manor Hotel in Limerick.
Best Casual Dining experience meanwhile went to Rua in Co Mayo.
Deanes EIPIC in Belfast meanwhile is a dining experience to watch having picked up the Best Newcomer award, while the award for Ireland's Best Café went to Idaho Café in Cork.
"This year's awards have been the biggest, brightest and the best," said Anthony Gray, President of the Restaurant Association of Ireland.
Ireland has so much to offer to the culinary tourist, and these Awards remind everyone of the quality and class of Irish restaurants and Chefs.
The Irish restaurant scene is vital to the economy, employing 72,000 people and generating revenue in excess of €2 billion per year, it's great to celebrate the work that all of our restaurateurs around the country do to keep this aspect of our culture alive and kicking.
Meanwhile, if you're looking for something a bit more local, awards were also doled out by region as follows:
Best Restaurant:
Connacht – Kai Café & Restaurant, Galway
Dublin – Restaurant Patrick Guilbaud
Leinster - Campagne, Kilkenny
Munster - 1826 Adare, Limerick
Ulster – Ox, Antrim
Best Chef:
Connacht – Jessica Murphy of Kai Café and Restaurant, Galway
Dublin – Mickael Viljanen of The Greenhouse
Leinster – Rob Krawczyk of Brabazon at Tankardstown House, Meath
Munster – David Hurley of The Dining Room at Gregans Castle Hotel, Clare
Ulster – Neven Maguire of MacNean House and Restaurant, Cavan
Best Casual Dining:
Connacht- Rua, Mayo
Dublin – ETTO
Leinster – Eastern Seaboard Bar & Grill, Louth
Munster – Liberty Grill, Cork
Ulster – Graze, Antrim
Best Hotel Restaurant:
Connacht – West at The Twelve, Galway
Dublin – The Cliff Townhouse
Leinster – The Cellar Restaurant at Step House Hotel, Carlow
Munster – The Oakroom Restaurant at Adare Manor Hotel, Limerick
Ulster – Ardtara Country House, Derry
Best Gastro Pub:
Connacht- Blakes Corner Bar, Galway
Dublin – East Side Tavern
Leinster – Hartes of Kildare, Kildare
Munster – Toddies at the Bulman, Cork
Ulster – The Poacher's Pocket, Down
Best Newcomer:
Connaught – The Dough Bro's Wood Fired Pizza, Galway
Dublin – Amuse
Leinster – La Côte, Wexford
Munster – AROI, Limerick
Ulster – Deanes EIPIC, Belfast