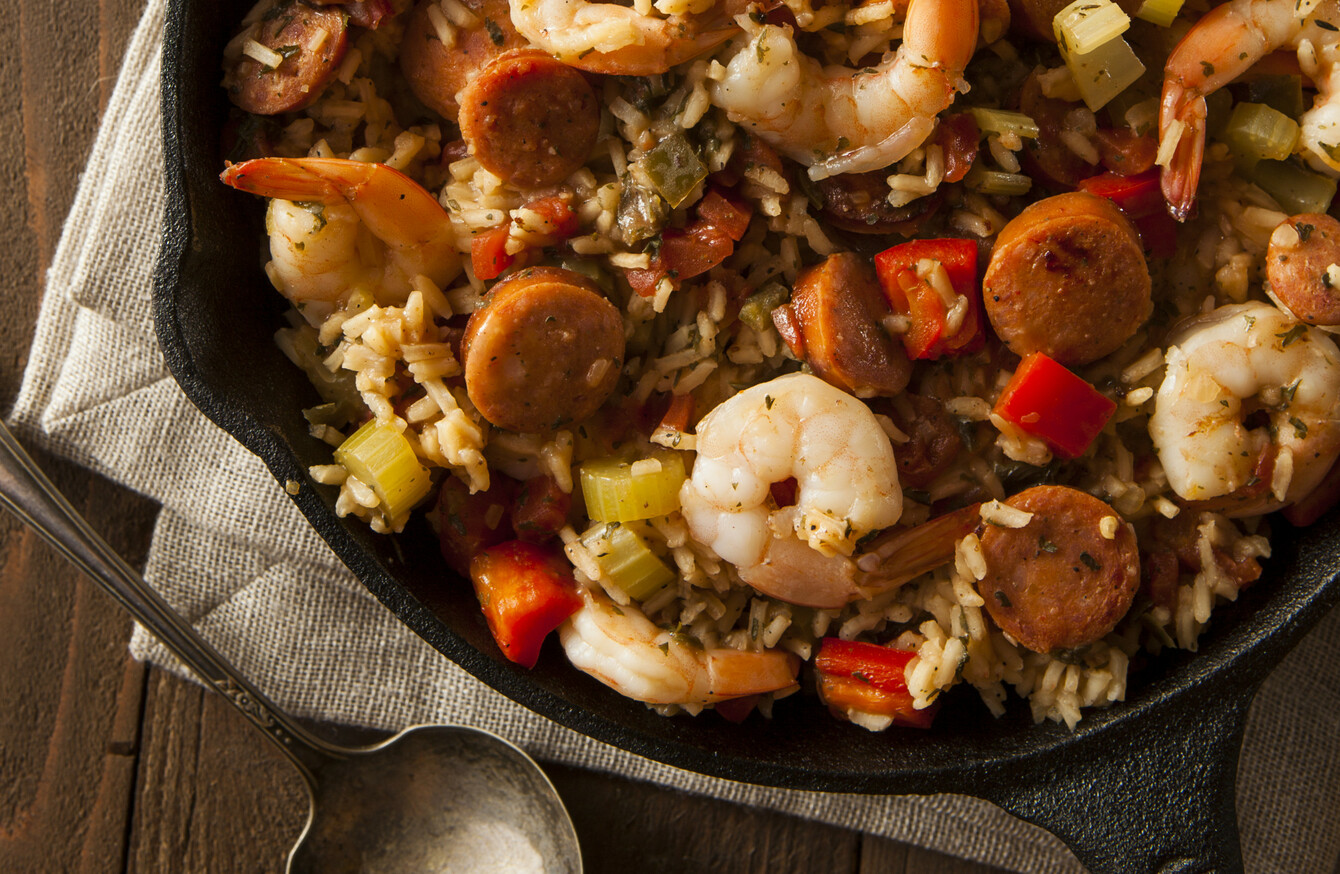 Image: Shutterstock/Brent Hofacker
Image: Shutterstock/Brent Hofacker
RICE IS ONE of the most popular store cupboard ingredients around the world, and is a staple in almost every household. 
From the classic fried rice to a tasty one-pot jambalaya, there's plenty of ways to make rice the focal point of any meal. Rice is quick to cook, doesn't require any prep, and is naturally low in saturated fat.
So if you've got a bag of brown, basmati or long grain rice that has been lying around for a while, now is the perfect time to transform it into your next main meal. Find some inspiration with our five recipe suggestions below.
Quick prawn fried rice: Firstly, cook the rice, then drain well and set aside. You can prepare the other ingredients while the rice is cooking; chop up onion, garlic, ginger and peppers.
Heat some oil in a large frying pan and, once it's very hot, tip in the vegetables and a handful of peeled prawns. Flash fry for 2 minutes, then add in peas and a splash of soy sauce, followed by the drained rice. Stir to combine, then make a well in the centre of the pan and add in one beaten egg.
Stir the egg using a fork to break it up as it cooks, then stir it through the rest of the mixture, and continue tossing for another few minutes, adding another splash of soy sauce if needed. Once the egg is cooked, serve straight away, topped with some chopped spring onion.
Jambalaya: This delicious one pot makes the perfect midweek meal with very little preparation and washing up involved. Heat oil in a heavy based pot and brown some chopped chicken fillets, then remove and set aside. In the same pan, fry sliced chorizo, crushed garlic, chopped onion, peppers and celery.
You could add in prawns at this stage, which is a nice addition in this recipe by Marmaduke Scarlet. Season with paprika, salt and pepper, then return the chicken to the pot along with fresh thyme, a bay leaf, rice, tinned tomatoes and chicken stock. Simmer gently for about 20 minutes, until the liquid has been absorbed and the rice is fully cooked.
Vegetable rice pilaf: Add a mixture of chopped vegetables to a pot and fry gently along with some garlic and ginger for 10-15 minutes, until soft. Remove the vegetables from the pot and set aside, heating up a little more oil in the same pan, along with a cinnamon stick, a teaspoon each of cumin and turmeric, and cardamom pod.
Tip uncooked basmati rice into the pot and stir the spices for about a minute, then remove the cinnamon stick. Cover with stock, then simmer for 10 minutes, adding more stock if the rice becomes too dry. Add in the cooked vegetables, then cook for another 5 minutes. Serve with chopped coriander and naan bread. Or, if you're looking to add some protein, top with an egg, which Wholesome Ireland does in her take on the recipe.
Rice, bean and tuna salad: This filing and tasty salad works equally well with brown or white rice, or a mixture of both. Cook the rice, then rinse with cold water and drain. Chop red onion, red peppers, and add these to a bowl along with a tin of drained chickpeas or kidney beans, and a tin of tuna.
Stir through the cooked rice, along with a squeeze of lemon juice, seasoning, and a spoonful of pesto. This is delicious served as a side dish, or on a bed of leaves for lunch.
Sausage, tomato and rice bake: Simmer the rice for about 10 minutes, then drain and set aside. In a pan, brown some sausages, then stir in sliced onion, peppers, mushrooms, garlic and smoked paprika. Cook for 10 minutes, then transfer to a gratin dish.
Add the drained rice to the dish, followed a tin of chopped tomatoes and a cup of chicken stock. Stir to combine, top with grated cheese, and bake for 20 minutes, until the liquid has been absorbed. Serve straight from the oven with a side salad and some fresh baguettes.