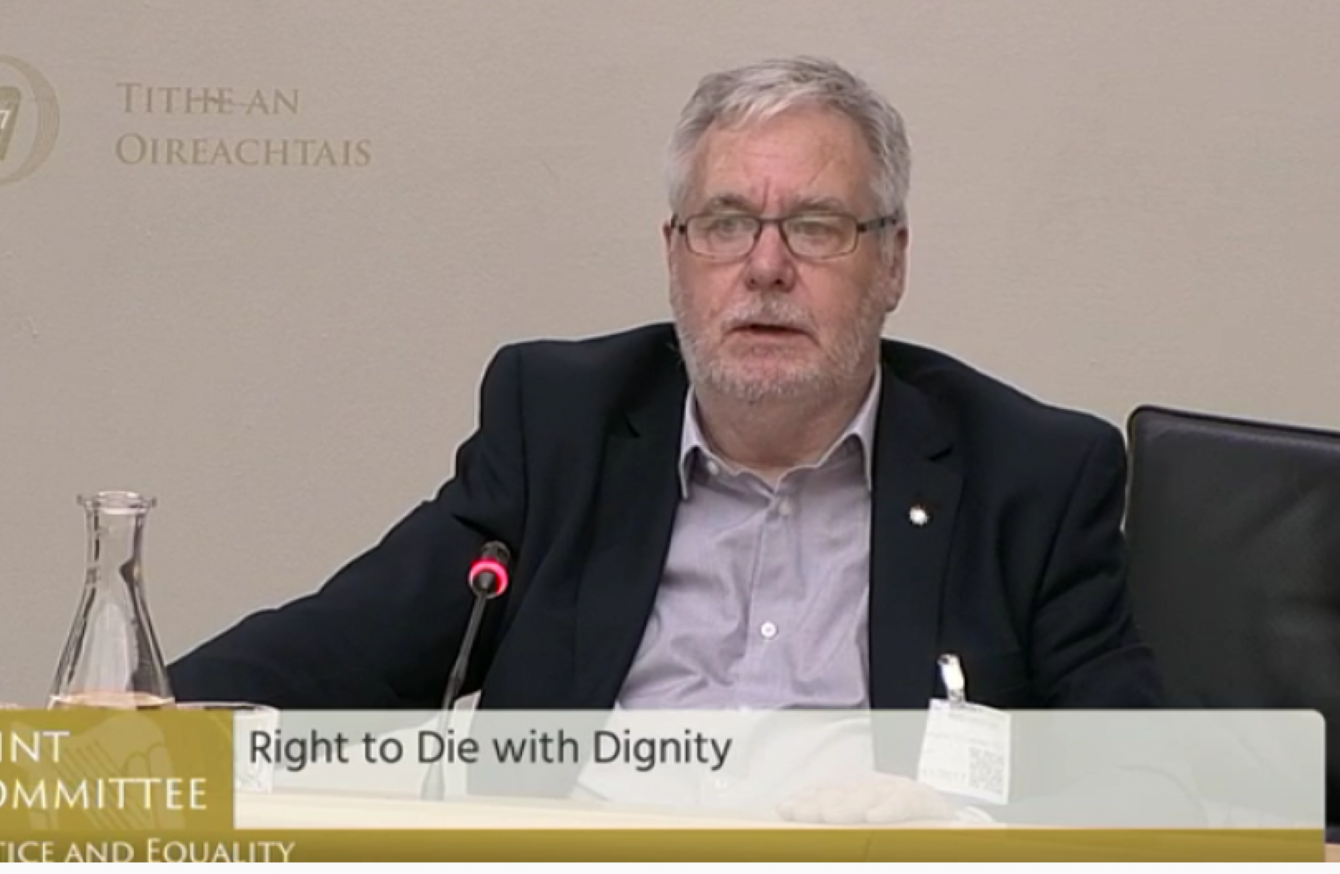 Tom Curran and his wife of Marie Fleming fought in the courts to establish a constitutional right to die in April 2013.
Tom Curran and his wife of Marie Fleming fought in the courts to establish a constitutional right to die in April 2013.
A PROMINENT 'RIGHT to die' campaigner Tom Curran has told the Joint Committee on Justice and Equality there is nothing preventing the Oireachtas from enacting a law which would allow for assisted suicide for people, while also protecting the vulnerable.
Curran's wife, Marie Fleming, lost her Supreme Court appeal to establish a constitutional right to die in April 2013. She died eights months later, aged 59.
He told the committee today:
The person I loved, Marie, suffered from MS and, many years ago, when her MS moved from relapsing remitting to progressive and she saw the it was taking more and more control of her life and her ability to live she decided that the MS was not going to take control of her death.
She knew that she faced to likelihood of a prolonged and possibly painful death and she, as the strong-willed person she was, she was not prepared to let that happen. Marie didn't want to die. Far from it. Marie wanted to live, she was never suicidal, but she didn't want a bad death.
He said when she first explained her wish to him it seemed "a very natural" thing to want. It was only afterwards the family discovered that what she wanted was "by no means easy to achieve" and they had to face the reality of the situation.
Curran questioned why, if it is legal for rational person to take their own life, why is assisting a person to do something that is legal a crime?
He said assisted suicide is about providing a "peaceful" and "painless" death.
"In most cases the reason for making the decision to die is because the person is suffering from some progressive and possible incurable disease which will eventually make it physically impossible for them to end their own life. To deny a person in these circumstances access to something that is legal and available to any able-bodied person has to amount to discrimination," he told the committee.
None of the parties have had the courage to tackle the issue, according to Curran, who said the closest the Dáil came to addressing the issue is a Private Members Bill, which was drafted by Curran and Minister of State John Halligan.
The Dying With Dignity Bill 2015 was moved by Halligan as a Private Members' Bill during the last Dáil but unfortunately it was not selected for debate. The minister did not withdraw the Bill from the lottery system which selects Private Members' Bills, but as a minister for State he cannot propose the Bill.
The minister remains a supporter of 'right to die' legislation and it's understood he has been exploring other mechanisms by which the Dying With Dignity Bill could be brought to the Dáil, including the possibility of another TD moving the Bill.
In their opening statement, the Irish Association for Palliative Care said today that it rejects the idea that 'dying with dignity' is associated with the right to assisted suicide or euthanasia.
The group said it is aware that there needs to be greater awareness among the public and healthcare staff about the value of palliative care, and greater education and training for healthcare staff to ensure that all staff meet the appropriate palliative care competences developed by the National Clinical Programme for Palliative Care.
Curran said his wife had palliative care for many years, and there is no doubt that it made her life better, but he said there should still be a choice.
"At a particular point they feel their life is not worth living  – that is a right that everyone should have to say that.
"It is only the individual person who can decide what they are prepared to tolerate. What right do we have to say to them that you should continue to live in that discomfort and pain," said Curran.