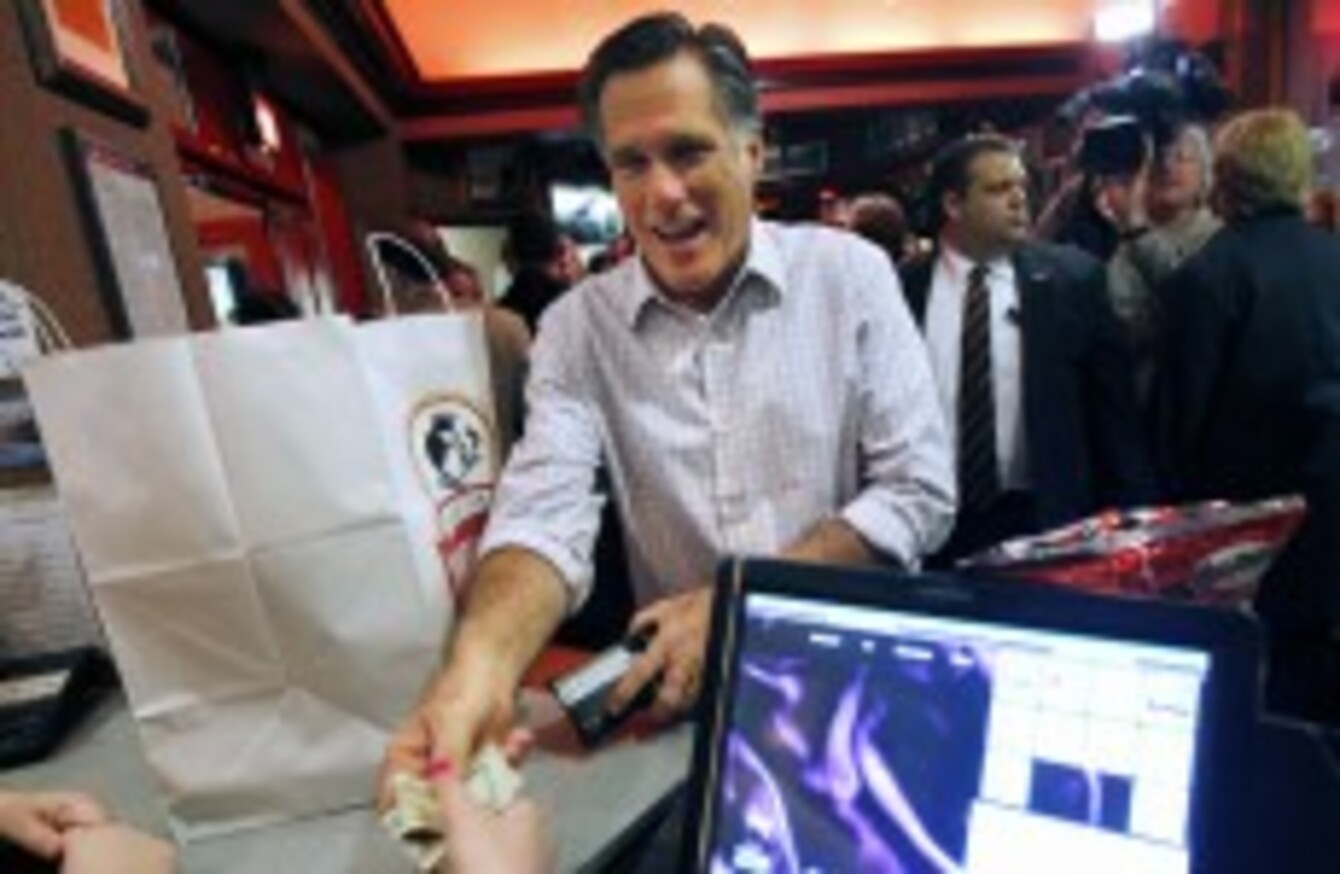 Mitt Romney buying a takeaway while campaigning in Ohio last night
Image: Gerald Herbert/AP/Press Association Images
Mitt Romney buying a takeaway while campaigning in Ohio last night
Image: Gerald Herbert/AP/Press Association Images
MITT ROMNEY ROLLED to a double-digit victory in Washington state's Republican presidential caucuses last night, his fourth campaign triumph in a row.
The victory is a fresh show of strength for the frontrunner in the run-up to 'Super Tuesday', when 10 states will hold their contests across the US.
Rick Santorum and Ron Paul battled for second place last night, while Newt Gingrich ran a distant fourth.
Claiming his victory, Romney said in a statement that the win meant Washington state's voters "do not want a Washington insider in the White House. They want a conservative businessman who understands the private sector and knows how to get the federal government out of the way so that the economy can once again grow vigorously. "
Romney's West Coast victory came on the heels of twin primary triumphs over Santorum earlier in the week in hard-fought Michigan and lightly contested Arizona, as well as a narrow win over Paul in Maine caucuses earlier in February.
Returns from caucuses in 60 percent of Washington state's precincts showed Romney with 37 percent of the vote, while Paul and Santorum each had 24 percent. Gingrich was drawing 11 percent.
Romney's win was worth 30 of the 40 delegates at stake. Paul and Santorum each won five.
That brought Romney's overall total to 203 delegates, according to an Associated Press count that includes party officials who will vote on the selection of a nominee but are not selected at primaries or caucuses. Santorum had 92, Gingrich 33 and Paul 25. It takes 1,144 delegates to win the nomination at the Republican National Convention this summer in Tampa and challenge President Barack Obama in the fall.
Super Tuesday
Romney, Santorum and Gingrich were all campaigning in Ohio — the most intensely contested of the Super Tuesday states — as the first caucus returns were reported.
While polls show Santorum in a close race with Romney in the state, it is not clear he can fully convert any success in the primary into delegate strength. There are 63 delegates at stake in Ohio, of which 48 will be allocated, three at a time, to the winners of the state's 16 congressional districts. Santorum has only 30 of the 48 delegate slots filled for those contests.
Of the 10, Ohio is the crown jewel, a big industrial state. There also are primaries in Massachusetts, where Romney was governor, Georgia, and Virginia, where Gingrich and Santorum failed to qualify for the ballot. Other primaries are in Tennessee, Oklahoma and Vermont.
Alaska, North Dakota and Idaho have caucuses.