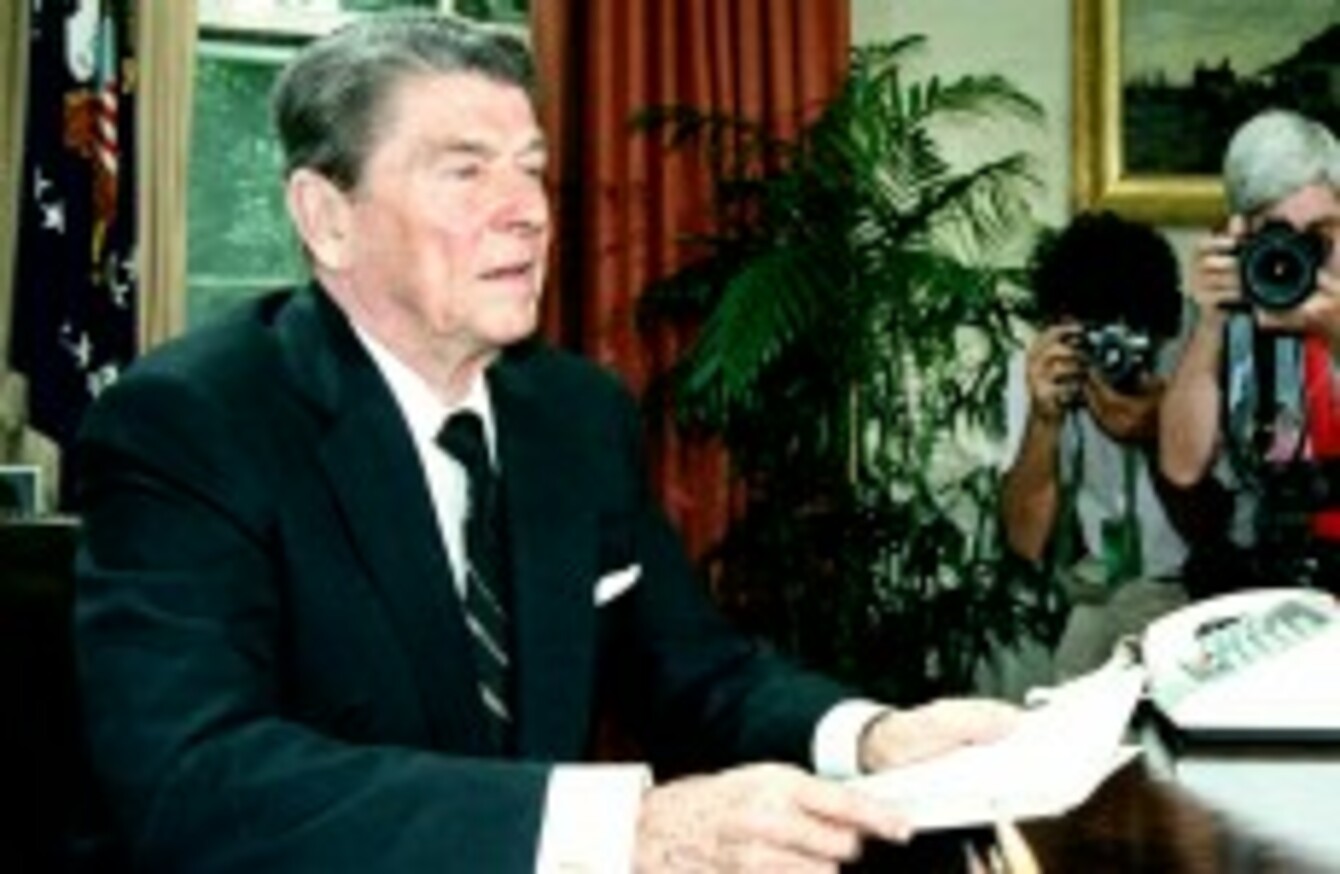 U.S. President Ronald Reagan in 1986
Image: Barry Thumma/Press Association Images
U.S. President Ronald Reagan in 1986
Image: Barry Thumma/Press Association Images
ALMOST ALL WATERS surrounding the United States could be renamed in honour of former President Ronald Reagan.
The bill, proposed by Republican congressman Darrell Issa, was heard this week in the United States House Natural Resources Committee, and would rename the Exclusive Economic Zone (EEZ) to "the Ronald Wilson Reagan Exclusive Economic Zone of the United States".
Democratic senator Alan Lowenthal criticised the bill, which is the latest in a series of attempts to rename the area, saying that Americans  "don't live in the United States of Coolidge, or fly through the Warren G Harding airspace. Why should we steam or sail on the Reagan ocean?", the Hill reports.
He also noted that the United Nations Convention on the Law of the Sea, which generally ratifies a nation's claiming of an EEZ, has never been passed by the United States.
Republicans defended the legislation, saying that Reagan proclaimed sovereignty over the area during his presidency in 1983 and was a president who "served with the highest distinction".
The EEZ comprises of ocean from 12 to 200 nautical miles off the shore of the United States — a total of 3.4 million square nautical miles or 5.4 million square kilometres, the largest in the world and bigger than all 50 states combined — and is an area in which the country can "assert certain sovereign rights over natural resources and related jurisdiction" including navigation, overflight, and complete management of natural resources.
There are already a plentiful list of locations named after the 40th President of the United States, which includes the Ronald Reagan Washington National Airport.
Ireland's EEZ is over 400,00 kilometres square, more than four times our land area.
Territorial waters, of which the EEZ forms the mass majority, of the United States are marked in the second darkest blue, with the darkest being US land. (Image Credit: Wikimedia Commons)