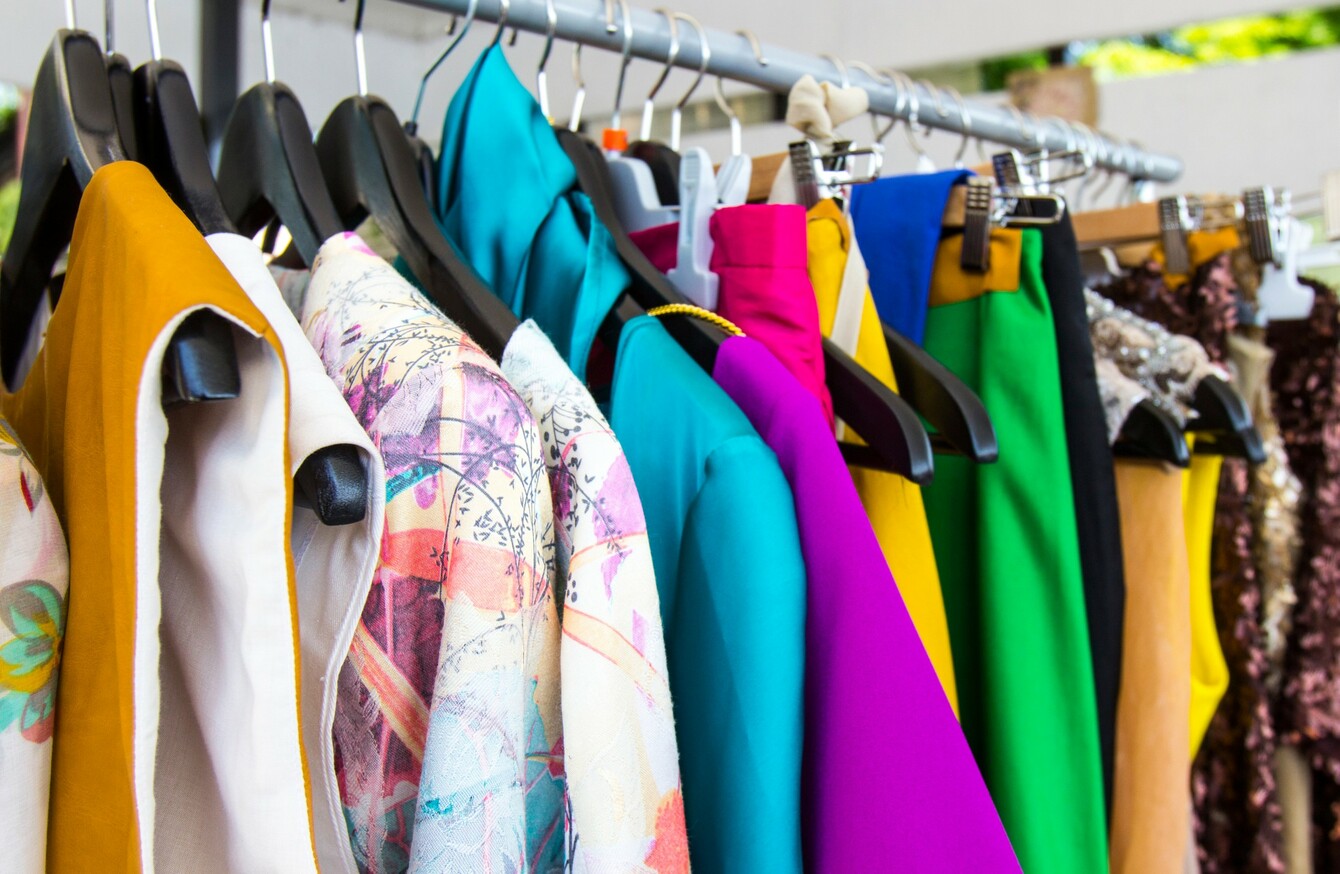 Image: Shutterstock/PhotoStock10
Image: Shutterstock/PhotoStock10
Laura de Barra regularly brings her lifestyle and home maintenance expertise to the Glenveagh Home Magazine on TheJournal.ie. This week: a masterclass in wardrobe management… or how to finally make some space on your shelves.
WITH THE WARMER weather making its way in, you're probably finding you are wearing less of your winter wardrobe and rummaging to find more appropriate clothing for the current climate.
Now is an ideal time to rotate your wardrobe, pack away the clothes you (hopefully) won't be using for the warmer months, and cull anything that is simply taking up dead space. This is a step up from a classic tidy, because you'll be thinking in terms of seasons as well as storage space.
Streamlining your closet not only makes keeping track of clothes and shoes simpler, and gives forgotten items of clothing a chance to shine, but it also gives you some extra headspace. I firmly believe than an overpacked closet can muddle the mind and make the owner feel slightly overwhelmed.
There are a few stages to getting your closet rotation perfect, which I have learned through trial and error. They are…
Stage one: selecting
The first thing you need to do is divide your wardrobe in to four categories: winter, summer, evergreen queens and occasion wear.
The first two categories, winter and summer, are pretty self-explanatory, as they relate to certain types of weather. Separate your chunky knit sweaters from your linen summer dresses, and so on. Don't forget underwear, socks, pyjamas and accessories, as these can do with being rotated seasonally too. You'd be surprised how much space you can save by packing away fleecy winter pyjamas or heavy boots at this time of year.
Next up: evergreen queens. These are items that are trans-seasonal and can pretty much be worn all year round, like jeans, meaning there's no need to pack them away. This category can also include things like denim jackets or lightweight cardigans that are handy to have on cooler summer days or late in the season.
And finally, occasion wear. There will be some items in your wardrobe that will not suit being packed away and should be left hung up or neatly folded to avoid damage or shape distortion. These include suiting, formal gowns, delicates and anything that has heavy embellishment or creases badly when folded. A side note here: as they are long term hangs, occasion wear can lose shape on wire hanger so opt for your most fabulous hangers here.
Stage two: assessing and clearing
Now that you have your categories, start to go through each item. Should something no longer be suitable for you, make sure you're removing it from your gaff in the best way possible. Not everything can go to a charity shop, for example.
For items you are keeping, check for mould and moths, loose hems, rips, staining and so on. This will make sure that what you're about to start storing is in the best condition and ready to wear when you need it
Stage three: Prepping items for storage
Everything should be cleaned, pressed and fully buttoned and fastened before re-hanging or storing. It will mean they don't get damaged in storage, lose shape or get that musty 'vintage' smell. FYI, moths live for protein so they can be attracted to anything with body sweat on it… another reason to never store clothes that are in need of a clean. Once you have everything prepped, fold or roll them neatly.
While your wardrobe is empty and awaiting re-filling, it's a good time to hoover out the whole area, including drawers, and give everything a wipe down. Look out for any signs of mould, damp or pests too.
Stage four: storing 
As a general rule, I would never store clothes or shoes in an attic, basement or outdoor storage like a shed, as these are areas with a lot of damp, poor air circulation and… pests.
Don't panic, I'm not suggesting you need a second wardrobe here either. I find that using the back and bottom of your current wardrobe does the job well. 
Most wardrobes will be quite deep and afford you being able to fold the other seasons clothes behind the current season. You'll usually be able to use up the space quite well as these won't be moved for a while, so you can pack them right up to the top.
Vacuum bags are great for storing a lot of clothing. You simply pop them in and vacuum the air out. I find they reduce in size by over half, especially in winter clothes as it's a lot of knit. They also keep your clothes super protected from moths etc and can be popped on a top shelf or stacked in a canvas storage bag on the bottom of the wardrobe or slid under the bed. Many people will store them in their empty suitcases for optimum space saving.
Sealed plastic containers with no space for damp or pests to get through are a great option too. A final note here: always, always remove dry cleaning bags from your closet. Storing clothes inside them can cause a lot of damage to precious items.
Stage five: Re-filling your wardrobe with current items
The first thing I do is hang everything similar together: shirting, skirts, tees, formal tops and so on. This helps massively when dressing each morning or for evening. However, I keep all occasion wear to one side, so my wardrobe is focused on what I can wear week to week.
Once last thing I like to do is to hang a few outfits together to wear in the coming week from things that were in storage. It's like you've been shopping and will stop unnecessary buying.
Stage six: Eventual unpacking
When it comes to bringing back out a season you want to do the same assessment as you did before they were packed away. Look at what you think you still need, as there will always be things you look at differently after some time away from them. 
Want more tips and hacks? Laura de Barra's new debut book, Gaff Goddess: Simple Tips And Tricks To Help You Run Your Home is on shelves now, published by Transworld Ireland. Buy it here or in all good bookshops, and follow Laura on Instagram for even more cleaning and lifestyle tips.