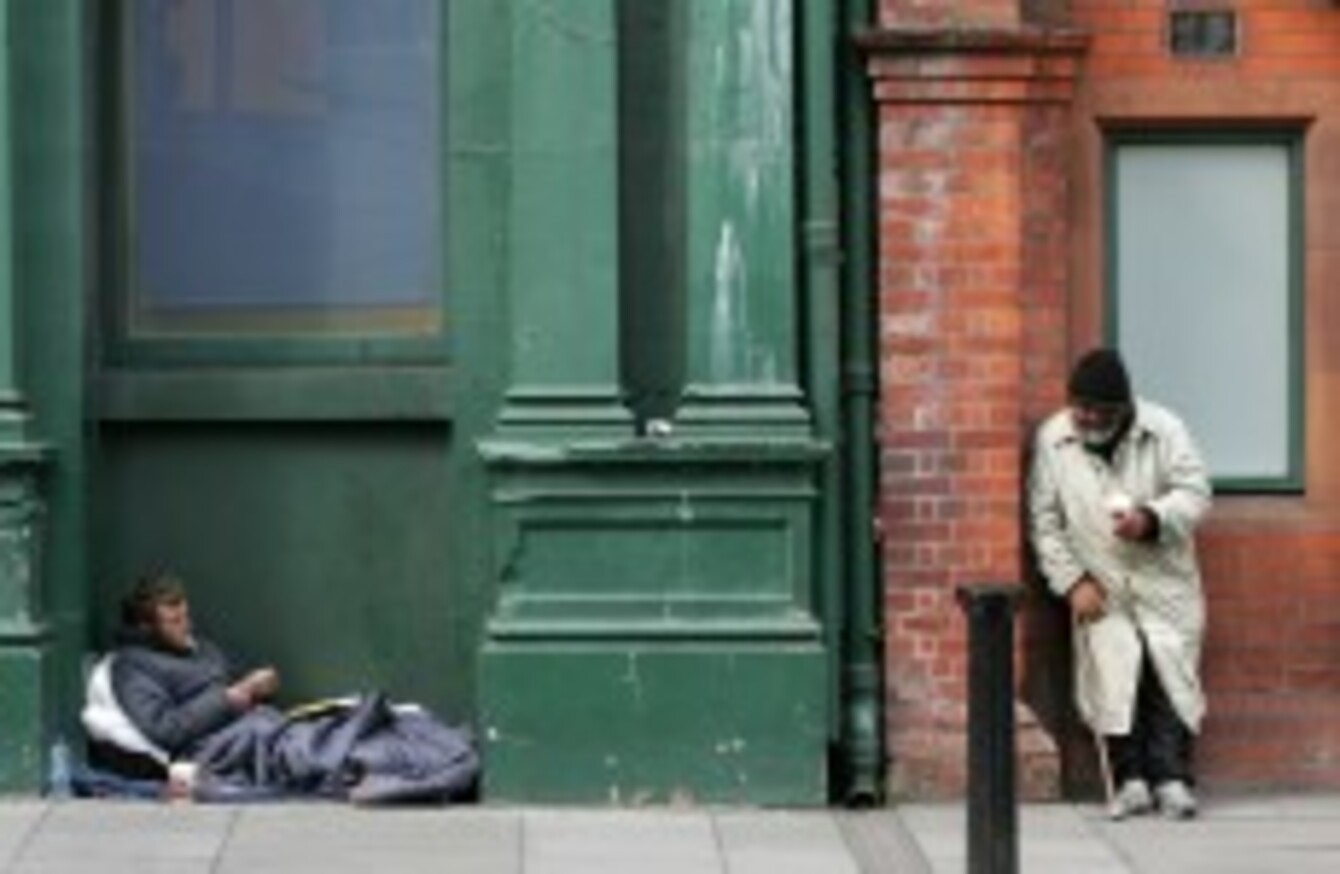 Image: Sam Boal/Photocall Ireland
Image: Sam Boal/Photocall Ireland
A GROUP WORKING with homeless people in Dublin's inner city have said they have seen a significant increase week-on-week in the number of people sleeping rough in the city recently.
Inner City Helping Homeless (ICHH) said they fed 100 rough sleepers on Wednesday night's food run alone – up from 87 last week.
Anthony Flynn, director of ICHH said figures show a "clear trend in the rise of rough sleepers – we are now at crisis point when we are feeding over 100 people a night".
These figures are no longer acceptable, government and homeless agencies now need to come together to form a homeless task force to combat the problem that clearly exists within our society. Government have for far too long thrown money into a black hole that is homelessness with no real results brought to the table.
On one day last week, 42 hostel beds were assigned in the first seven minutes of the council's helpline being open.
Speaking to TheJournal.ie, a spokesperson for the council's Dublin Region Homeless Executive, said there has been a "significant increase" in numbers since last year.
"We're in a situation where we're full to capacity," they said. "We've had unprecedented numbers of families presenting to the homeless service – mainly people who are falling out of the private rental market.
Money being dropped into a bottomless pit
ICHH said emergency accommodation is so scare that it had to place a homeless woman and her two children in a hotel last week and the homeless executive spokesperson said this is increasingly the situation. 
Figures for 2013 show that spending on hotels by the council reached almost €1.4 million.
"We don't have the housing supply to move people on," the spokesperson said. "We have a number of people in hotels at the moment and that's increasing – not that we think using hotels is a good idea, it's that we don't have the provision to accommodate them. Our first priority is that they're not on the street, particularly if they have children."
In terms of value for money, we wouldn't be indicating that it's the best value for money.
Flynn claimed the main problem is that money is being used in the wrong way and basically being "dropped into a bottomless pit".
"We need to find solutions – everyone realises the problem exists," he said, adding that ICHH wants to see the government set up a taskforce to review the crisis and take tangible action.
The group is calling on Junior Minister Jan O' Sullivan and Minister Bruton to now open talks with all stakeholders to "try and curtail the problem before it becomes unfixable".
Disaster
Speaking in the Dáil this week, Independent TD Catherine Murphy drew attention to the wider problem across the country, as a number of homeless groups had spoken in front of an Oireachtas Committee.
"It is no longer just people who have – I hate to use this word – traditionally been considered homeless who have nowhere to go," she said. "In that context, I am aware of increasing numbers of families, particularly those with children, who are being made homeless."
The representatives from both organisations indicated that the crisis to which I refer is on the verge of becoming a disaster.
I met a family last week – I deal with such families every week – who slept in a car with their child. They approached the local authority and asked what they should do the following night and they were told to find a relative or friend with whom they could stay. The family in question has been homeless for eight weeks.
"I could give a litany of people who are in the same position," she added, in her scathing address. "The minister and the government are in denial."