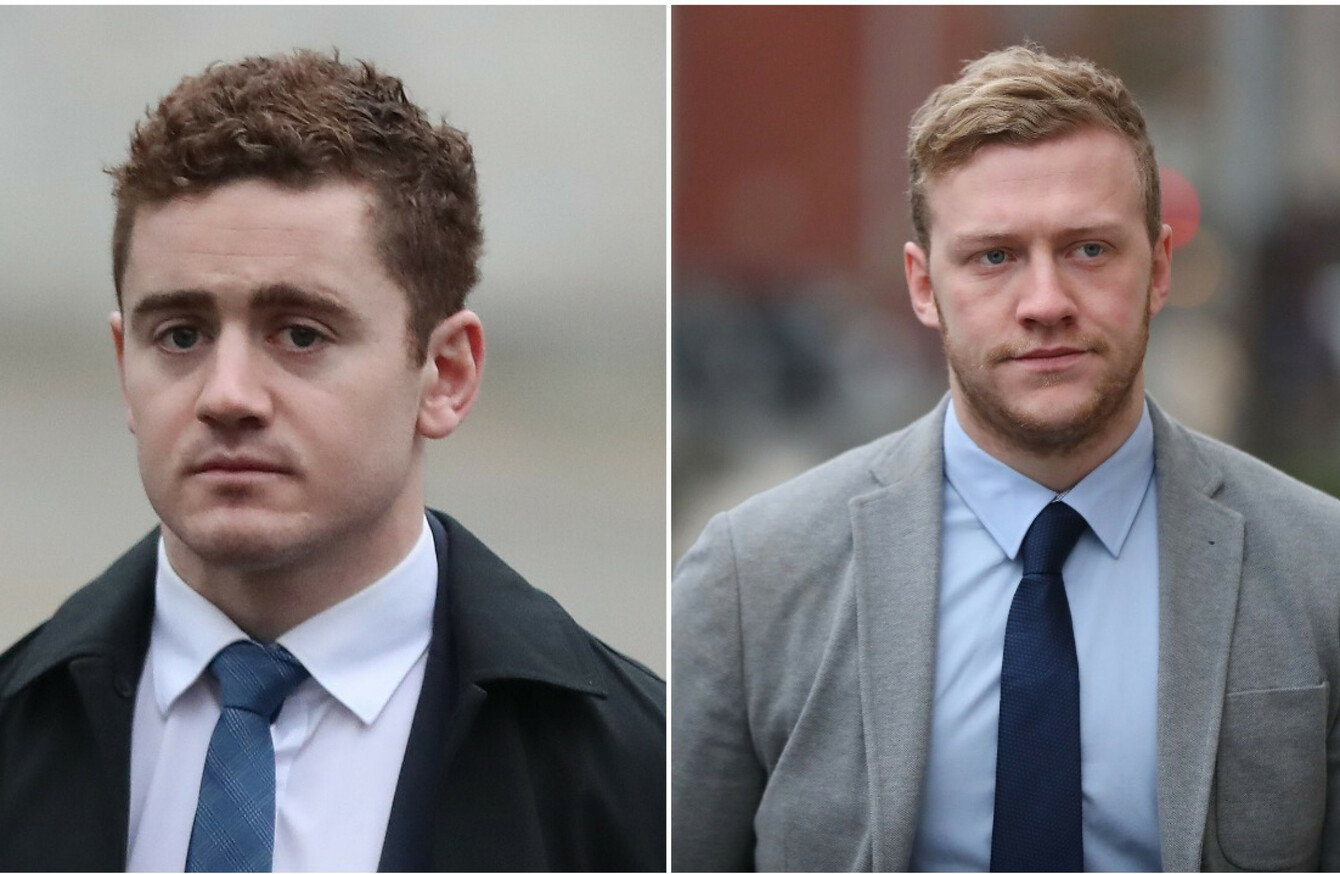 Paddy Jackson and Stuart Olding.
Image: Press Association
Paddy Jackson and Stuart Olding.
Image: Press Association
Updated at 4.40pm
A TAXI DRIVER who took a young woman home from an afterparty at the home of rugby international Paddy Jackson said she was "crying and sobbing throughout the journey", a court heard today.
The Fonacabs driver also revealed that when police contacted him days after an alleged rape, he knew "straight away" what it was in connection with.
The taxi driver was working in the early hours of Tuesday 28 June 2016 when he picked up Rory Harrison and a young woman.
Harrison and three other co-accused are standing trial at Belfast Crown Court on charges arising from an alleged sex attack on a then 19-year old woman in the bedroom of Jackson's south Belfast home.
The woman who claimed she was raped left Jackson's home just before 5am and was brought home by Harrison in a taxi.
Giving evidence during the third week of the trial, the taxi driver was asked by Crown prosecutor Toby Hedworth QC how the young woman "appeared to be". The witness told the court and jury:
The young woman definitely seemed very upset. She was crying and sobbing throughout the journey, and she didn't really talk very much at all, bar telling me where she needed to go to.
When asked how she interacted with the male passenger – Harrison – the driver replied: "The gentleman in question was attempting to comfort the lady. He would have been holding on to her. I believe I remember, her head was placed on his chest and he was trying to comfort her."
The driver also recalled Harrison having a conversation on his mobile phone, saying he heard "small snippets of conversation … I would explain it was sort of talking in code".
When asked about what he heard, the driver said:
I recall him saying to the person on the phone 'she is with me now, she is not good, I will call you in the morning'.
The taxi driver was then questioned about anything he noticed about the woman when she got out of his taxi after arriving home. He said she was unsteady on her feet, and that he saw staining on the backside area of her white trousers. He also revealed he later checked the back seat of his vehicle for staining but saw nothing.
Also raised during today's hearing was a conversation the driver had with Harrison after leaving the young woman home. When a comment was made about a "rough night", Harrison is alleged to have said, "you have no idea…you could say that".
After the woman made a complaint to the police claiming she had been raped, an investigation was launched. The taxi driver told the court that after learning police wanted to talk to him, "it resonated with me and I knew straight away what it was in relation to".
"It dawned on me, I went 'oh yeah, it's in relation to that night'. It all came together, the whole episode came together."
Jackson, aged 26, from Oakleigh Park, and 24-year old Stuart Olding, from Ardenlee Street, have both been charged with rape, while Jackson faces an additional charge of sexual assault.
Blane McIlroy, aged 26, from Royal Lodge Road, has been charged with exposure, while Rory Harrison, aged 25, from Manse Road, who has been charged with perverting the course of justice and withholding information.
All four defendants deny the charges levelled against them.
Further evidence 
Also called to give evidence was a friend of the young woman's who had been with her in Ollie's on the evening of Monday 27 June, and who she texted the following morning, saying she had been raped.
And whilst the woman initially didn't want to go to the police, her friend told her the situation was "beyond serious" and drove her to the Brook Clinic in Belfast.
From the witness-box, the friend said she and the woman in question had been partying in the VIP area of Ollie's, and that the woman texted her later that night to tell her she was at an afterparty in Jackson's.
After arriving home at around 5.15am, the woman texted her friend at 9.51am and said, "worst night ever so I got raped". When asked about this, the friend said she was in shock. A series of texts between the two were read out, including a message that "2 then 3rd tried to get involved … I was crying".
The woman also texted her friend saying "they are scum. It's that schoolboy attitude times a million". She also texted she wasn't "going to go up against Ulster rugby".
Advising the woman to report the matter, her friend texted and said, "they are known to some people, they are not the be all and end all of the earth".
Urging the woman that "you need to get a full screening", the friend said the situation was "beyond serious" and also said in a message "you can't just deal with this on your own".
This same friend ran the woman into the city centre on the afternoon of Tuesday 28 June, where they tried to locate the Rape Crisis Centre. After learning it was closed down, they went to the Brook Centre, where the woman spoke to a counsellor.
And when she was asked in the witness-box about the woman's level of intoxication after the night out in Ollie's, the friend said they had both been drinking, but the woman was "of sound mind … she could look after herself".