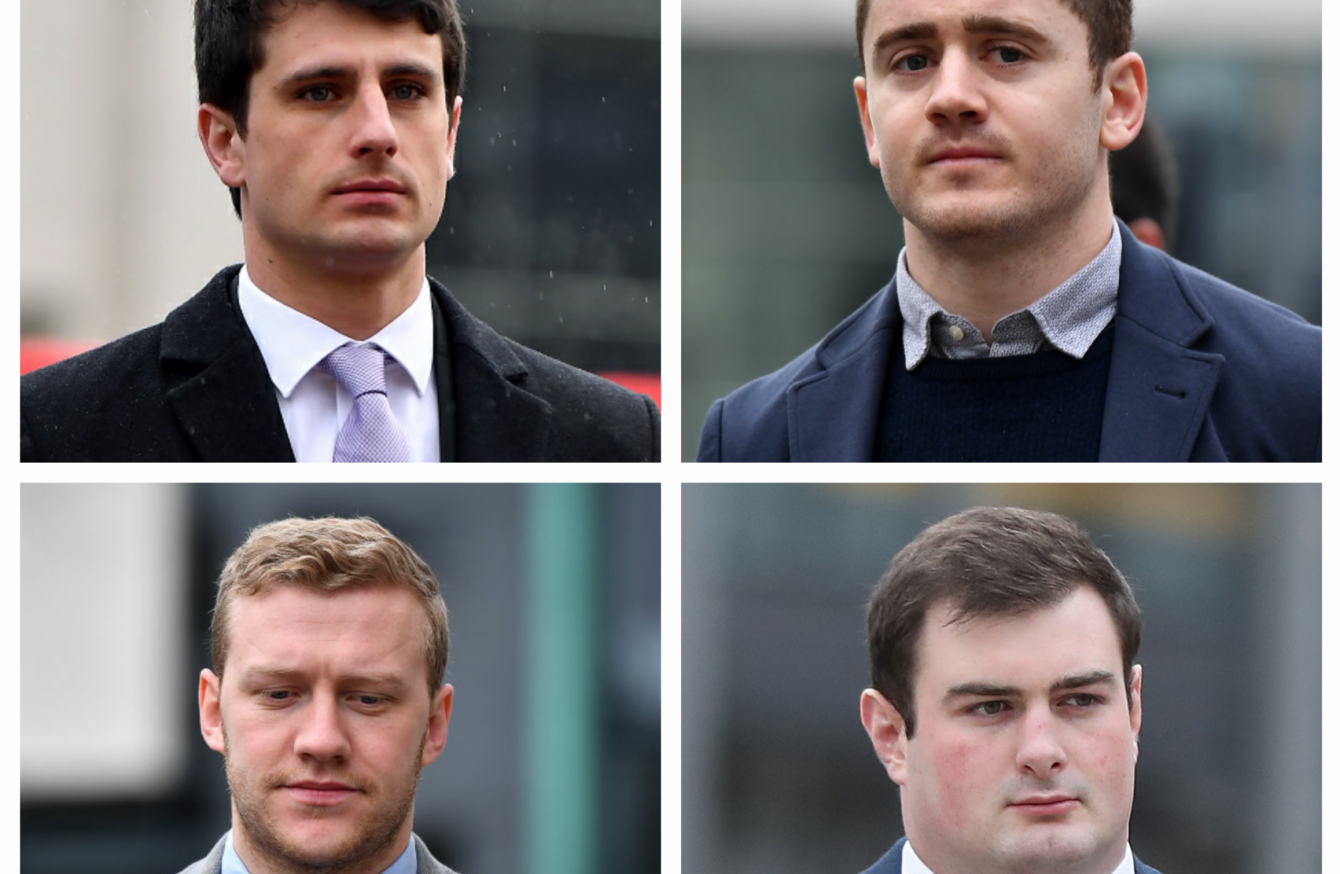 Image: PA
Image: PA
ULSTER RUGBY PLAYERS Paddy Jackson and Stuart Olding have been found not guilty of the rape of a student at Belfast Crown Court.
The trial lasted close to nine full weeks and was the subject of intense media scrutiny over the period due to the high-profile nature of the defendants.
The complainant – a now 21-year-old female student – alleged she was raped from behind by Paddy Jackson, and during this attack, she was forced to perform oral sex on his teammate Stuart Olding, in the early morning of Tuesday 28 June 2016.
Jackson (26), from Oakleigh Park in Belfast and Olding (25), from Ardenlee Street, both denied the rape, while Jackson denied a further charge of sexual assault.
The woman also claimed that another man – Blane McIlroy (26) – then entered the bedroom, naked and with his penis in his hand, demanding sex.
McIlroy denied exposure while a fourth man,  25-year-old Rory Harrison, was charged with and denied perverting the course of justice and withholding information in the aftermath of the incident.
All four were found not guilty of all charges against them today by the jury of eight men and three women.
There were key pieces of evidence from the accuser, each of the accused and others throughout the lengthy trial which led to the verdict. Here are some of the important moments.
WhatsApp messages 
WhatsApp messages sent by all parties to the trial to each other and others in the days following the alleged incident formed a large part of the case and were a key point of focus.
Messages between the four accused parties; between the accused parties and their friends; between the accuser and her friends; and between the accuser and Rory Harrison were all presented as evidence during the trial.
In her charge to the jury, Judge Patricia Smyth addressed the WhatsApp messages and what they signified.
"You may think some of the texts were offensive, or crude, or even derogatory," the judge said.
It is important that you understand that even if a man holds a derogatory attitude of woman, that is not equivalent to the intention of having non-consensual sex.
On the morning and afternoon of Tuesday 28 June (the day after the alleged incident occurred), the four defendants were involved in a WhatsApp conversation with other people.
In this group chat, Olding said "we are all top shaggers". Jackson commented "there was a lot of spitroast going on last night lads" with Olding likening what happened to "a merry-go-round at a carnival".
In a separate WhatsApp conversation with another friend, when Olding was asked at 10.10am on 28 June – just hours after the alleged incident – "how was she?", he answered at 10.57am "she was very very loose".
It was also shown that later that day at 1.08pm, McIlroy posted a picture on a WhatsApp group called The Juicers which depicted him and three girls who attended the afterparty in Jackson's.
The image shows McIlroy and the three friends either sitting on his knee or next to him.
He captioned the image 'Love Belfast Sluts'.
And on 2.47pm that day, he sent another WhatsApp message to a friend which said:
Pumped a bird with Jacko on Monday. Roasted her.
Meanwhile, on that same morning the accuser was texting one friend:
"So I got raped by 3 Ulster f*****g scum", and saying she wouldn't go to the police because "they'll say it was consensual… I was up for it, stupid little girl now regretting it".
As well as this, Harrison had also sent the woman accusing a text after he dropped her off following the alleged incident:
Keep your chin up, you wonderful young woman.
Around noon that day, when she received a message from Harrison which asked "Feeling better today?", she replied:
To be honest, no. I know you must be mates with those guys, but I don't like them. And what happened was not consensual which is why I was so upset.
The woman had also texted two of her friends, telling them she had been raped by Ulster rugby players. Describing what happened to her in a text as the "worst night ever", she told her friends she had been left with bruising.
She also texted:
"Second then a third guy tried to get involved… I was crying."
And when her friend told her to go to the police, the woman replied:
I am not going to the police, Going up against the Ulster rugby. Yea because that'll work.
She also told her friend:
Thing is I would report it if I knew they would get done. But they won't. And that's just unnecessary stress for me. It will be a case of my word against theirs.
She told the court that she was later persuaded by a friend to go to the authorities.
The woman reported the matter to the PSNI on Wednesday, 30 June 2016 – two days after the alleged incident.
Jackson and Olding were arrested that same day.
At this time, Harrison and McIlroy were texting. "The cops went straight to Les Kiss, which is f*****g ridiculous", Harrison said to McIlroy, referring to the then-Ulster rugby manager.
He also texted:
This is ridiculous. Surely this is all going to get dropped.
McIlroy had asked Harrison if he remembered the accuser's name.
Harrison told McIlroy her name, said "hopefully it will be thrown out" and told his friend she is "just a silly girl who has done something then regretted it".
Harrison also messaged:
She is causing so much trouble for the lads.
Accuser's evidence
The woman at the centre of the case spent seven days in the witness box in total –
being questioned by the prosecution barrister who presented her allegations,
on which the prosecution cases was based, as well as the barristers of each of the
accused.
The woman lost her composure a number of times during questioning.
In her first day being questioned by the prosecution barrister,  she told the jury that she told Jackson, "I don't want this to happen", but "he kept going".
She gave evidence from behind a screen for the duration of proceedings and said that when Jackson's teammate Olding entered the bedroom where she alleged she was being raped "my heart sank… I knew what was going to happen".
The woman alleged that she had been raped at the same time by both men and that when Blane McIlroy entered the bedroom naked and with his penis in his hand, she said:
It was at that point that my fight instinct kicked in.
The woman had claimed she had kissed Jackson earlier in the night, and that had been "completely consensual". She said she didn't want things to go further.
The woman said she had gone upstairs later to retrieve her clutch bag, and had then been raped by Jackson.
She said he had raped her from behind. She said Olding had entered the room and she had "no, please, not him too". The woman said she was forced to perform oral sex on Olding while Jackson raped her from behind.
She then said that McIlroy had entered the room naked and her survival instinct kicked in and she fled the room.
The woman was cross-examined by barristers representing the accused. It was put to her that what had happened between her and Jackson and Olding was consensual.
Brendan Kelly QC - representing Jackson – proposed to her that the activity between her and Jackson amounted to "mutual sexual touching", she answered "that is completely incorrect".
Kelly then said:
"Within a short period of time, Stuart Olding opened the door and entered the room. Why did you not say to Stuart Olding 'Paddy Jackson is raping me, can you help?', to which she replied "because it was obvious what Stuart Olding's intention was as well".
She denied she "motioned" towards Olding then performed oral sex on him, saying "that wasn't how it worked out", and reiterated her claim that any activity in the bedroom was "non-consensual".
Later, she responded to Kelly's line of questioning by saying:
Mr Kelly, I was raped. I don't think I can make myself more clear.
Frank O'Donoghoe, the barrister representing Olding, also cross-examined the woman.
When asked why she didn't ask Olding to assist when he walked into the bedroom by saying 'help me, I'm being raped and I'm going to be raped again', she replied:
It was quite clear what Mr Olding's intention was as well. So much so that I turned to Patrick Jackson and said 'please not him as well.' This man was not going to help me. He was also going to rape me.
Accepting Olding didn't verbally order her to perform oral sex, she said "there were no words exchanged … there was no consent established".
Olding's barrister further claimed that she "beckoned" him to stay, and "he did stay and you performed oral sex on him quite voluntarily and quite consensually".
She replied:
I completely refute everything you have just said.
During this cross-examination, the woman was also questioned about the version of events she recounted to a doctor at the Rowan Centre, on the evening of 28 June, 2016.
O'Donoghoe pointed out that at no point did she mention she had been orally raped. Instead, the barrister said, she told the medic she had been vaginally raped three times.
She replied by saying that during the incident there were stages she didn't know who was behind her raping her, and that she couldn't remember all the details of the medical due to her shocked state.
When asked if she was exaggerating her state to explain an "utterly inconsistent history" given to the doctor, she told O'Donoghoe:
You are underestimating a state of shock you go into after you have been raped.
She was also cross-examined by Harrison's and McIlroy's barristers.
McIlroy's barrister questioned her version of events, saying that she instigated sexual activity with McIlroy and performed oral sex on him "for a short period", she replied:
None of that ever happened. I don't know why your client is stating that it did.
In her the charge the jury this week, Judge Smyth told them to address the inconsistencies in the accounts given by the woman. She said inconsistencies in accounts were not uncommon in cases such as this.
She asked the jury to consider all these accounts and to determine "whether her evidence is true", and once again told them distress and demeanour were not indicators of truthfulness.
Taxi Driver
A key witness for the prosecution was the taxi driver who took the woman home from Jackson's house on the night of the alleged incident.
Harrison had accompanied the woman after the alleged incident and was consoling her as she cried in the taxi.
Giving evidence during the third week of the trial, the taxi driver was asked by Crown prosecutor Toby Hedworth QC how the young woman "appeared to be". The witness told the court and jury:
The young woman definitely seemed very upset. She was crying and sobbing throughout the journey, and she didn't really talk very much at all, bar telling me where she needed to go to.
When asked how she interacted with the male passenger – Harrison – the driver replied: "The gentleman in question was attempting to comfort the lady. He would have been holding on to her. I believe I remember, her head was placed on his chest and he was trying to comfort her."
The driver also recalled Harrison having a conversation on his mobile phone, saying he heard "small snippets of conversation … I would explain it was sort of talking in code".
When asked about what he heard, the driver said:
I recall him saying to the person on the phone 'she is with me now, she is not good, I will call you in the morning'.
After the woman made a complaint to the police claiming she had been raped, an investigation was launched. The taxi driver told the court that after learning police wanted to talk to him, "it resonated with me and I knew straight away what it was in relation to".
"It dawned on me, I went 'oh yeah, it's in relation to that night'. It all came together, the whole episode came together."
"Walked in on a threesome"
Other witnesses in the case were other women who were present in the house around the time the alleged incident occurred.
One woman in particular opened the door in the room where the accuser and McIlroy and Jackson were at the time the alleged incident was supposed to have occurred.
In her charge to the jury, Judge Smyth called this woman a "key witness".
Asking the jury to consider her impression about "what she had heard and what she had seen", the judge reminded them of this young woman's evidence both to police and to them.
Giving evidence at Belfast Crown Court on the third week of the trial, the witness was asked what she saw when she opened the door.
Explaining that she and her friend were ready to leave the party at around 4am, and were trying to locate their other friend, the witness said she heard "moaning" coming from a bedroom, thought her friend was in the room, and so opened the door.
From the witness box, she told the court she closed the door, turned to her friend and said:
I have just seen a threesome.
On the third week of the trial she told Brendan Kelly QC, the barrister representing Jackson that she "would not say that the female was distressed".
Confirming to Kelly that she saw no signs of the woman in distress and that she didn't think she had just witnessed a rape, the woman said:
I remember kind of laughing and telling [my friend] I had just walked in on a threesome.
And when asked by Kelly "did you have any concern when you left the room?", she answered "no".
She was also asked by Jackson's barrister if she understood the term"frozen in fear", to which she replied, "you can't move because you are so scared".
Kelly then asked if she felt the woman was "frozen in fear when you stood watching her on the bed?" She again said "no".
The other two witnesses who attended the after party also gave evidence. One said to Jackson the next morning that her friend had walked in on a threesome, to which Jackson shook his head and said it didn't happen.
Jackson denied using his penis and said this was because he couldn't find any condoms.
When asked about the woman who walked in on the act and who described him having intercourse with the woman, Jackson said:
She is wrong. She is mistaken.
The accused give evidence
Jackson, Olding, McIlroy and Harrison also all took the stand at various stages throughout the trial.
All men firmly denied that they had done anything illegal on the night in question, but gave varying accounts of what had happened.
In his evidence, Jackson said that he and the woman had kissed in his bedroom before going downstairs. They had returned upstairs later, he said.
He said the woman had performed oral sex on him and later Olding had walked in. Jackson said that the woman started performing oral sex on Olding and that while she was doing this he (Jackson) had begun "touching her with my hands".
Jackson denied using his penis and said this was because he couldn't find any condoms..
Olding – for his part – said he had opened the door of the bedroom looking for somewhere to sleep. He said he had walked in on the woman and Jackson and she had motioned for him to stay.
Olding said that he closed the door and began kissing the woman on the bed.
Olding said then that he had lain down on the bed and she had performed oral sex on him "for between five and ten minutes", he ejaculated and then left the room.
Meanwhile, McIlroy said under questioning that he had text Jackson saying "is there any possibility of a threesome?", which went unanswered.
He then claimed that he had entered the room where Jackson and the woman were and he and her had started kissing. He said she performed oral sex on him briefly.
He then left the room to look for a condom, he said. When he returned, he said the woman was getting dressed.
His version of events was branded as "complete Fantasy Island" by the Crown barrister.
Under cross-examination from Hedworth QC, McIlroy was asked "has the penny not dropped that even your own friends have suggested your story is wrong?"
This was rejected by the defendant, who said: "I have told the truth from the word go."
Harrison also faced questioning and denied that he had perverted the course of justice.
He was accused of, and denied, conducting a "verbal fencing match" whilst giving a witness statement to police in June 2016 and of "circling the wagon" with his friends when he became aware the woman had been upset due to non-consensual sexual activity.
When it was suggested to Harrison that after the woman was subjected to an ordeal in Jackson's bedroom "you were delegated to get her home and look after her", the defendant replied "that's not right".
This afternoon all four defendants were cleared of all charges at the trial following
deliberation by the jury.
Outside the court today, Paddy Jackson thanked his family, barristers and solicitors.
He said:
Out of respect for my employers I have nothing further to comment.
Stuart Olding also issued a statement outside the court today:
"I want to start by thanking the judge and the jury for their time and patience throughout this long trial. I am very relieved that the jury has accepted my explanation as to what occurred," he said.
"I want to acknowledge publicly that though I committed no criminal offence on the evening of the 28 June 2016, I regret deeply the events of that evening.
"I want to acknowledge that the complainant came to court and gave evidence about her perception of those events. I am sorry for the hurt that was caused for the complainant.
"It was never my intention to cause any upset to anyone on that night.
"I don't agree with her perception of events and I maintain that everything that happened that evening was consensual.
"I have consistently told the truth to the police and the court when asked to account for my conduct.
"The Stuart Olding who has been portrayed over the past nine weeks in this trial is not the real Stuart Olding.
I am fiercely proud to represent my province and my country and I have worked very hard to achieve those goals.
I hope to be able to prove myself going forward in all aspect of my life. I would like to thank my legal team for their hard work and their belief in me throughout and finally to me family thanks you all for standing y me from the beginning
The other two defendants did not comment to the press.
With reporting from Ashleigh McDonald