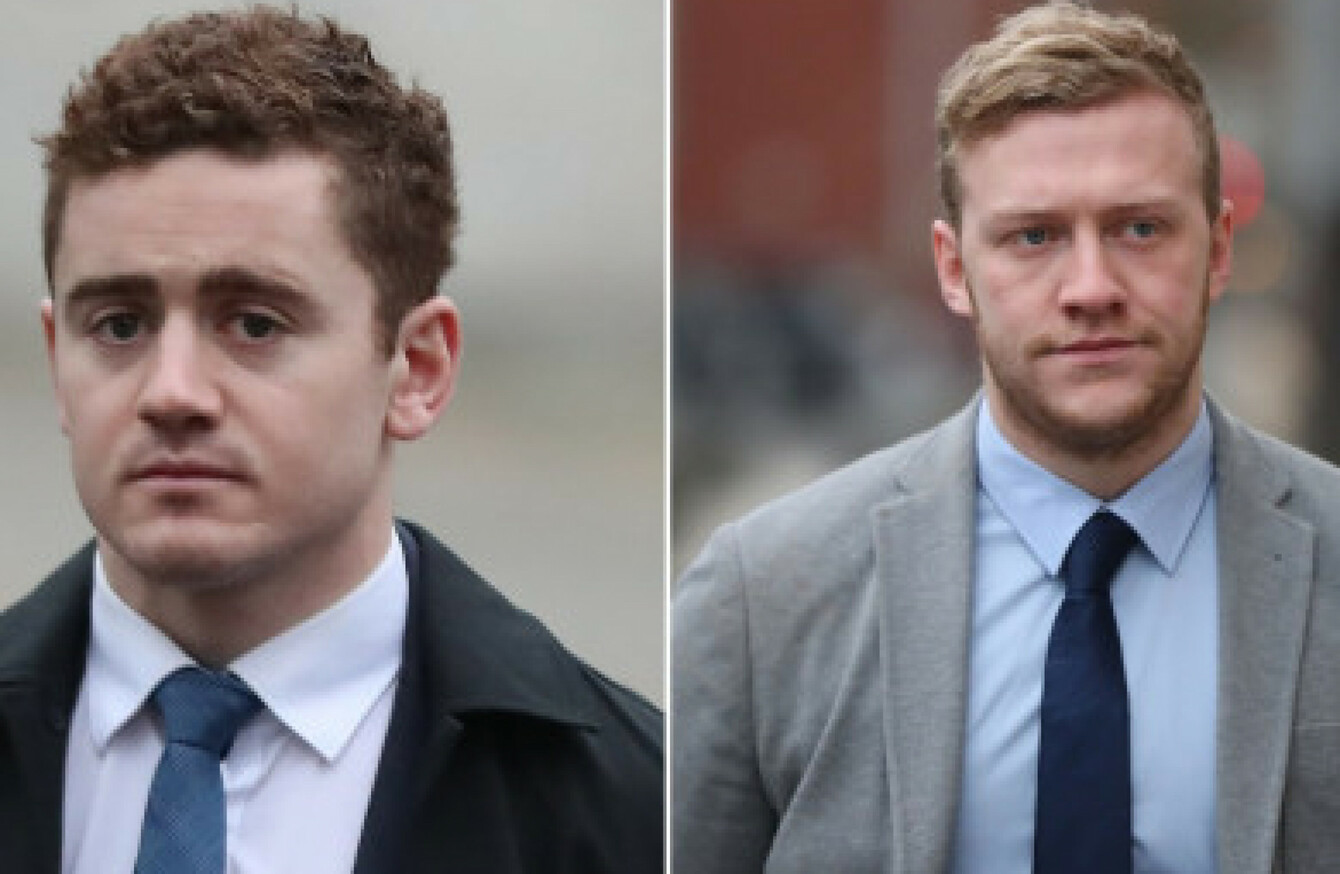 Paddy Jackson and Stuart Olding
Image: Press Association
Paddy Jackson and Stuart Olding
Image: Press Association
Updated 6.29 pm
A DOCTOR WHO carried out a medical examination on a young woman who claimed she was raped by two international rugby players confirmed today it was not possible to determine whether intimate injuries she sustained were caused by consensual or non-consensual sex.
The forensic medical officer was giving evidence as the case against rugby players Paddy Jackson and Stuart Olding (24) entered its fourth week.
Both men have denied rape, while Jackson (26) has denied a further charge of sexually assaulting the woman in the bedroom of his south Belfast home in July 2016.
The jury at Belfast Crown Court has already heard that in the aftermath of the alleged rape, the complainant – who was 19 at the time – first went to the Brook sexual health clinic in Belfast, before attending the Rowan sexual assault referral centre at Antrim Area Hospital.
The doctor who examined her, who has been a GP since 1996, told Belfast Crown Court the woman came as a self-referral, and that his role was both "evidential and therapeutic."
The doctor confirmed nursing notes taken on the evening of 28 June, 2016 noted 'no visible signs of injury', and that he recorded the complainant was 'co-operative but tearful' when discussing what occurred.
When the doctor was asked what the complainant told him, he read a statement he made that night, which stated:
Went to an address after a nightclub. There a male 'came on to me'. She refused his advances. Decided to leave, went back upstairs to get bag, male followed her in to the bedroom. He pushed her onto the bed, face down. Took off her trousers and underwear and vaginally raped her from behind, then turned her over and raped her from in front.
He continued:
"No condom was used, unsure whether there was ejaculation. He caused pain as he was 'rough'. She noticed vaginal bleeding at this time. He kissed and touched her breasts and neck."
"A second male entered the room and vaginally raped her while she was on her back. Unsure whether a condom was used, unsure about ejaculation. Second man kissed her neck."
"A third male came in to the room, took his trousers off. When the second man got off her, she took her trousers and ran away."
Violence
When the doctor was asked is he noted any threats and violence were used, he said he noted 'none'.
He was also asked about bruising on the young woman's right arm and leg, and told the court that during the exam, the woman said she had no recollection of how she got the bruises.
When he was asked "is it possible for you to say how they may have been caused?", the doctor replied, "no, it is not possible."
Regarding intimate injuries, the doctor noted the woman sustained a 1cm internal tear which he said had been caused by blunt force trauma.
And when asked if it was possible to determine whether or not this tear had been caused by either consensual or non-consensual sexual intercourse, the doctor replied:
There is no way to give entire credence as to whether this was consensual or not.
As he sat in the witness-box, the doctor was asked about the 'history' of the alleged rape, which he noted during the evening he examined the woman.
When he was asked by Jackson's barrister Brendan Kelly QC: "If you are not given a full story by someone, and something is withheld from you, it may have an impact on the accuracy to your conclusion?"
The medic replied: "That would be correct, yes."
The medic also confirmed he did not conduct an examination of the woman's mouth as she didn't make the case she had been orally raped.
Police
Earlier in today's hearing, the jury heard the woman gave inconsistencies to police about this alleged oral rape.
The 21-year complainant has accused Olding of orally raping her at the same time she was being vaginally raped from behind by his teammate Paddy Jackson.
She claims the rape occurred in the bedroom of Jackson's south Belfast home in the early hours of 28 June, 2016 following a night out in the VIP section of Ollie's nightclub.
A policeman from the Rape Crisis Unit was cross-examined by Frank O'Donoghue QC, who is representing Olding.
When he was asked about details the complainant gave regarding Olding's part in the sex attack, the Detective Constable said she was interviewed two days after the alleged incident
When asked about the mechanics of the sex attack, and how Olding's penis came to be in her mouth, she told police: "I am not entirely sure to be honest."
When she was again asked in the same interview about this, she said: "There was no conversation. I didn't have a choice. I am really sure my head was forced down."
The jury heard that Olding was arrested an hour after the complainant was interviewed by police. It also emerged that whilst Olding was being interviewed, at the same time police were searching his home.
Officers seized a number of items of clothing – but not the garments he was wearing on the evening in question.
The police officer confirmed to O'Donoghoe that Olding co-operated fully and gave an account of his actions to police during interview on 30 June, 2016.
It is Olding's case that after putting his penis in her mouth, the woman performed oral sex on him.
He said he ejaculated then left the room, and that when he left the woman was on the bed.
The policeman was then asked if there were any inconsistencies between Olding's version of events, and what a young woman who walked into the bedroom saw, and later told police.
The female witness, who also attended the afterparty at Jackson's Oakleigh Park home, said she opened the door and saw a consensual threesome.
When asked if there were any inconsistencies in her account and Olding's, the policeman said he didn't think Olding mentioned a third person walking in, but there were differences regarding the woman's state of undress at that point.