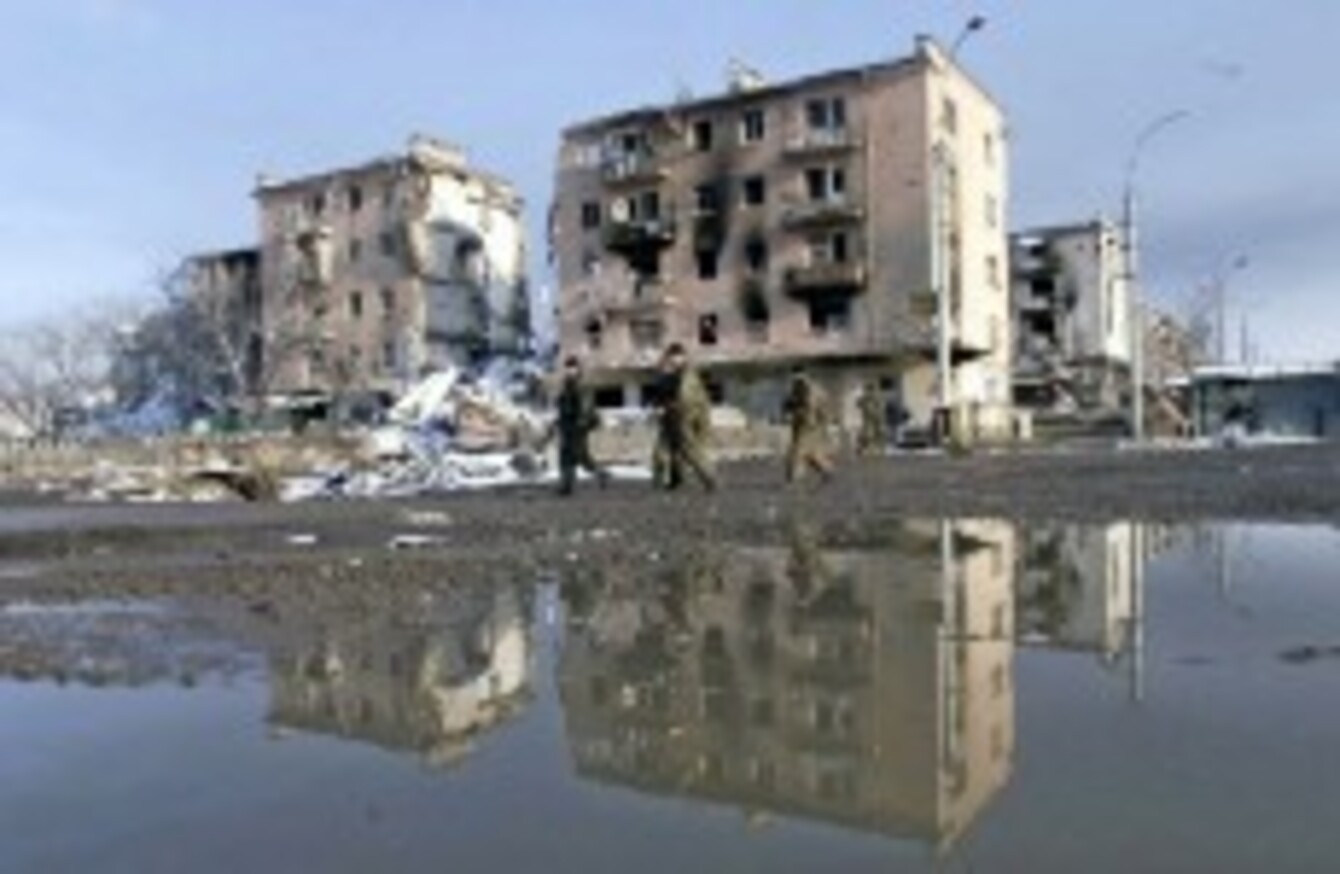 Russian troops patrol Minutka square in the Chechen capital in May 2000
Image: ALEXANDER ZEMLIANICHENKO/AP/Press Association Images
Russian troops patrol Minutka square in the Chechen capital in May 2000
Image: ALEXANDER ZEMLIANICHENKO/AP/Press Association Images
THE EUROPEAN COURT of Human Rights has ruled that Russia should pay the families of 36 men 'disappeared' by authorities during the ten year conflict in Chechnya just under two million euro in damages.
The men disappeared in various districts of the Chechen Republic between 2000 and 2006, in the midst of the decade-long conflict within the region.
They were abducted from their homes in twenty separate cases, most of them at night during curfew hours, by groups of unidentified men.
The mens' relatives said they believed the abductors were Russian federal servicemen, as they were wearing camouflage uniforms and spoke unaccented Russian.
Armed with machine guns, they broke into the applicants' homes, searched the premises, checked the identity documents of the applicants' relatives and took them away in military vehicles.
Of the ninety relatives who took the case, none have had any news of the missing men since.
Criminal cases
Criminal investigations were opened in all twenty cases, but all were suspended on several occasions and none have established who was responsible for the abductions or the fate of the missing men.
The Russian Government did not challenge the allegations as presented by the relatives, but stated that there was no evidence to prove beyond reasonable doubt that State officials had been involved in the abductions.
The seven-judge court, based in Strasbourg, found that the families had presented at prima facie case that their respective relatives had been abducted, and that the Russian State had not provided a convincing alternative explanation for the events.
The court concluded that, in view of their detention in life-threatening circumstances and the long periods without any news of them, the applicants' relatives should be presumed dead.
It was ruled that Russia had committed four breaches of the European Court of Human Rights, including violations of Article 2 (right to life) and Article 13 (right to an effective remedy). There have been more than 120 such judgements by the court relating to disappearances in the region dating back to 1999.
Amnesty International estimates that some 25,000 civilians were killed during the conflict, and that some 5,000 went missing.
The judgement issued yesterday is not final, and may be challenged by any party in the next three months. If there's no request for a referral to the court's Grand Chamber, the ruling becomes final after that period.