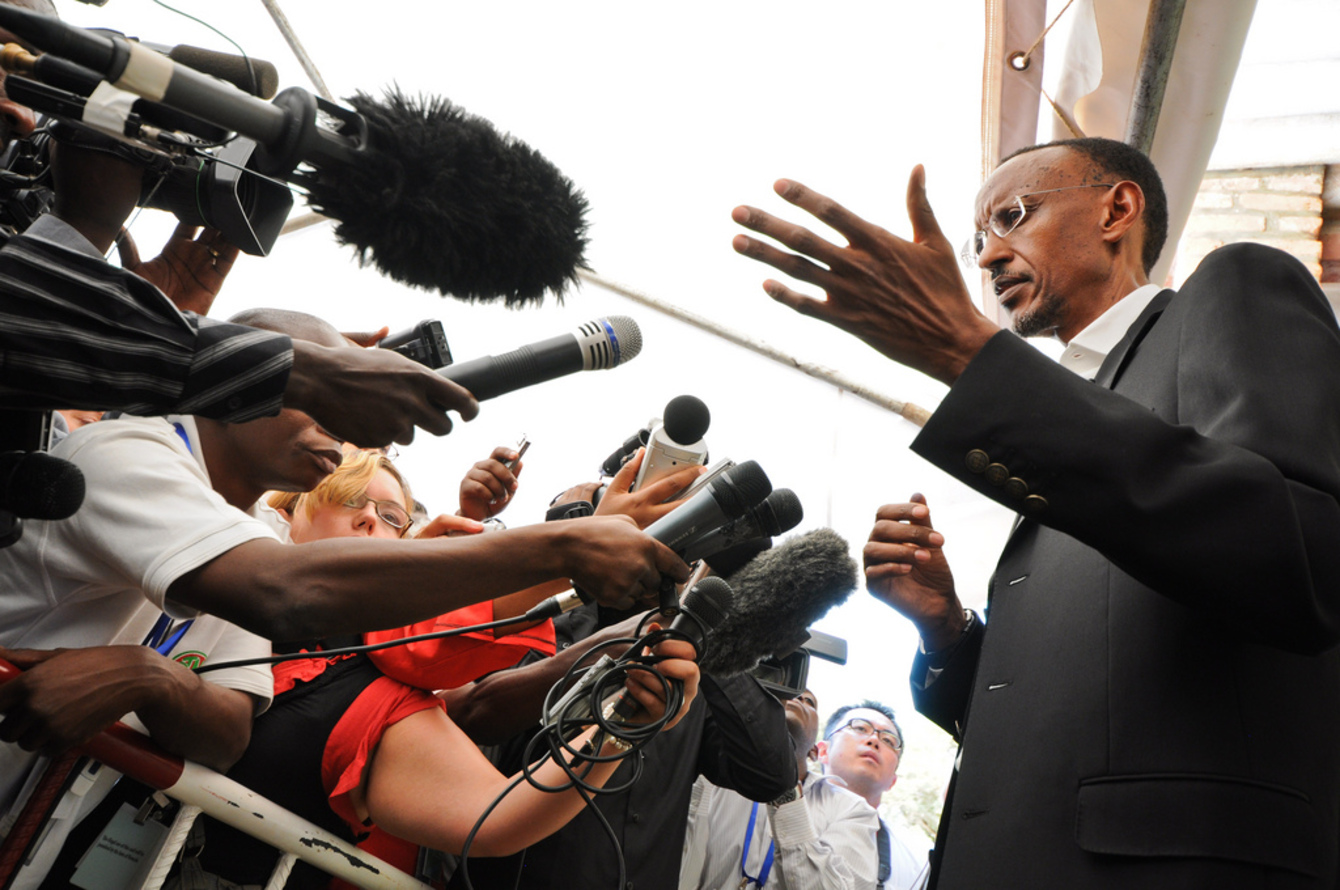 President Paul Kagame addresses the media during polling in yesterday's Rwandan election.
President Paul Kagame addresses the media during polling in yesterday's Rwandan election.
RWANDA has returned Paul Kagame as the country's president in a landslide victory, with the Tutsi leader receiving 92.9% of the public vote in 11 out of 30 districts with rural votes expected to be counted later.
The astoundingly popular Kagame, who has been president since 2000, was elected in 2003 with 95.1% of the vote and looks likely to be returned with a similarly astonishing mandate when the final results are certified later today.
As a measure of the popularity and esteem in which Kagame is held with expatriate Rwandans, the outgoing president also won 96.7% of the diaspora vote.
The 52-year-old has effectively ruled the country since the genocide of 1994, having been appointed vice-president to Pasteur Bizimungu in the aftermath of the genocide having been the de facto leader of the Rwandan Patriotic Front (RPF) party at the time.
When Bizimungu resigned in 2000, Kagame assumed office and was appointed to his first full seven-year term in 2003, in what was the first election since the civil war that followed the genocide which Kagame is credited with ending.
"Hail RPF. Let's wait for tomorrow, but it's a matter of figures," he told supporters last night. "Otherwise the victory is there. Your victory, the RPF's victory, is victory for all Rwanda," he said.
Kagame has been criticised by some, however, for leading an authoritarian regime in which independent media have been banned and some potential opponents were banner from contesting the election. One opposition leader was found dead last month.
Outside observers have also criticised the method of voting – the use of an inked thumbprint to denote ones voting intention – with some potential opponents fearful that the government would use ballot papers to identify them.
Nonetheless, Rwanda is considered a major reformer and as a beacon of hope for other African nations hoping to kickstart sluggish economies.