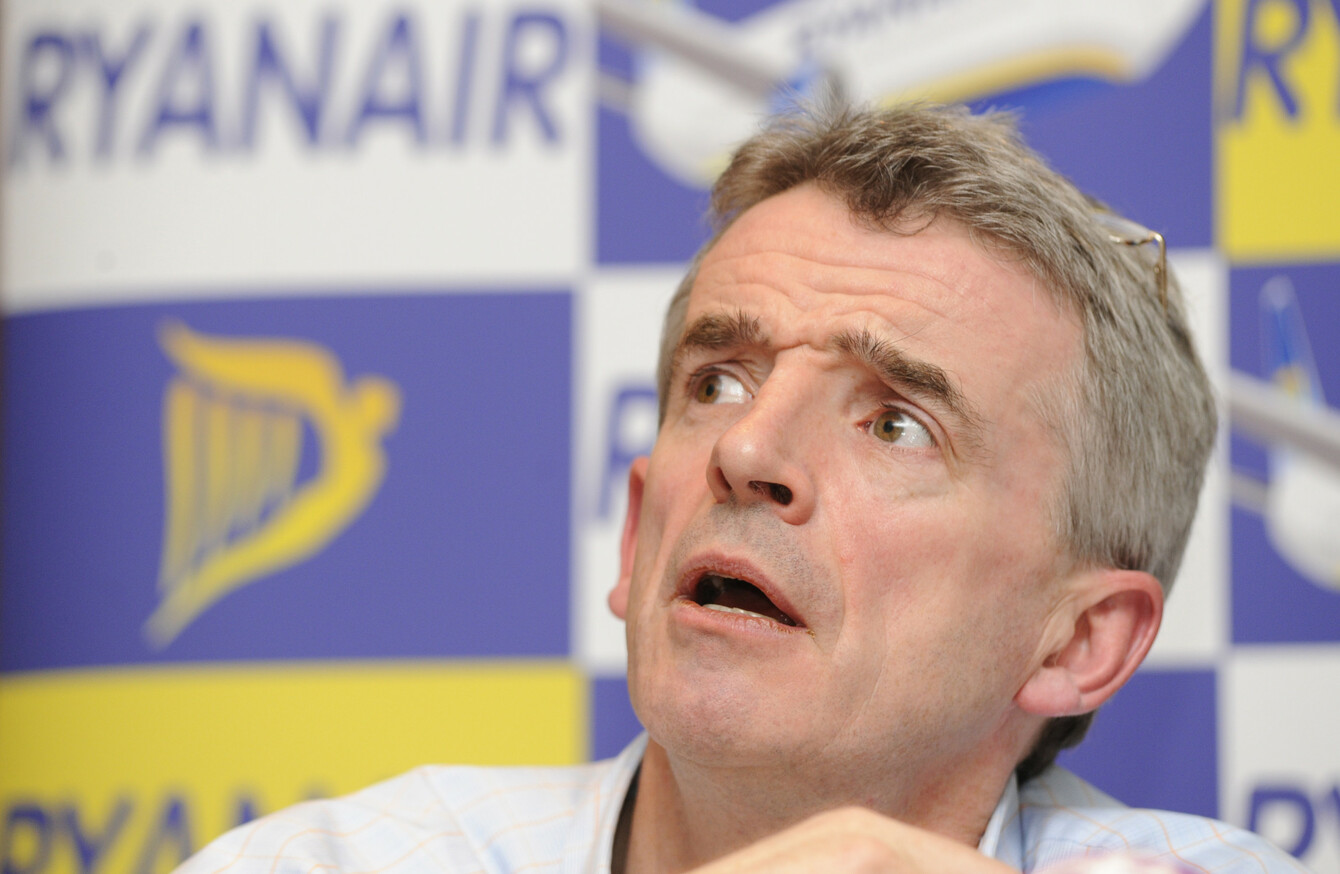 Image: Sasko Lazarov/RollingNews.ie
Image: Sasko Lazarov/RollingNews.ie
RYANAIR COLLECTED MORE than €1.8 billion through extra charges and add-ons last year – but US-based airlines squeezed more money out of passengers.
A new report compiled by American aviation consultancy IdeaWorksCompany suggested that Ryanair was one of the top-10 airlines in the world in terms of revenue generated through add-ons, extra charges and on-board food.
In its most recent financial year, the low-cost carrier recorded ancillary revenue sales of over $2.3 billion, or about €1.8 billion at the time its annual report was filed, putting it in fifth position behind four US airlines in the league.
US carrier United recorded the highest total ancillary revenue with sales of €4.9 billion.
Delta raked in €4.5 billion, American €4.4 billion, and Southwest – which inspired Ryanair's low-cost business model – recorded ancillary sales of just over €2.6 billion.
Ancillaries were worth more than €1 billion to Ryanair's British rival, EasyJet, which also featured in the top-10.
IdeaWorks' research – which looked at 72 airlines around that world – contained only estimated figures from several carriers, including Air France-KLM and Lufthansa Group.
In terms of the how much add-ons and extra charges were worth to overall sales, ancillaries accounted for more than a quarter of Ryanair's €6.65 billion in operating revenue last year.
Ancillaries were worth more to Florida-based low-cost airline Spirit, with extras accounting for almost half of the company's total revenue.
Ryanair did not feature in the top-10 airlines for ancillary revenue per passenger, a list also headed by Spirit, which an earned average of €43.76 in non-fare income for each customer.
Icelandic low-cost carrier Wow Air, which operates flights from Ireland to the USA and Canada via Iceland, was second on the list, pulling in an average of €41.96 per passenger.
Hungarian budget airline Wizz Air also featured in the top-10 with €26.74 per passenger.
According to Ryanair's 2017 annual report, it took an average ancillary revenue per booked passenger of €14.83 – or $17.28 at current rates.
Allocated seating
According to IdeaWorksCompany's report, half of Ryanair's customers now pay to choose their own seats, up from 23% in 2016.
Last year, there were complaints from passengers who hadn't paid for seats that they were randomly assigned seating far from family members and partners despite checking in at the same time.
The airline said at the time that this was due to an increasing number of passengers paying for allocated seating and choosing aisle and window seats.
According to the report published by IdeaWorksCompany, sponsored by Dublin-based travel tech firm CarTrawler, the 10 airlines featured in its ancialliary revenue league table generated a combined €25.5 billion through add-ons.
A decade ago, that figure was closer to €1.8 billion.
Ryanair and Easyjet were the only airlines in the top-10 that don't have frequent-flyer programmes, which generally account for a sizeable proportion of carriers' overall ancillaries.
Jay Sorensen, the author of the report, said that both airlines' "continuing focus on business travel strong suggests (frequent-flyer programmes) will some day occur".
Sign up to our newsletter to receive a regular digest of Fora's top articles delivered to your inbox.
Written by Conor McMahon and posted on Fora.ie