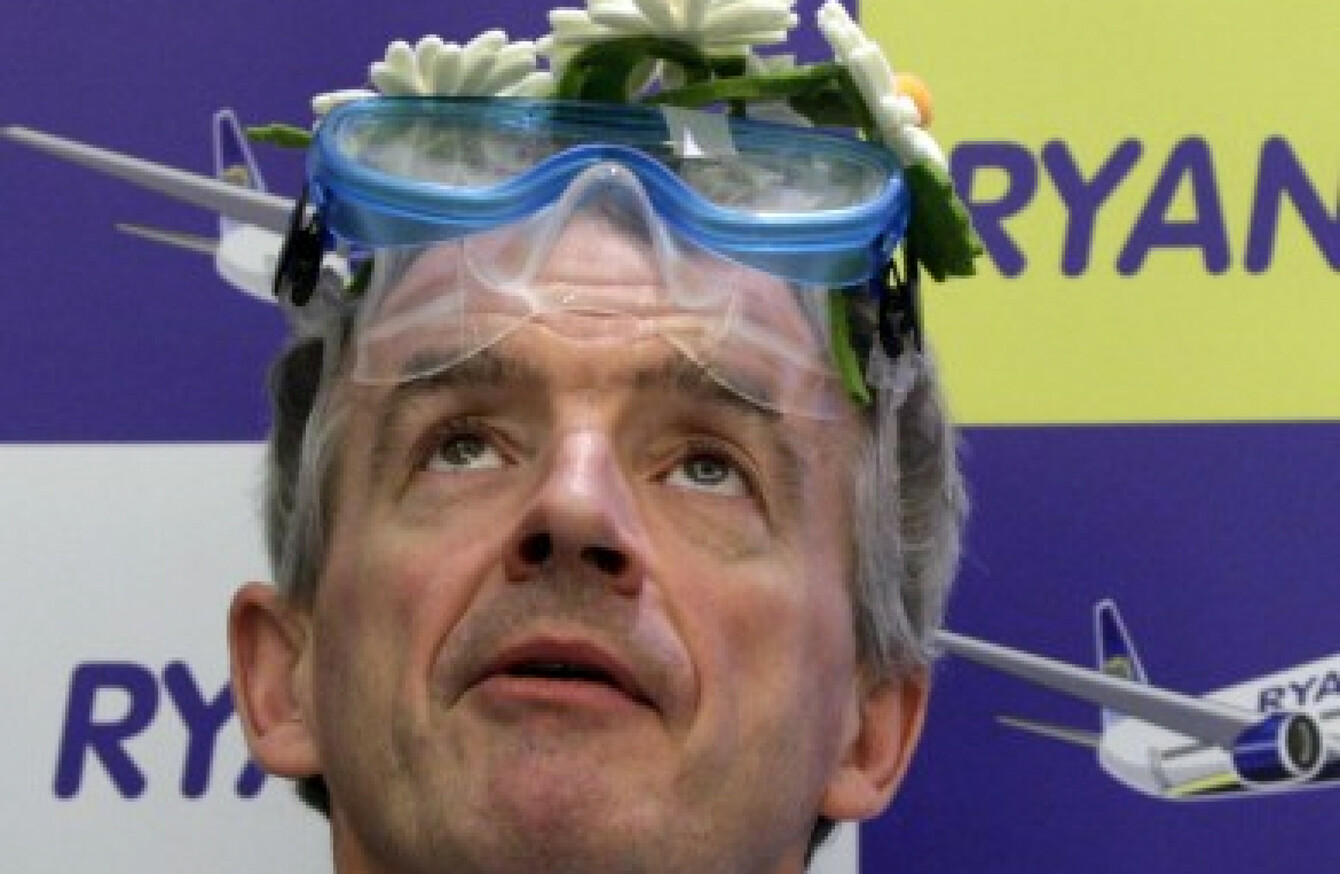 AP Photo/Virginia Mayo
Image: AP Photo/Virginia Mayo
AP Photo/Virginia Mayo
Image: AP Photo/Virginia Mayo
RYANAIR BOSS MICHAEL O'Leary has offered a robust defence of his company's allocated seating policy amidst claims that the airline splits up families to force people to pay extra for seats together.
During an interview on RTE's Today with Sean O'Rourke programme, O'Leary described people who raise issues about seating on Ryanair flights as "the whining, whingeing minority".
Numerous people have been venting their frustrations with Ryanair over its seating policy on social media and on phone-in radio shows in recent weeks.
Customer Angela Slevin recently told TheJournal.ie: "When you don't pay for a seat and opt to be allocated seats, they will split the whole family up and allocate seats all over the plane."
However, the Ryanair CEO moved to dismiss the claims and argued that there had been no change in policy.
"There's been some controversy about our seating policy which is as usual misunderstood. We have a free seating policy. If you don't want to pay a fare of €2 and you choose a random seat, you do that free of charge.
If you want to sit beside somebody and you reserve a seat, you do that from €2 and, frankly, if you're not happy to pay the €2 to sit beside somebody else stop complaining.
"Our airfares this year are going to fall by €4 for the 130 million passengers we carry and if you chosen a random seat, you are getting a random seat so stop whingeing. If you want to sit beside somebody else, pay the €2 like more than 50%, or 65 million, of our customers now do and sit wherever you like."
O'Leary explained that each flight has 40 seats available at €2, an amount he described as "a pittance", and 60 at €4. He later explained that more desired seats can cost up to €14.
The whining, whingeing minority out there who believe that somehow they should have the inalienable right to sit where they like free of charge, sorry you can't. More than half of our passengers want to pay a very small fee to select their own seat.
The Mullingar man was keen to stress that the airline hasn't altered its seating policy. However, he did reveal that the system setting the seat prices changes all the time.
"Have we changed our policy? No! But the algorithms that allocate are changing on a daily basis and will continue to change because they are driven by demand. We now have more than 50% of our customers paying for reserve seats.
They overwhelmingly select the window and the aisle seat which means, yes, if you want a random seat it's far more likely to be in the centre.
O'Rourke read out several texts from listeners complaining about bad seating experiences on Ryanair.
When presented with claims that reserve seats can cost up to €20, O'Leary said: "If you want to sit in the front row seats – which I never do myself – it will cost you, I think, €14. By the way they are the most popular reserve seats."
When another texter said it had cost them €60 extra for their family to sit together O'Leary responded that the family is probably saving more than €60 to fly with Ryanair.
#Open journalism No news is bad news Support The Journal

Your contributions will help us continue to deliver the stories that are important to you

Support us now
He also dismissed a respondent's claim that they recently sat beside a 13-year-old girl who cried throughout the flight because she was separated from her family. "Rubbish," he said.
Teenage girls are crying because they are separated from somebody else? It has never yet happened on a Ryanair flight… They are so thrilled to be on a Ryanair flight, the lowest fares in Europe.
O'Leary later phoned into RTE's Liveline to talk to more customers complaints about allocated seating.
When a customer asked why she couldn't find any €2 or €4 flights, he responded that "they are already sold."
The discussion got fairly heated with a woman alleging, "You're making a fool out of the whole lot of us and I do not appreciate it."
During the course of the earlier interview, the Ryanair boss also called for the Attorney General's office to move faster on allowing a second runway at Dublin Airport and expressed the view that "it is almost inevitable" that there will be no flights between Britain and Europe for weeks, or even months, in 2019 because of Brexit.
"You have no idea how much the major airlines of France and Germany are licking their lips at the thought of stranding the British airlines, Easyjet, IAG (and) causing RyanAir significant disruption for a period of time in the summer of 2019," he said.