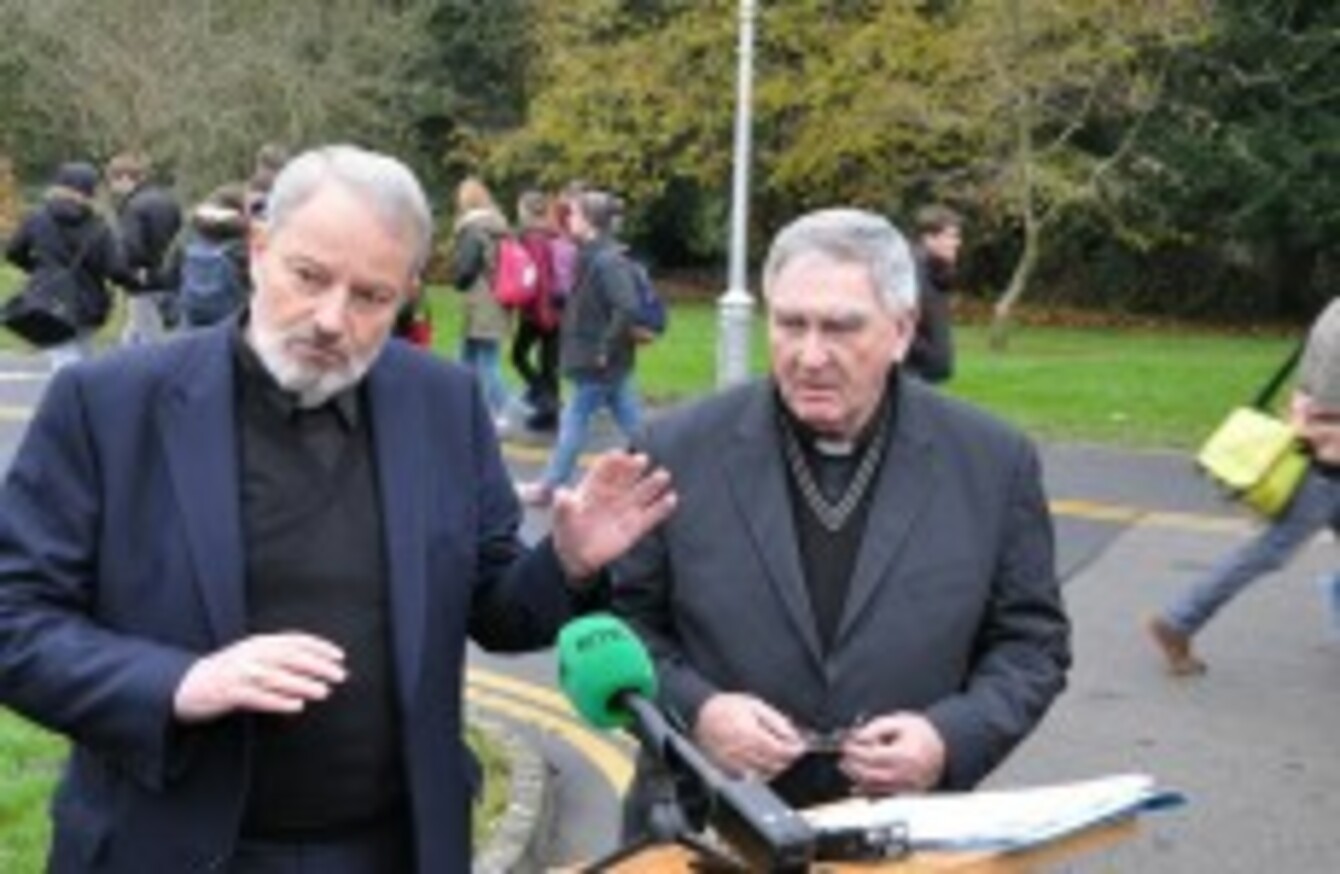 Bishop Kevin Doran and Bishop Liam MacDaid in Maynooth today.
Image: Flickr/IrishCatholicBishops
Bishop Kevin Doran and Bishop Liam MacDaid in Maynooth today.
Image: Flickr/IrishCatholicBishops
A STATEMENT FROM Catholic bishops that it would be a "grave injustice" for same-sex marriage to proceed is being distributed to over 1,300 parishes throughout Ireland.
The missive was put together by the Irish Catholic Bishops' Conference and seeks to inform members "in preparation for the debate which will inevitably unfold during the coming referendum."
The 16-page document entitled "The Meaning of Marriage" argues that, "The union of marriage provides for the continuation of the human race and the development of human society. "
It continues, arguing that "to redefine the nature of marriage would be to undermine it as the fundamental building block of our society."
"Children have a natural right to a mother and a father," according to the statement.
The statement outlines the Irish Catholic Church's definition of what it considers marriage to be and contains explanations based on its interpretation of scripture.
It includes the sections "God's Plan for Marriage" and "God's Plan for Our Marriage and Family."
Launching the document today at Saint Patrick's College in Maynooth today, Bishop of Clogher Lian MacDaid says that it intends to outline the "Christian understanding of marriage."
Bishop of Elphin Kevin Doran said that the document was prepared in the context of the upcoming referendum on the state recognition of same-sex marriage.
"Marriage is, of its nature, a committed relationship between a man and woman which is open to the transmission of life," Doran claimed.
Reaction
But responding the bishops' statement, chair of the Gay and Lesbian Equality Network says the upcoming vote is not about religion.
"Lesbian and gay couples seek the right to civil marriage, not church marriage," says Kieran Rose. "Sacramental marriage remains the preserve of religious bodies. No one can or should be able to force a church to marry any couple against their teaching."
Rose argues that allowing gay and lesbian couples to marry will not harm marriages between a man and a woman, on the contrary, it will strengthen the institution:
The desire of loving and committed lesbian and gay couples to marry strengthens marriage and the place and status of marriage in Irish society.
A Church of Ireland group that favours same-sex marriage has also criticised the statement from the Catholic Bishops. Dr Richard O'Leary of Changing Attitude Ireland says their viewpoint is based purely on reproduction and is misguided.
"The Catholic Bishops' view of marriage as being essentially about reproduction rather than being primarily a loving stable relationship was contrary to how many Christians understood their own marriages," he says.