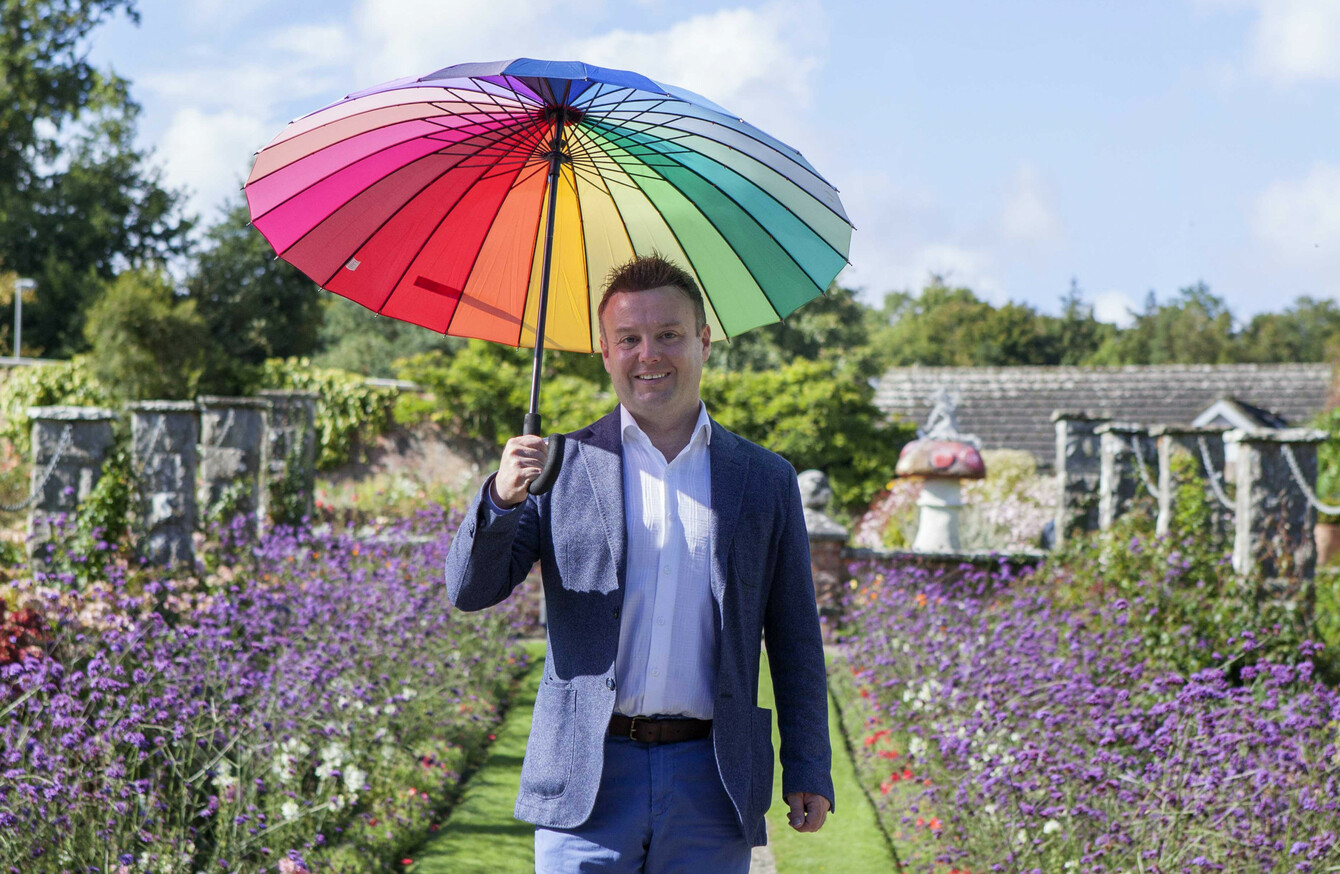 Image: Daragh Doyle
Image: Daragh Doyle
DARAGH DOYLE GREW up on a family farm in rural Wexford.
He's gone from being afraid to come out as gay in the 1980s to establishing a same-sex wedding planning agency.
Doyle sat down with TheJournal.ie to tell them about his love for hurling, the impact of the same-sex marriage referendum and the last person he came out as gay to: his mother.
"At the age of around 13, I realised that I was gay"
Doyle grew up on a farm in rural Wexford, and his father ran a butchers. "I was a real lad growing up," he said. "Really into GAA, and really into hurling."
It was around the age of 13 that he realised he was gay. He said: "At the time, I thought I was the only person who felt like this as all my friends were talking about girls."
Going onto college at Waterford Institute of Technology, Doyle never acknowledged these feelings because of the kind of comments he would hear on a regular basis.
"While homosexuality had been decriminalised, homophobia was still rife and jokes about gay people were commonplace," he said.
It wasn't till he moved to Dublin in around 1998, where he got a job working insurance, that he began coming out.
It wasn't an easy process.
"The first time I summoned enough courage to go to [popular gay bay] The George, I wasn't let in," Doyle said. "The bouncer said I didn't fit the profile."
As time went on, he came out as gay to his cousin, his sisters and, later, his brother.
"I had a bit of fear about how people would react," he said. "My brother grew up and lives in rural Ireland, which can be a world away from Dublin. But he and everyone else were so supportive of me. I needn't have worried at all."
"You're right, sure it doesn't matter at all"
One person Doyle never came out to was his father, who died in 2009.
"I never discussed my sexuality with him," he said. "The last person I came out to was my mother."
This only happened three years ago, before Ireland voted a resounding yes in the same-sex marriage referendum.
"She walked me down the aisle at my wedding a year ago," Doyle said. "My brother was my best man, and my school friends were my groomsmen.
These were things that I could never have dreamed of even at the age of seventeen, when my sexuality was illegal.
In recent times, Doyle has returned home to help out at the butchers, as his brother is receiving treatment for cancer.
Although he never got to tell his father, he recently heard a poignant anecdote from someone who worked in the butcher's shop.
"He told me a story about my father coming over to him one day and saying, 'You know I think Daragh is gay.'
He replied, 'Sure what does it matter if he is?' My father replied, 'Your right, sure it doesn't matter at all.' It was almost like receiving a message from the grave eight years after my father had passed on.
#Open journalism No news is bad news Support The Journal

Your contributions will help us continue to deliver the stories that are important to you

Support us now
Rainbow Weddings
After a stressful last few years in insurance, and thanks to a redundancy payment after 19 years in the job, Doyle decided earlier this year that he'd indulge one of his passions.
"I always loved planning events," he said. "Work events, family events – I've always loved it. And then when it came to organising my own wedding, I really loved organising that."
He said that, after the marriage referendum result, it was something that he felt same-sex wedding planning needed to try his hand at.
"I'm 40 now so thought if I don't do it now, I'll never do it," he said. The result was Rainbow Weddings.
The business only started in May, and Doyle has organised two weddings to date, with a further 10 in the pipeline.
"It's a very niche business, so word-of-mouth is very important," he said. "But we've been trying to get the message out in any way we can.
There are still venues and service providers who won't host gay weddings. There are still family members, even parents who won't attend such a wedding. This can be very difficult for couples, and the fact that I have lived through this experience, and that I also have a passion for planning, is of great assistance and comfort to same-sex couples.
Turning to the momentous vote this week backing same-sex marriage in Australia, Doyle said that is was a remarkable vindication on a similar level to that seen in Ireland.
He even spoke to Australian TV in the run to the vote, when a news channel looked at Ireland's experience.
Source: SBS Dateline/YouTube
Looking ahead, Doyle said that he would love to see LGBT people in every area of society feeling safe to come out.
He added: "Even in 2017 we still only have one inter-county GAA player who has come out as gay, Donal Óg Cusack. The impact of this on young gay hurlers and footballers around the country was massive.
But we need more sports icons to come out and tell their stories. I would love to see a day when a player being open about their sexuality is commonplace.