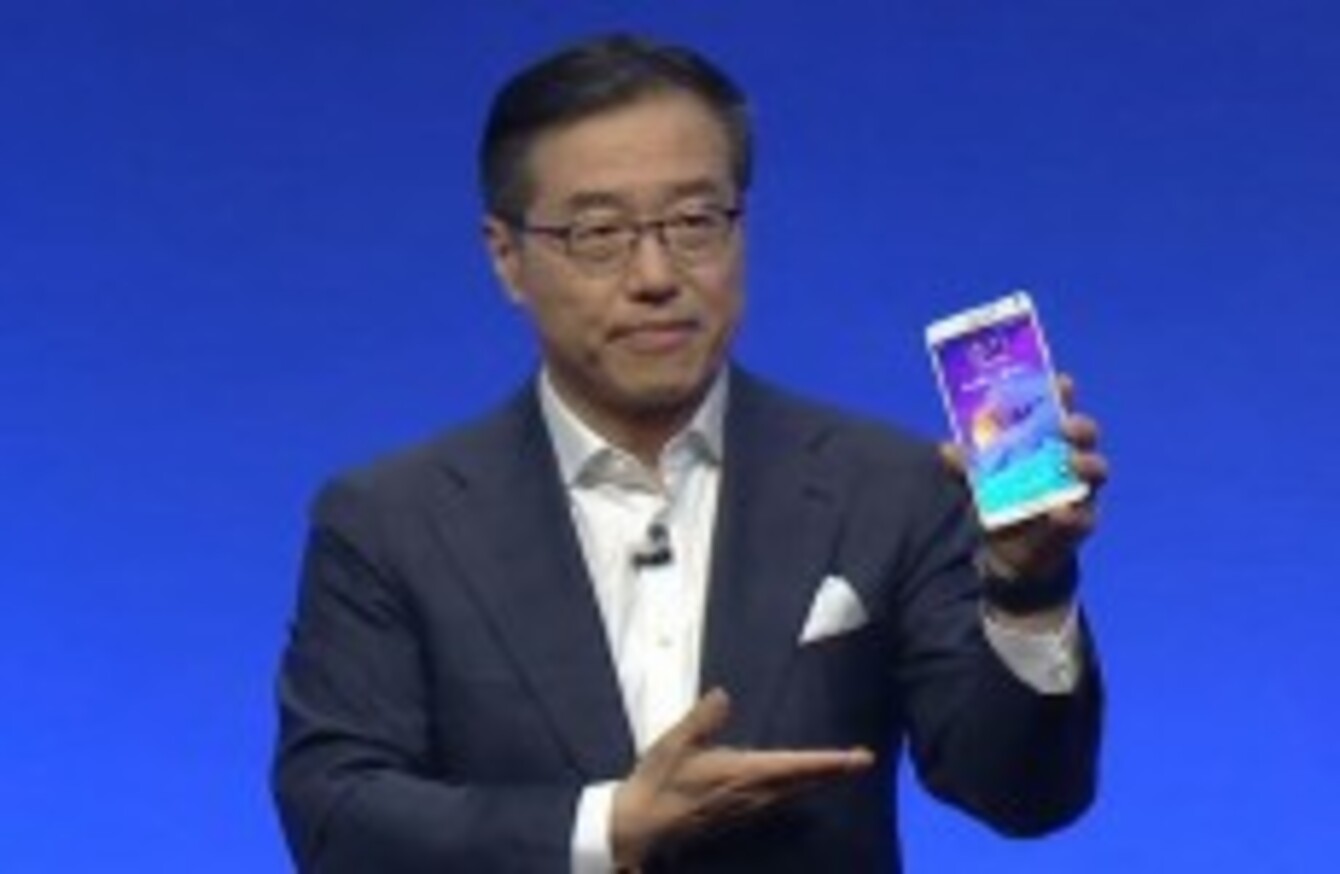 Samsung president, DJ Lee, reveals the latest edition to the Galaxy range, the Note 4.
Samsung president, DJ Lee, reveals the latest edition to the Galaxy range, the Note 4.
SAMSUNG UNVEILED TWO new additions to its Galaxy Note range as well as its own VR headset.
At a press conference at the IFA conference in Berlin, Samsung's President DJ Lee, announced a number of devices including the Galaxy Note 4 and Note Edge as well as its Oculus Rift competitor, Gear VR.
The Galaxy Note 4 has a 5.7-inch screen, the same as the Note 3, and has a metal frame, continuing the trend which started with the newly announced Galaxy Alpha.
The Note 4 comes equipped with a 16MP back camera with optical image stablisation and a 3.7MP front camera.
One of the main features introduced is Smart Select, a stylus option which allows you to compile different images and links together and send them to friends. The device also introduces new multi-window functionality, allowing you to shrink an app down into a window and have it hover over another app.
The company also says that battery life for the device has improved and brings faster charging. It claims that a single charge can bring battery life from 0% to 50% in roughly 30 minutes. In comparison, the Note 3 takes 55 minutes to reach the same percentage.
The other smartphone added to the Galaxy range is the Note Edge which has a sloping screen. The curved side screen can be used to access frequently used apps, alerts and features and are accessed by swiping it with your thumb.
Finally, the company's announced its entry into virtual reality with its own headset, Gear VR, which is powered by Oculus (the latest version of Oculus' development kit uses a Galaxy Note 3 display, hence the partnership).
The device requires you to slot in the Galaxy Note 4 and use it as a VR screen, similar to Google Cardboard. The headset is wireless and will be used for showing films, entertainment, and games.
No release dates were provided for any of the devices, but it's expected that they will be released sometime later this year.