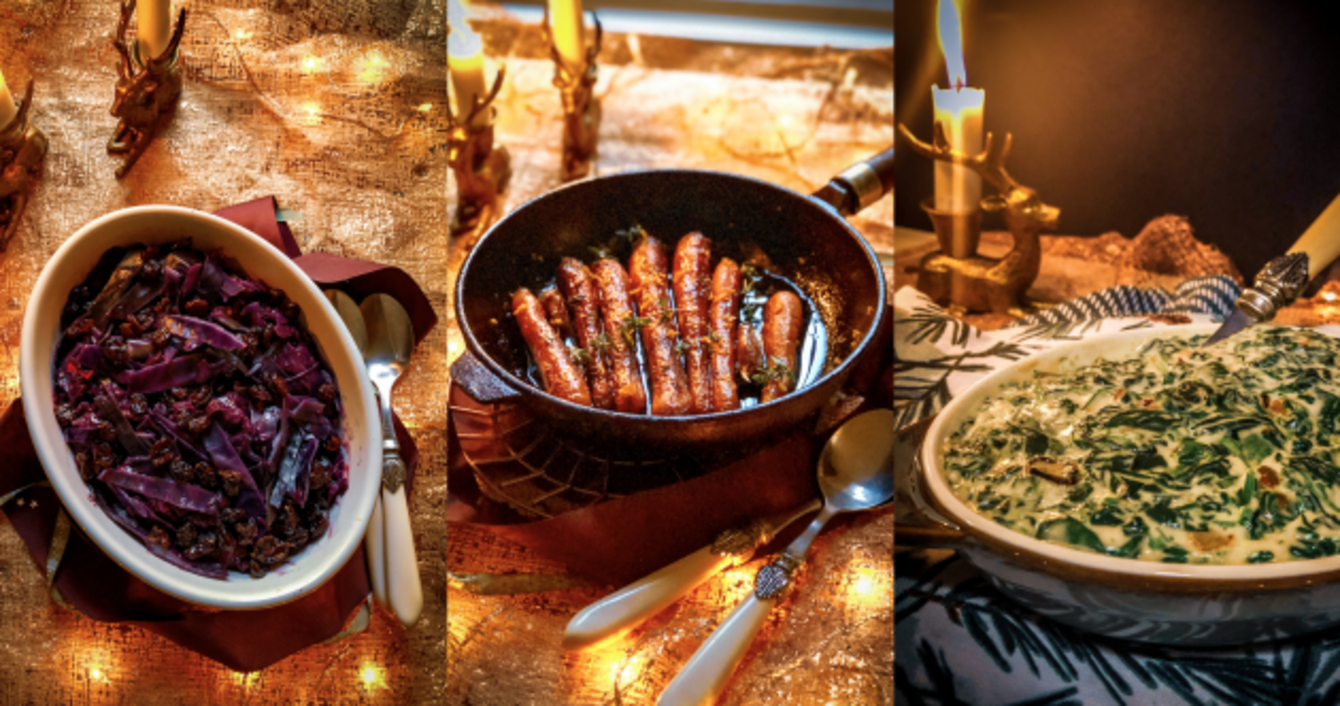 Image: GastroGays
Image: GastroGays
EVERY SO OFTEN the supporting acts pull focus from the main event – and why shouldn't they? Why should the turkey and ham take all the attention, all the time?
Sides deserve the spotlight, especially when there are a couple of ways to turn the standard dinner table supplementary recipes into spectacular dishes that beg you to take a spoon or two more.
Take carrots, spinach and cabbage and make them magic with these three scene-stealing recipes.
Next-Level Creamed Spinach
Spinach can be a tricky one to jazz up. When it's raw, it can do little more than bulk out a salad and when cooked down it reduces to near-nothingness.
But when you add a couple of extra things to it, it becomes sensationally moreish and delicious. This is the type of side dish you'll make room on the plate for. And take seconds, too.
Ingredients
500g fresh spinach (or frozen, defrosted and drained)
1 white onion, finely chopped
1 clove of garlic, finely minced
100g parmesan, grated
½ teaspoon, ground nutmeg
40g unsalted butter
40g plain flour
100ml double cream
A few splashes of milk
Method
Bring a large pot of water to the boil and add about a tablespoon of salt. Add spinach and cook for about a minute. Remove and drain in a sieve and run under cold water then squeeze/push as much water out as possible. Cut up and keep to one side.
Heat the butter in a frying pan on a low heat and add the onions. Stirring constantly, cook until the onions are translucent, which takes about 6-8 minutes. Add the garlic and cook out a little before adding seasoning, nutmeg and the flour, mixing with a wooden spoon until the flour has has cooked and you've got the base of a roux.
Remove from the heat and add in the cream and a splash or two of milk. Continue to stir until you have a thick sauce.
Grate in the cheese and continue to stir until it's all melted, which takes a couple of minutes.
Add in the chopped spinach and stir to combine. Serve immediately.
Pan-glazed Carrots with Orange and Thyme
Carrots are a hardy staple, but add a dash of citrus and a fragrant herb and you're already on your way to a winner. Pan-frying carrots in butter too – could there be a more beautiful way to cherish these bright orange roots?
For a little effort, these carrots turn into a serious 'wow' at the table.
6 to 8 small carrots, peeled
25g unsalted butter
1 tablespoon beef dripping (optional)
2 cloves of garlic, crushed
A couple of sprigs of fresh thyme
1 orange, zested and halved
1 tbsp honey
Salt and pepper
Gently peel the carrots, maintaining the shape as much as possible. Melt the butter and dripping (if using) in a large frying pan over a medium heat. When it's starting to foam, throw in the garlic and leave for about minute.
Add half of the orange zest into the pan along with the juice, and throw in the thyme. Be careful of it as you add in. Then, add in the honey, and a small bit of water and stir to combine
Lay the carrots down in a line, and baste with the juice and butter. Season with some salt and black pepper, then shake the pan. Cover with a lid, and cook for 15-20 minutes until tender, occasionally shaking to ensure they are evenly glazed.
Remove the lid and cook for a further 5 minutes to allow the liquid to reduce and get sticky, then serve with some more extra zest and thyme.
Cranberry Jewelled Red Cabbage
When red cabbage is cooked down to jammy sticky levels, it's so unctuous a little goes a long way – and this recipe delivers on that. Pass this around the table and by the time it gets back to you… it will probably be gone. And everyone will want the recipe.
1 small head of red cabbage
2 medium apples (we like Braeburn or Cox for their sweet, tart flavour)
Lots of salt and pepper
1 large white onion
100g dark brown sugar
2 tsp allspice
2 tsp cinnamon
2 tsp mixed spice
1 tsp nutmeg
1/4 tsp ground cumin
A glass of red wine
30ml vinegar
Handful of dried cranberries
A food processor is a wonderful tool for this recipe, which you can use to quickly shred the cabbage and onion. But if not, slice both into shreds and chop the apple up into eighths. We don't peel the apples, but do core them.
Pre-heat the oven to 140ºC. In a heavy-based pot (with a lid, as this will need to go in the oven), melt a generous knob of butter over a medium heat on the hob before adding the onion, then the cabbage. Allow to sweat and fry for a couple of minutes before introducing the apple slices.
Begin adding your spices. You can use fresh or pre-ground spices, whatever you have to hand – but fresh always tastes better. Add the sugar and allow everything to combine and the sugar to melt down for a minute or two, before pouring on the red wine and vinegar.
Clamp the lid on and cook nice and slowly in the oven for two hours (or continue on the lowest heat on the hob). Check it every half hour and give it a stir and taste. Some people prefer a little bit of bite to their cabbage, while others might want it completely soft and melting. It's all about personal preference so cook for as long as you need to to get it to your desired consistency! If too thin or watery, towards the end of the cooking time take off the lid, crank up the heat and allow to bubble, reduce and thicken.
When the cabbage is done, take out the pot and allow to cool a little. Strew the cranberries through and taste for seasoning, adjusting with extra sugar, vinegar or salt if needed.