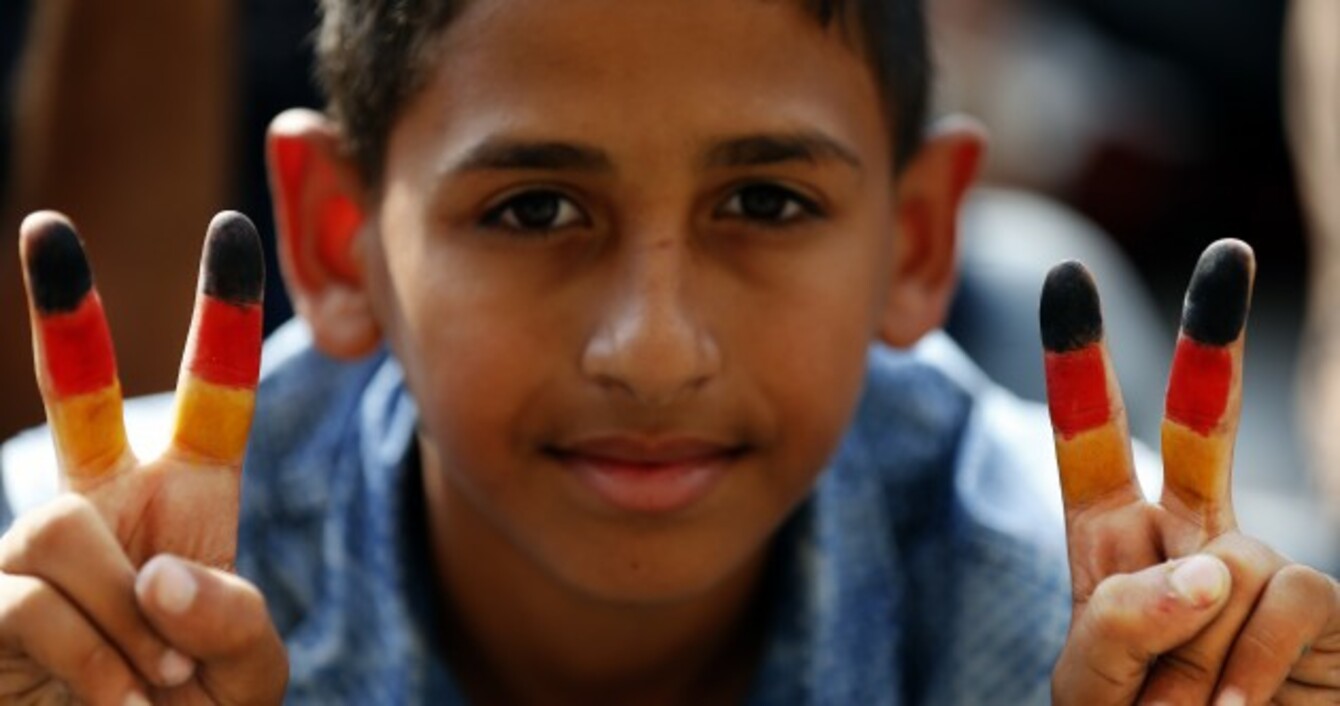 A young boy with the German flag painted on his fingers at a railway station in Budapest, Hungary
Image: AP Photo/Frank Augstei
A young boy with the German flag painted on his fingers at a railway station in Budapest, Hungary
Image: AP Photo/Frank Augstei
GERMANY ANNOUNCED OVER the weekend that it has plans to temporarily reintroduce controls on its borders with Austria.
Such a move would appear to run contrary to the freedom of movement policy between most of the European Union's 28 member states as ingrained under the Schengen agreement.
So isn't this an illegal move by Germany? And what does it mean for the future of the EU?
The Schengen agreement 
Introduced in 1985, the agreement is seen as one of the central pillars of the EU and allows individuals to cross the borders of any of the EU countries without showing any documentation.
Beyond the practicality in terms of free movement, it is also seen as representative of the connection between nations, and was described yesterday by President of the European Commission Jean-Claude Juncker as, "a unique symbol of European integration."
Ireland and the United Kingdom are the only two countries in the European Union who have an opt-out clause, although others are not obliged to join.
Despite some confusion on the issue, Germany's decision yesterday to bring in border controls does not contravene the agreement.
As the European Commission explained in a statement, bringing in border controls is acceptable "in case of crisis situation".
European Commission President Jean-Claude Juncker stated that he had been informed of the move by German Chancellor Angela Merkel over the phone on Sunday afternoon and that the country was covered by the rules under the Schengen Borders Code.
Under these rules, Germany has the right to suspend border controls for a period of no more than 30 days, with the possibility of prolonging the period depending on the circumstances for the introduction of the controls.
Who else has closed their borders? 
Germany's decision to introduce passport controls at its Austrian border has led to a domino effect among some other member states.
Austria has today said that it will be introducing temporary border controls in the same manner than Germany has, following an announcement made by the country's interior minister Johanna Mikl-Leitner in Brussels earlier today.
Slovakia and Poland have also announced that they will be introducing border controls (although Poland has not so far been seriously impacted by the migrant crisis).
Will they re-open? 
Under the Schengen Borders Code, members states are unable to leave the passport checks in place for an indefinite period of time.
The action by Germany follows a huge influx of refugees into the country over past couple of weeks.
It is being reported that migrants at the border are still being allowed in if they have genuine asylum cases, as opposed to being economic migrants, according to Spiegel magazine. 
It is hoped that progress will be made today at a meeting taking place between ministers for justice around from Europe who discussing European Commission's proposal for relocating 160,000 refugees across Europe and putting a permanent mechanism in place for the settlement of refugees.