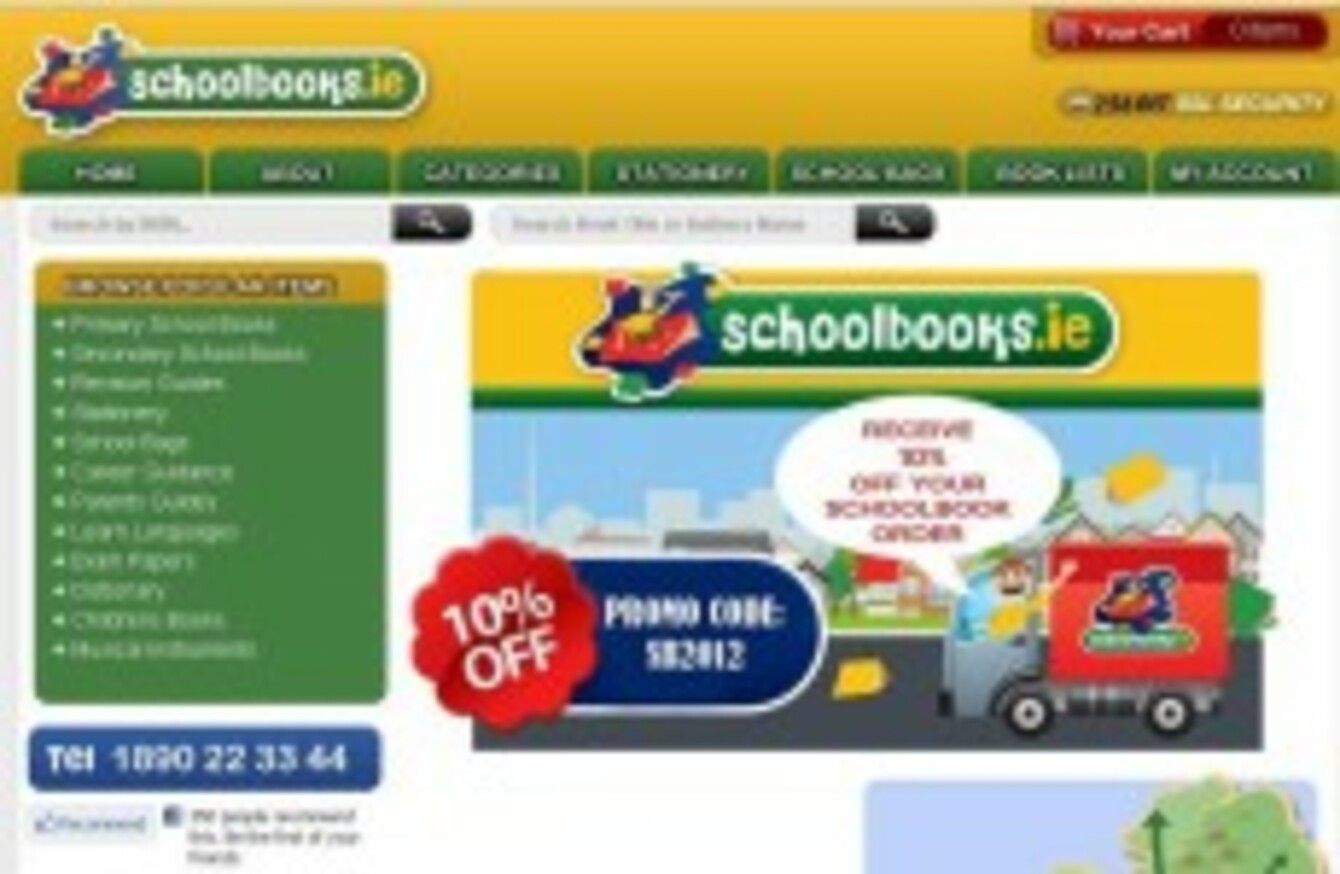 Image: Screengrab
Image: Screengrab
THE NATIONAL CONSUMER Agency (NCA) says it has received around 250 queries in relation to problems parents have been experiencing with the online book retailer, Schoolbooks.ie.
The NCA says that it is "very concerned" that some parents are continuing to experience problems and are being left out of pocket nearly three months after the retailer first encountered problems with a backlog of orders.
Some parents are now resorting to getting refunds for undelivered books through the Small Claims Court having been unable to contact the company regarding money they are owed.
The Fine Gael TD Mary Mitchell O'Connor has called on the managing director of the Schoolbooks.ie, John Cunningham, to make a statement but the company has so far not responded to numerous calls and emails from TheJournal.ie asking for a comment.
The problems first began in mid-August when dozens of parents raised concerns that their children were about to return school in some cases with no books at all after orders failed to materialise weeks after they were placed.
Refunds
The company acknowledged a backlog of orders and apologised, claiming in a series of statements that the backlog was about to be cleared but some parents are still awaiting the delivery of books ordered in August while others have cancelled their order but not yet been refunded.
Father-of-two Conor Buckley placed an order for €200 worth of books for his son and daughter on 17 August but did not receive all of the books when they were delivered a few days later. Now in October, he is awaiting €70 worth of books and has been unable to contact the company to find out when they will be delivered.
He said: "It's ridiculous because we have used them for three or four years and it's all been perfect but this year… We've heard nothing from the company, no communication at all from them. My wife called twice a week, emailed them twice a week, that's been since the 30 August. So over a month and no response at all."
Buckley says he will "never, never" use Schoolbooks.ie again. Galway-based Lorainne Kilcar is waiting for over €60 worth of books that she ordered on 7 August when she placed an order totalling €348, most of which only arrived on 21 September.
In an email to the company, which she has not received a response to, she wrote:  "My daughter goes to and from school on a bus which picks her up five miles away from home; therefore, it is not an option to go into school early or to stay late after school to use someone else's books for study and homework; the situation for those affected by the inefficiency of SchoolBooks.ie is untenable and is causing undue stress to students."
Out of pocket
In another case, mother-of-one Emma Dowling says she is still waiting for a refund of €60 for a book order she cancelled on 20 September.  "It's just a point of principle," she said. "My sum of money is quite small, it's only €60 euro but then I had to go out and purchase the books, I am a lone parent so €120 out of pocket is significant."
She has not ruled out pursuing the matter through the Small Claims Court. One other parent who contacted TheJournal.ie said she did apply to the court, eventually receiving a cheque for €211.14.
Another parent, Teresa Duffy cancelled her order for €73 worth of books at the end of August but is still awaiting a refund having been told it would clear in three to five days. Both she and her husband have been calling and emailing the company to no avail and are still waiting for their money back.
"We'll just take the hit," she said adding that while she had used the company with no problems in recent years she would not be doing so again.
Mitchell-O'Conner said that it was unacceptable that parents would be out of pocket "especially in these difficult times" and added: "I am calling on the company's managing director to make a statement and clarify exactly what he is going to reimburse parents."
A spokesperson for the NCA said: "The National Consumer Agency is very concerned that some parents are still out of pocket as a result of their dealings with schoolbooks.ie.
The NCA has received approximately 250 queries from consumers regarding schoolbooks.ie and has been in contact with the company on a number of occasions in relation to these queries and to remind them of their obligations to consumers under EU law. The NCA is following up on the complaints received.
It also said that parents who are experiencing problems with Schoolbooks.ie can request a chargeback from their credit card or can go through the Small Claims Court where the application fee is €25.
TheJournal.ie has called Schoolbooks.ie a number of times but has been unable to speak to anybody at the company and repeated emails asking for comment have not been responded to.