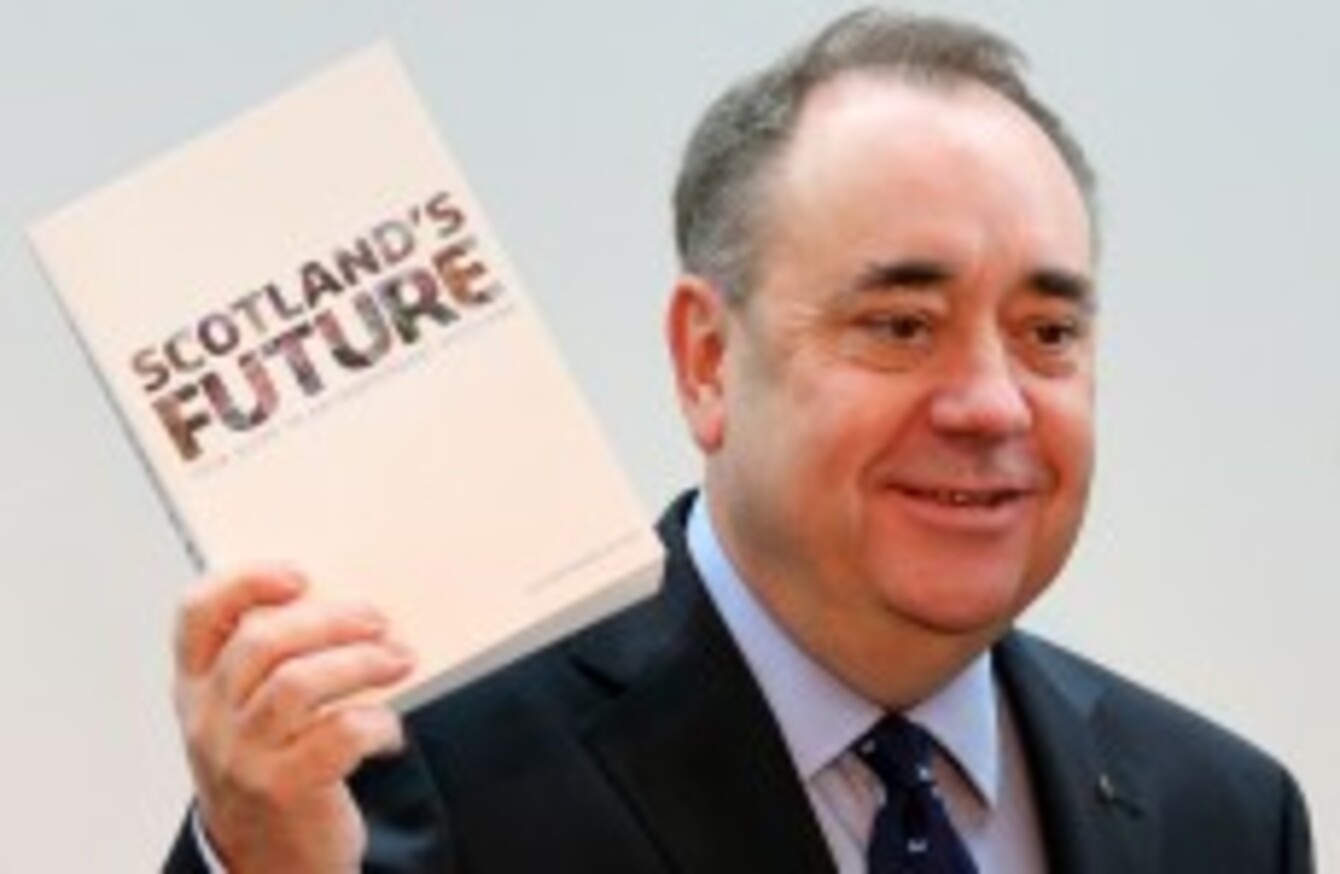 Scottish First Minister Alex Salmond
Image: Andrew Milligan/PA
Scottish First Minister Alex Salmond
Image: Andrew Milligan/PA
AN INDEPENDENT SCOTLAND would keep the pound and the British monarchy but establish its own defence force, First Minister Alex Salmond said today as he unveiled detailed proposals ahead of next year's referendum.
Launching his regional government's long-awaited blueprint for leaving the United Kingdom, the nationalist leader said he could build a "wealthier and fairer nation" if Scots vote on 18 September to dissolve the 300-year-old union with England.
"We'd become independent in more promising circumstances than virtually any other nation in history," Salmond told a news conference at the Glasgow Science Centre.
"Ultimately at the heart of this debate there is only one question and one choice.
"Do we, the people who live and work in Scotland, believe that we are the best people to take decisions about Scotland's future?"
Scotland's Future
The prospectus, "Scotland's Future: Your Guide to an Independent Scotland", tackles 650 questions on the practicalities of going it alone.
The so-called "white paper" also sets out policies that Salmond's Scottish National Party (SNP) would introduce post-independence, in areas such as corporate taxation, pensions, childcare, education, defence and welfare.
Here are the main points:
ECONOMY
(Image: Lewis Stickley/PA)
Scotland would continue using the pound as its currency, but London has said this would not necessarily be possible.
It would claim a large share of the revenues from North Sea oil and gas reserves, with 90 percent lying in Scottish waters.
The Bank of England would remain as Scotland's central bank and lender of last resort. Scotland would take on a share of British debt.
Corporation tax would be cut by three percent and air passenger duty by 50 percent. There would be no rise in the basic rate of tax. Minimum wage would rise in line with inflation.
DEFENCE AND FOREIGN POLICY
(Image: David Cheskin/PA)
An independent Scotland would no longer host Britain's Trident submarine-based nuclear weapons, the white paper says – a highly contentious issue. The weapons would be removed in the first parliament.
Scotland would have its own defence force as well as new intelligence and security agencies.
It would remain a member of the European Union and NATO, and open up to 90 embassies and consulates worldwide.
MONARCHY
(Image: Dan Kitwood/PA)
Scotland would keep Queen Elizabeth II as its monarch as part of a new, written constitution.
WELFARE
(Image: Andrew Milligan/PA)
There would be 30 hours of free childcare a week for every three- and four-year-old.
Scotland would scrap Britain's controversial "bedroom tax" – a cut in welfare payments to public housing tenants who are deemed to have a spare bedroom – which was introduced in April.
CULTURE
(Image: PA Archive)
A new Scottish Broadcasting Service would replace the BBC as national broadcaster.
Citizens would also be automatically entitled to a Scottish passport, while there would be no controls on the English border as Scotland would remain within the existing British Isles common travel area.
Opposition
Some 38 percent of people are currently favour independence, according to a Panelbase survey for the Sunday Times newspaper, while 47 would vote against.
The leader of the "no" campaign, former British finance minister Alistair Darling, said the white paper contained nothing new and it was "complete fantasy to believe that you can leave the UK but keep all the benefits".
"No one is going to tell me that all the good things will stay north of the border and all the bad things will go to the south," he told BBC radio.
The Better Together campaign posted these ten reasons why the country would be better off if it remained within the United Kingdom:
View larger version of this image
Britain's Conservative Prime Minister David Cameron and his coalition government with the Liberal Democrats is pushing hard for a "no" vote, as is the opposition Labour Party.
Cameron's spokesman said the white paper "doesn't really answer the big questions around the currency, fiscal sustainability and Europe, just to take three very important major issues."
- © AFP 2013 with additional reporting by Michelle Hennessy.