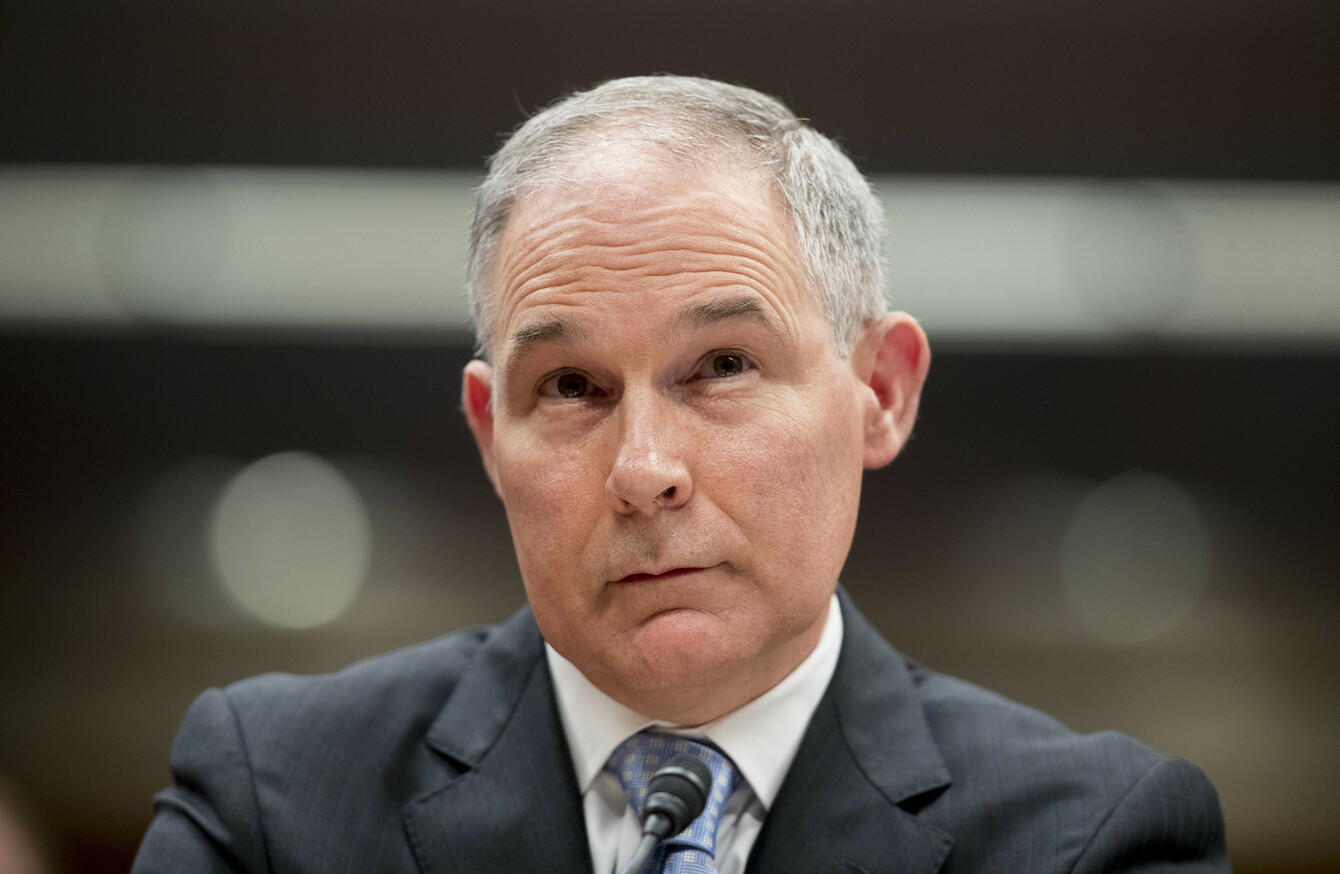 Scott Pruitt
Image: AP Photo/Andrew Harnik, File
Scott Pruitt
Image: AP Photo/Andrew Harnik, File
AMERICA'S ENVIRONMENTAL PROTECTION Agency administrator Scott Pruitt resigned last night amid ethics investigations of outsized security spending, first-class flights and a sweetheart apartment lease.
With Pruitt's departure, President Donald Trump loses an administrator many conservatives regarded as one of the more effective members of his Cabinet. But Pruitt had also been dogged for months by scandals that spawned more than a dozen federal and congressional investigations.
White House Chief of Staff John Kelly and other officials pushed Pruitt to tender his resignation amid the mounting scandals, according to a senior administration official not authorised to discuss the situation publicly. Talking to reporters on Air Force One, Trump continued to praise his scandal-plagued EPA chief, saying there was "no final straw" and he had not asked for Pruitt's resignation.
"Scott is a terrific guy," Trump said. "He came to me and said I have such great confidence in the administration I don't want to be a distraction…He'll go and do great things and have a wonderful life, I hope."
In his resignation letter to Trump, obtained by The Associated Press, Pruitt expressed no regrets.
"It is extremely difficult for me to cease serving you in this role first because I count it a blessing to be serving you in any capacity, but also, because of the transformative work that is occurring," Pruitt wrote. "However, the unrelenting attacks on me personally, my family, are unprecedented and have taken a sizable toll on all of us."
Pruitt, a Republican, had appeared Wednesday at a White House picnic for Independence Day, wearing a red-checked shirt and loafers with gold trim. Trump gave him and other officials a brief shout-out, offering no sign of any immediate change in his job.
EPA Deputy Administrator Andrew Wheeler, a former coal industry lobbyist, will take the helm as acting administrator starting Monday.
"I have no doubt that Andy will continue on with our great and lasting EPA agenda," Trump tweeted.
During his one-year tenure, Pruitt crisscrossed the country at taxpayer expense to speak with industry groups and hobnob with GOP donors, but he showed little interest in listening to advocates he derided as "the environmental left." Those groups quickly applauded his departure.
Pruitt was forced out following a series of revelations involving pricey trips with first-class airline seats and unusual security spending, including a $43,000 soundproof booth for making private phone calls. He also demanded 24-hour-a-day protection from armed officers, resulting in a swollen 20-member security detail that blew through overtime budgets and racked up expenses of more than $3 million.
Pruitt routinely ordered his EPA staff to do personal chores for him, including picking up his dry cleaning and trying to obtain a used Trump hotel mattress for his apartment. He had also enlisted his staff to contact conservative groups and companies to find a lucrative job for his unemployed wife, including emails seeking a Chick-fil-A franchise from a senior executive at the fast-food chain.
Pruitt's job had been in jeopardy since the end of March, when ABC News first reported that he leased a Capitol Hill apartment last year for just $50 a night. It was co-owned by the wife of a veteran fossil fuels lobbyist whose firm had sought regulatory rollbacks from EPA. Both men had denied wrongdoing.