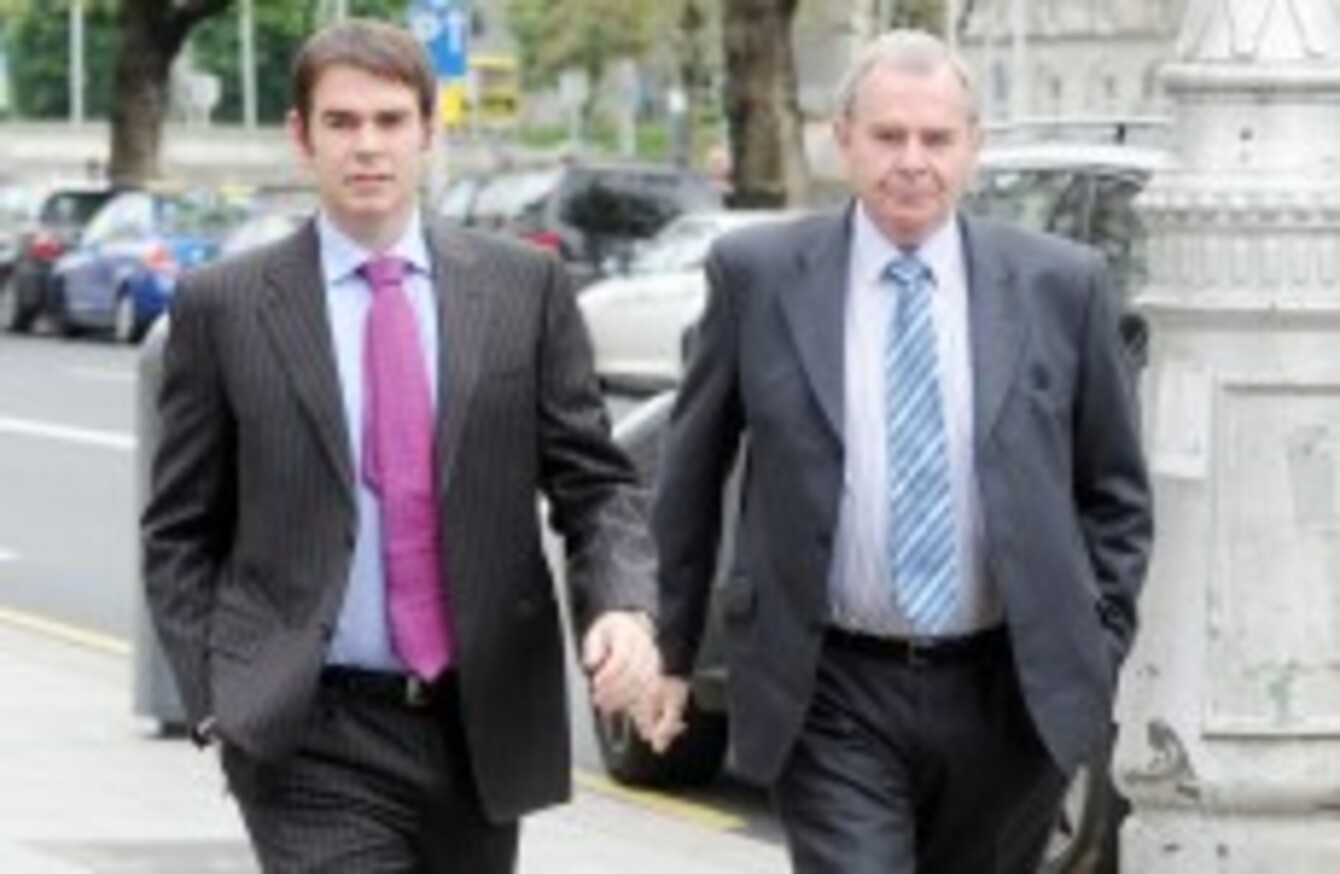 Sean Quinn (right) with his son Sean Jnr at the High Court this morning
Image: Laura Hutton/Photocall Ireland
Sean Quinn (right) with his son Sean Jnr at the High Court this morning
Image: Laura Hutton/Photocall Ireland
SEAN QUINN, THE one-time richest man in Ireland who filed for bankruptcy in November, has been found guilty of contempt of court.
Quinn's son, Seán Quinn Junior, and his nephew, Peter Quinn, were also found by the judge to have acted in contempt for putting assets beyond the reach of the Irish Bank Resolution Corporation, formerly Anglo Irish Bank, breaking an injunction granted by the High Court last July.
The three men will be sentenced on Friday.
In a ruling, Justice Elizabeth Dunne said she was "not impressed" with the manner in which the three men gave evidence. She described Sean Quinn as "evasive and uncooperative", noting that on a number of occasions during the hearing, "rather than answer questions put to him, he embarked on lengthy criticisms of Anglo".
She described Peter Quinn as "evasive, less than forthright, obstructive, uncooperative and at times, untruthful," adding:
He conveyed the impression of someone reluctant to be in court, to say as little as possible and of someone who simply did not tell the whole truth.
Justice Dunne noted that Sean Quinn has described the Quinn Group businesses as being run in an "honourable, respectable way," and added:
I wish I could say the same about the manner in which the respondents have dealt with the adverse circumstances in which they now find themselves having regard to the collapse of the Quinn business empire.
The IBRC says that members of the Quinn family have been involved in a conspiracy to alter the way in which the property portfolio of the family is held in a way that benefits the family and ensuring that the IBRC is not able to access it.
In a ruling, Justice Elizabeth Dunne noted that the three men "do not deny the existence of such a plan" but argue that it commenced before the initial injunction taken out by the IBRC in June 2011.
The bank is attempting to recoup debts of almost €3 billion which it says it is owed.
The judge noted that the IBRC has encountered "significant hurdles in obtaining documents and information as to the activities of the respondents," saying:
Anglo has been opposed at every step of the way.
The IBRC said after the ruling that the contempt motion had been a "valid and necessary step for IBRC to take".
"The proven planned, covert and illict actions taken by the Quinns and connected parties have resulted in millions of euros being lost or put at risk," said Mike Aynsley, CEO of IBRC.
"IBRC will continue to seek to remedy this and recover as much of the remaining assets as possible on behalf of the Irish taxpayer".