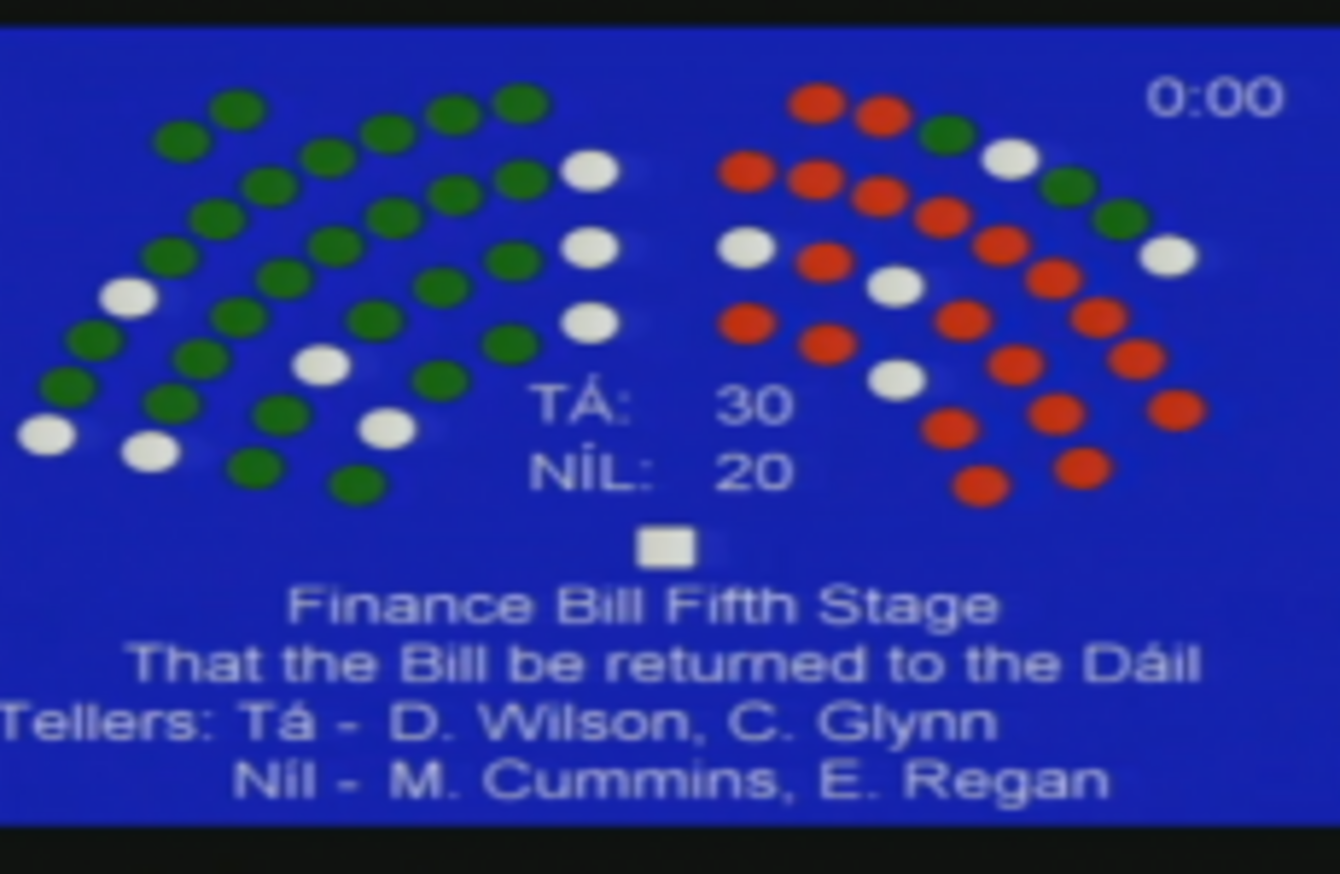 THE FINANCE BILL has been passed unamended by the Seanad this evening, by a margin of 30 votes to 20, avoiding the need for a late sitting of the Dáil.
The Fianna Fáil-led government side had a majority on all divisions tabled by opposition parties, but was pushed closed on one late recommendation, which would have seen the Dáil asked to vote on whether to force banks to publish the bonuses paid to bank staff since the bank guarantee was introduced in 2008.
On that recommendation, made by Labour and supported by Sinn Féin, the Green Party deviated from its usual policy on the Bill and sided with the opposition – meaning that the government was run short in the division, winning by just one vote.
In that vote – defeated by 26 votes to 25 – Fianna Fáil survived only through the support of independent senators Eoghan Harris, who was appointed to the upper house by Bertie Ahern as one of his 11 nominees in 2007 – and by senator Rónán Mullen, representing the graduates of the National University of Ireland.
Another suggested amendment from David Norris, which would have inserted a clause extending the definition of 'spouse' to include people in civil partnerships, was withdrawn, after finance minister Brian Lenihan said he was confident the Bill would already cater for them.
With the Bill passing the Seanad without amendment, it will now be sent to President McAleese, where it will be signed into law between Wednesday and Friday of next week.
That signature will come after the Dáil meets for the final time in the current term next Tuesday, when Brian Cowen will formally announce his resignation as Taoiseach and announce the date of the general election.
The Seanad, meanwhile, is adjourned sine die, or without a further meeting arranged – making it unlikely to meet again until after that election, when its own term continues for three months.