Image: Shutterstock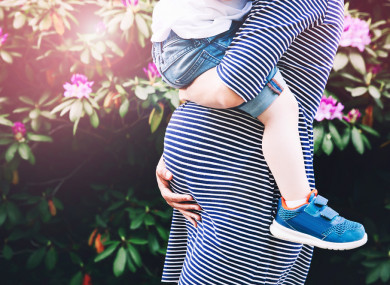 Image: Shutterstock
THE LINES ON the pregnancy test are the same, but almost everything else about being knocked up is different when you're experiencing it for a second time.
With baby number two on the way, I've been embracing the strange combination of familiarity, excitement and – let's be honest – mild indifference that comes with going through the pregnancy rigmarole again. Nine months is a long time, as it turns out.
Here are some of the most unexpected things about my second pregnancy so far…
1. That pregnancy glow doesn't shine as brightly on round two
Maybe it's because I'm older/fatter/running around after a toddler, but the energy and sense of invincibility that came with my first pregnancy just hasn't quite kicked in this time around. This time I've been blessed with persistent heartburn, fairly constant crankiness and a constant (but never fulfilled) longing for sleep.
2. There are several new strains of mummy guilt
I look at my toddler and feel guilt that his secure position as the most important thing in his parents' lives is about to be blown apart. Number two starts kicking away inside and I feel sad that, realistically, he won't ever get the same level of dedicated one-on-one time his big brother had – not to mention the fact his wardrobe will be devoid of new clobber, because…
3. I'm exercising strong buyer restraint
The baby merchandise world made a mint out of me first time around and it is Not Happening Again. Sorry Number Two, mama is wiser (and poorer) now.
4. I have no confidence whatsoever in my due date
I blabbed my first son's due date to everyone and naively assumed everything would run on schedule. Then I had to put up with a landslide of texts and calls around that date, followed by general consternation and feelings of personal failure when he didn't arrive until 16 days later (under duress). This time the guess-date is staying under wraps.
5. Body parts are bigger… and lacking in elasticity
From very early on in this pregnancy I have had the side profile of Mr Greedy. My tummy muscles (such as they were) stopped resisting early on. Plus, every cough or sneeze is a little reminder that my pelvic floor is not what it once was.
6. Gender disappointment is a real thing
I'll risk the backlash and confess that there was a little bit of me that felt a bit sad to find out I wouldn't be having 'one of each'. It's not selfish, it's not ungrateful and it's nothing to be ashamed of. I know I won't love this child any less, and this minor sense of disappointment just one of the many emotions that can be tied in with pregnancy.
7. I've totally relaxed on The Pregnancy Rules
A more common sense approach to eating and drinking has emerged for my second pregnancy. Let's just say I allowed myself a mimosa at Christmas safe in the knowledge that the world was unlikely to end.
#Open journalism No news is bad news Support The Journal

Your contributions will help us continue to deliver the stories that are important to you

Support us now
8. I know what labour is like… and I'm not scared
There's an element of blissful ignorance around that first birth. I went to the antenatal classes, talk to friends… but really it was all a mystery. By now, I know that the birth is only a small part of the whole having-a-baby experience – and I know that I can get through it, too.
9. I can never remember if baby is a grapefruit or a papaya
Of late, I've had to think long and hard when people ask me how far along I am. That's entertaining in itself, because the longer I take to answer, the more I can see the person in question panicking that they've incorrectly identified me as pregnant.
10. There's far less enthusiasm (and less pampering) from everyone else
Announcement number one was greeted with great fanfare, a ringing of bells and telegrams dispatched to far-flung relatives. This time we were lucky to get an 'ah, we wondered when you were going to get started on number two'.
11. I'm far more chilled out about parenting
There's not a pregnancy book in sight with this baby, because being a parent already has taught me the only thing I need to know: that everything is a phase and it passes. Even if baby number two is completely different, I know that nugget of knowledge will see me right.