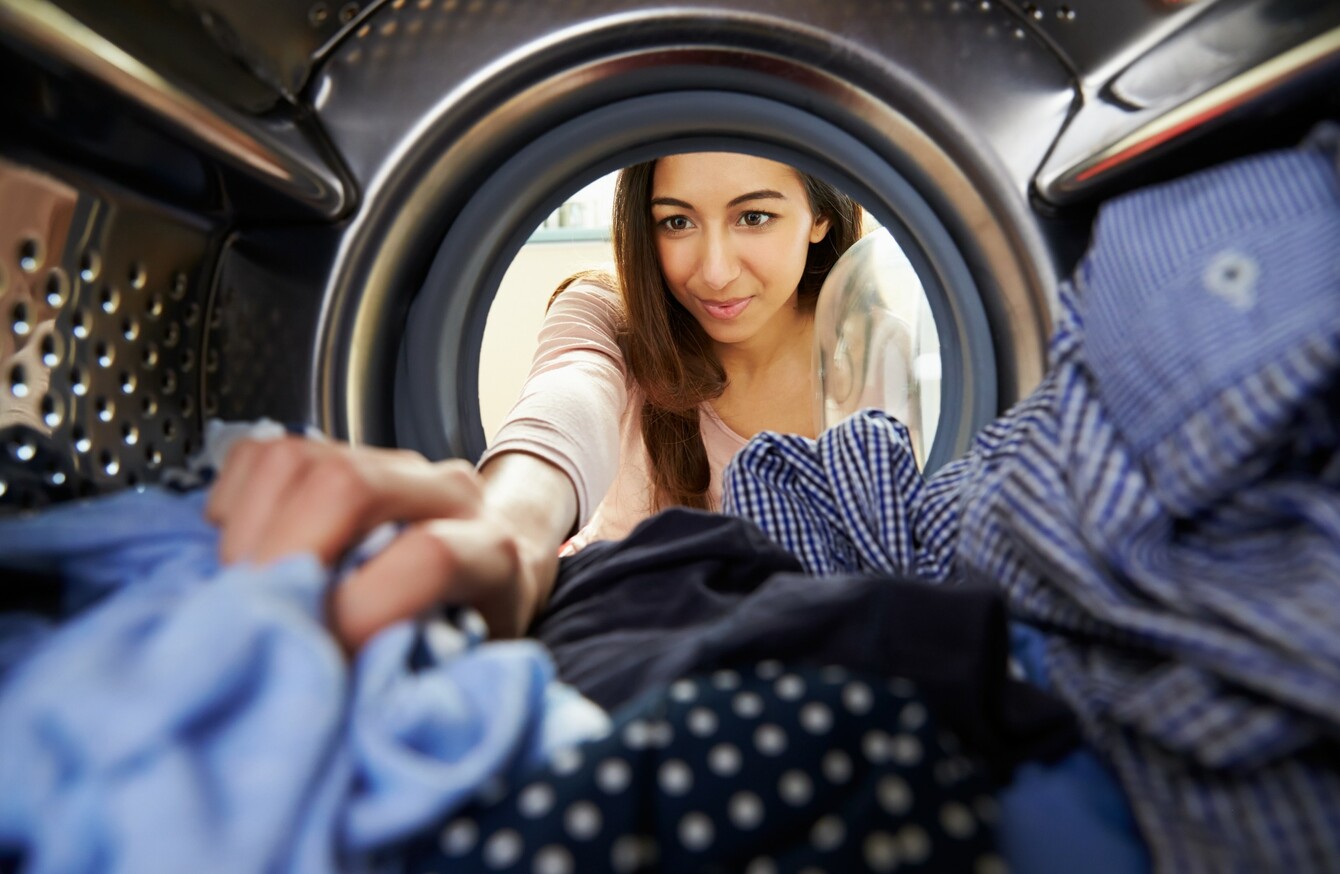 Image: Shutterstock/Monkey Business Images
Image: Shutterstock/Monkey Business Images
The way we live is changing fast. Every fortnight in our Future Focus series, brought to you by Volkswagen, we'll look at how one aspect of everyday life could change in the future. This week: doing the laundry. 
TO SOME, SELF-cleaning clothes might seem like something out of Futurama. But for anyone who's had to get a stubborn stain out of a prized shirt, or walked into the office reeking of sweat after a workout, this technology seems like a gift from the gods.
And who wouldn't want to forgo the headache of laundering your wardrobe, especially if you live in a property without laundry facilities?
These aren't the only reasons why self-cleaning clothes are such an attractive proposition – or even the most important ones. McKinsey and Company estimates that washing one kilogram of clothing over its life cycle produces 11 kilograms of greenhouse gases. Meanwhile Levi's estimates that if one of their products is washed once every 10 wears, rather than every two, its carbon footprint and water intake can be reduced by 80%. Simply put, by laundering our clothes too frequently, we're contributing to climate change.
This is something that weighs heavily on the mind of Ruth Duignan. Duignan is the Course Leader for Fashion & Textiles for Product and Costume at the Limerick School of Art & Design in LIT, and says that sustainability has become a top brief within the course.
"It's been well known for a long time that the use phase on a garment [the time it's actually being worn by a consumer] is its most environmentally impactful time," Duignan says. "I know with my own students, they're so interested in sustainability and really eager to make changes and look at things from a different point of view. It's a big focus of their work."
Stain-repelling clothes
In the last decade, the world has seen numerous tech start ups and research projects that aim to bring self cleaning clothes to the masses. Companies like The Threadsmiths apply nanotechnology to their products in order to create "hydrophobic" clothing; essentially this means that water based liquids roll right off the shirt without leaving a stain. Since many of these processes are simply finishes that are applied to cloth, they don't have any impact on the aesthetics of the textiles or clothing.
These clothes could potentially re-define the way we live our lives. People working in agriculture, construction or the health industry could soon have hardier clothes that withstand the dirt and grime that they encounter on a daily basis. Besieged parents would no longer have to scramble for a new outfit whenever their toddler gets their meal all over themselves. No longer would everyday stains necessitate a change of clothes.
Source: The Threadsmiths/YouTube
Self-cleaning garments
Other approaches are even more radical. A team of scientists in RMIT University in Melbourne have developed fabrics infused with nanostructures capable of degrading organic matter when exposed to light.
Though researchers say that it will be a long time before this technology is viable outside of laboratory conditions, it's possible that in the future we may be able to rid our clothes of stains by simply leaving them out in the sun.
This technology could be very useful to those who don't have immediate access to laundry facilities. Backpackers, military personnel or those experiencing homelessness could potentially stand in the sun in order to get rid of dirt on their clothes. And there's no doubt that it would be a student's dream to have a t-shirt that you could clean by simply placing under a lamp.
Fabrics that stop you smelling bad
Another much hyped innovation in clothing technology is anti-odour fabrics, which are typically infused with silver nanoparticles (although as Duignan notes, the idea has been around since the Romans). It may come as news to some, but our sweat doesn't actually smell. Body odour instead comes from the bacteria breaking down the sweat into acids. Since silver has anti-microbial properties, manufacturers have started infusing clothes with silver nanoparticles in order to combat body odor.
In addition to athletes, these clothes could also have huge benefits for those facing homelessness who have difficulty laundering. However there have been debates within the scientific community about whether these silver nanoparticles are being released into the environment in potentially toxic quantities when washed. There's also some concern, however small, that they could make their way into our bloodstreams through wear, which could possibly lead to DNA damage. At the moment, the jury is out on these nanoparticles until further study is conducted.
While most self-cleaning clothes don't have the potential to re-arrange your DNA, there are significant drawbacks such as high price points and the relatively small selection of products on offer. Duignan remains skeptical that these clothes can play more than a supplemental role in lowering our emissions from laundering. She emphasises that the biggest change must be a cultural shift rather than technological innovation
"I think we're constantly looking forward for a solution to a problem that didn't exist in our parents and grandparents generation because they had different practices, different consumer patterns. They maintained their clothing and laundered it differently to us.
"I definitely think over-laundering is an issue," she continues. "As well as the type of fabrics that people are buying and their level of maintenance for their clothing. In the last 10 or 20 years, someone wearing the same thing to work a second day is basically unheard of. Whereas if you look at our parents generation, it wouldn't be an odd thing to wear something until it's dirty."
Duignan also stresses that every designer must take the time to consider their clothes and the effects it will have on the environment. "I think that designers looking more at the use phase and listening to consumers about how they're living with their clothes is really, really important. The real change only happens when movements come from all sides of the equation; producers, designers and consumers."
On the ground level, we can take smaller actions like washing our clothes 10°c lower, and foregoing the tumble dryer and iron to reduce energy consumption of a typical garment. And though it might seem intolerable to some, giving your clothes a couple of extra wears before throwing them in the washing machine can be hugely beneficial.
Duignan admits that there's no one perfect solution. For people with small children, medical needs or for those working in areas where peak hygiene is required, it may not be practical to forgo a wash or an ironing.
And while there are other more important factors to consider before we all hop on the self-cleaning clothes bandwagon, it's undeniable that this technology can play an important part in the future of clothing, especially in certain industries. We just need to make sure we don't mistake convenience for real, meaningful change.
The future is nearer than you think. Reserve the all-electric ID.3 1st at Volkswagen.ie/ID.