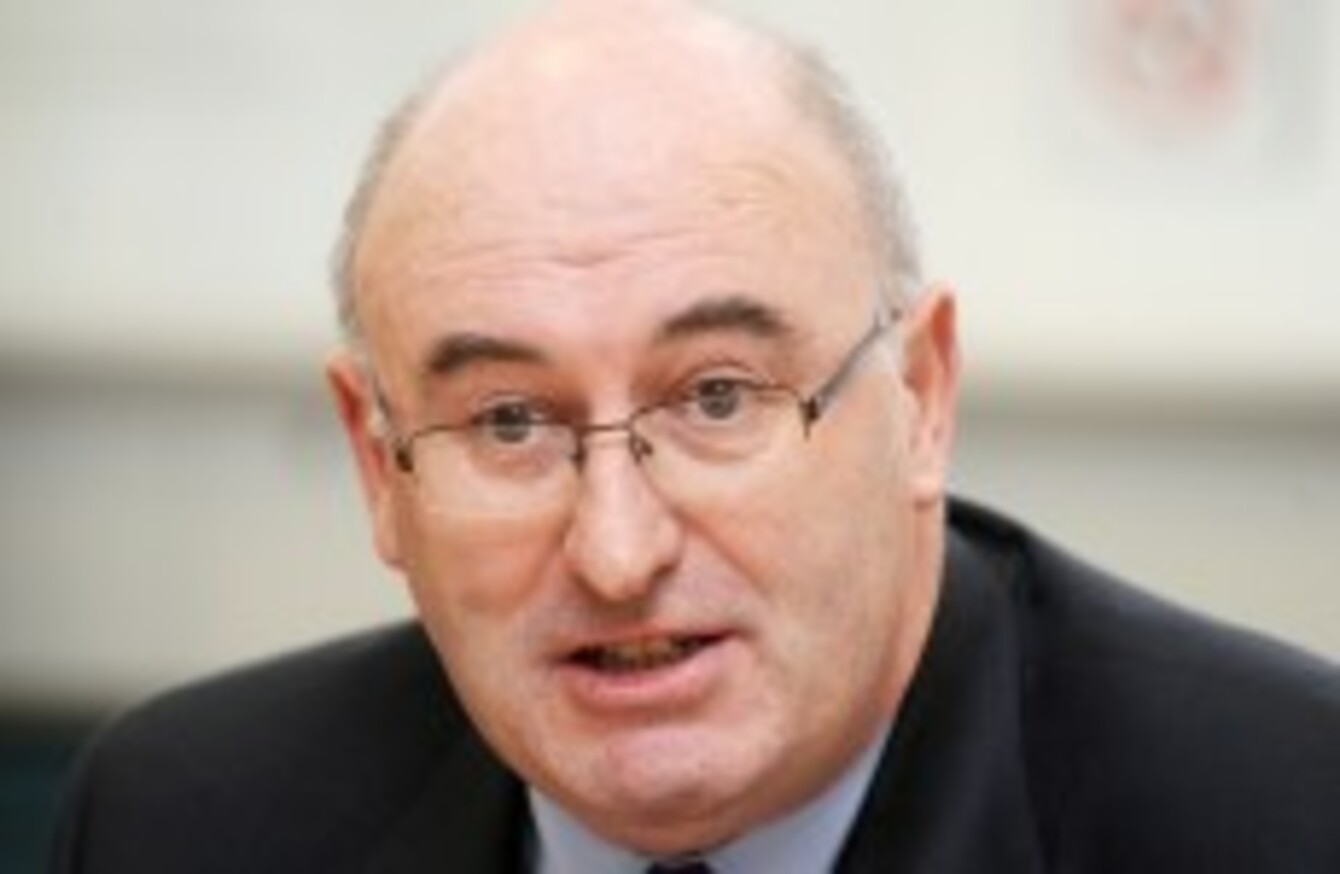 Environment minister Phil Hogan may find it difficult to encourage homes to register for mandatory septic tank inspections.
Image: Laura Hutton/Photocall Ireland
Environment minister Phil Hogan may find it difficult to encourage homes to register for mandatory septic tank inspections.
Image: Laura Hutton/Photocall Ireland
Updated, Sept 25
LESS THAN ONE in five eligible Irish households have so far registered for mandatory inspection of their septic tanks – just a week before the price for doing so increases tenfold.
Figures supplied to TheJournal.ie show that an estimated 88,200 homes had signed up for the inspections, which were made mandatory under laws enacted in February, by the middle of this week.
CSO figures derived from the 2011 census, however, show that there are 437,652 residential septic tanks in the State – meaning a compliance rate of just over 20 per cent.
The figures indicate little public appetite to register homes for the inspections, which are required following a European Court of Justice ruling which threatened Ireland with major fines for not enforcing rules on water protection and waste management.
When considering only registrations processed to date, the lowest compliance rate is in the Dublin City Council area, where homes are predominantly serviced by municipal sewerage schemes – but where there are still 1,591 residential properties served by septic tanks.
Of that number, a mere 25 have taken up the option of a €5 payment – with only days to go before the price shoots from €5 to €50 next Friday, ending a three-month promotional discount rate.
Waterford City has the highest payment rate, though that remains a mere 24.4 per cent – with 98 of the 402 eligible homes having registered for inspections. Wicklow is next, where 2,255 of the 10,399 tanks have been registered.
Cork City, Wexford, Kerry, Meath, Clare, Dún Laoghaire-Rathdown, Cavan and Limerick City are the only other councils which have a compliance rate of 15 per cent or higher.
After Dublin City, Donegal has the lowest compliance rate – with only 2,472 of the 30,383 tanks registered by this week, meaning a compliance rate of 8.14 per cent – while South Tipperary was next with 1,246 (or 9.6 per cent) of its 12,973 payments made.
#Open journalism No news is bad news Support The Journal

Your contributions will help us continue to deliver the stories that are important to you

Support us now
The county-by-county figures do not include an estimated 24,500 applications to register tanks which are awaiting processing in the Local Government Management Authority offices, and a further 5,000 or so applications still to be processed at local council offices.
Households still have three months to register and pay the full €50 fee, but the relatively low payment levels in the special discount rate – which was conceived after the furore over the low compliance rate with the Household Charge – indicates that it may be difficult to encourage homes to do so.
Houses can register for the mandatory inspections online at www.protectourwater.ie.
Septic tank registrations: the figures in full
Note: These figures do not include an estimated 29,500 forms which have yet to be processed at LGMA headquarters or at local council offices.
Carlow: 749 of 6,260 (11.96%)
Cavan: 1,902 of 12,078 (15.75%)
Clare: 2,923 of 17,121 (17.07%)
Cork City: 83 of 429 (19.35%)
Cork County: 6,515 of 52,009 (12.53%)
Donegal: 2,472 of 30,383 (8.14%)
Dublin City: 25 of 1,591 (1.57%)
Dún Laoghaire: 250 of 1,480 (16.89%)
Fingal: 472 of 3,657 (12.91%)
Galway City: 106 of 944 (11.23%)
Galway County: 4,323 of 38,262 (11.30%)
Kerry: 4,848 of 25,976 (18.66%)
Kildare: 1,834 of 13,348 (13.74%)
Kilkenny: 1,951 of 13,444 (14.51%)
Laois: 1,254 of 10,401 (12.06%)
Leitrim: 814 of 6,089 (13.37%)
Limerick City: 45 of 300 (15.00%)
Limerick County: 2,533 of 21,813 (11.61%)
Longford: 746 of 6,538 (11.41%)
Louth: 1,083 of 9,648 (11.23%)
Mayo: 3,160 of 24,640 (12.82%)
Meath: 3,142 of 18,299 (17.17%)
Monaghan: 1,203 of 10,587 (11.36%)
North Tipperary: 1,588 of 11,544 (13.76%)
Offaly: 1,315 of 9,731 (13.51%)
Roscommon: 1,706 of 13,088 (13.03%)
Sligo: 1,363 of 10,200 (13.36%)
South Dublin: 193 of 1,815 (10.63%)
South Tipperary: 1,246 of 12,973 (9.60%)
Waterford City: 98 of 402 (24.38%)
Waterford County: 1,149 of 10,013 (11.48%)
Westmeath: 1,335 of 10,948 (12.19%)
Wexford: 4,019 of 21,242 (18.92%)
Wicklow: 2,255 of 10,399 (21.68%
State: 58,700 of 437,652 (13.41%)
Note: This article previously, and incorrectly, stated that the compliance rate was less than one in seven households. This was based on figures which did not include the number of forms awaiting processing at council and LGMA offices. Those figures have now been included.