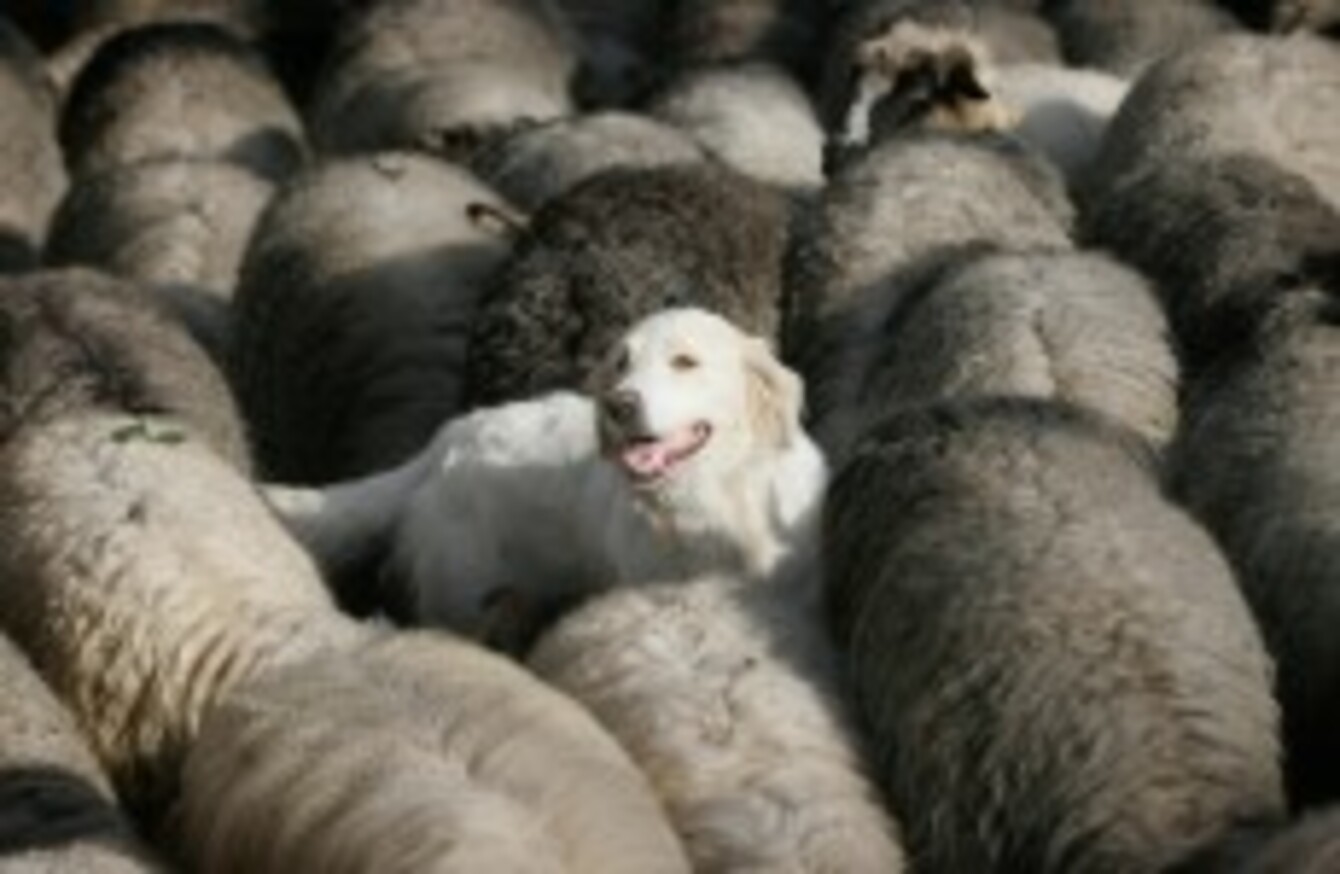 A dog among sheep in Bosnia (File photo)
Image: AMEL EMRIC/AP/Press Association Images
A dog among sheep in Bosnia (File photo)
Image: AMEL EMRIC/AP/Press Association Images
SHEEP FARMERS ARE calling for the introduction of compulsory microchipping of all dogs in Ireland following a number of "extremely distressing dog attacks" on their livestock in several parts of the country.
The chairman of the sheep committee of the Irish Cattle and Sheep Farmers' Association (ICSA) Paul Brady said there had been a "worrying number of horrific incidents of dogs killing and seriously injuring sheep, including their pregnant ewes" in recent weeks.
He said: "Apart from the pain and stress inflicted on the animals, each one of these attacks represents serious distress and financial loss to the farmer involved and it is now beyond doubt that action is needed to address the problem of out-of-control dogs."
Brady said that the ICSA had been arguing that the legislation needed to be changed to ensure that dogs are compulsory microchipped, adding that this was currently the law in Northern Ireland.
"Microchipping is already used by most responsible dog owners for traceability purposes.  It must be emphasised that this system would need to be backed up by a well-organised central database monitored by a State authority," he said.
Brady said that "out-of-control dogs" can be "highly dangerous" and said that sheep and other livestock were not only at risk but also children, citing "several incidents of dogs attacking children" last year.
He continued: "Every year thousands of dogs are put down in pounds across Ireland because their owners cannot be traced.
"Microchipping helps local councils and wardens to deal with dangerous dogs which pose a danger to everyone, as well as providing a reliable traceability system."
Microchipping of pets has become increasingly popular in Ireland recent years with most veterinary practices in the country offering microchipping services along with local authorities and animal welfare groups.
Petnet.ie is the centralised register of microchipped animals in Ireland.