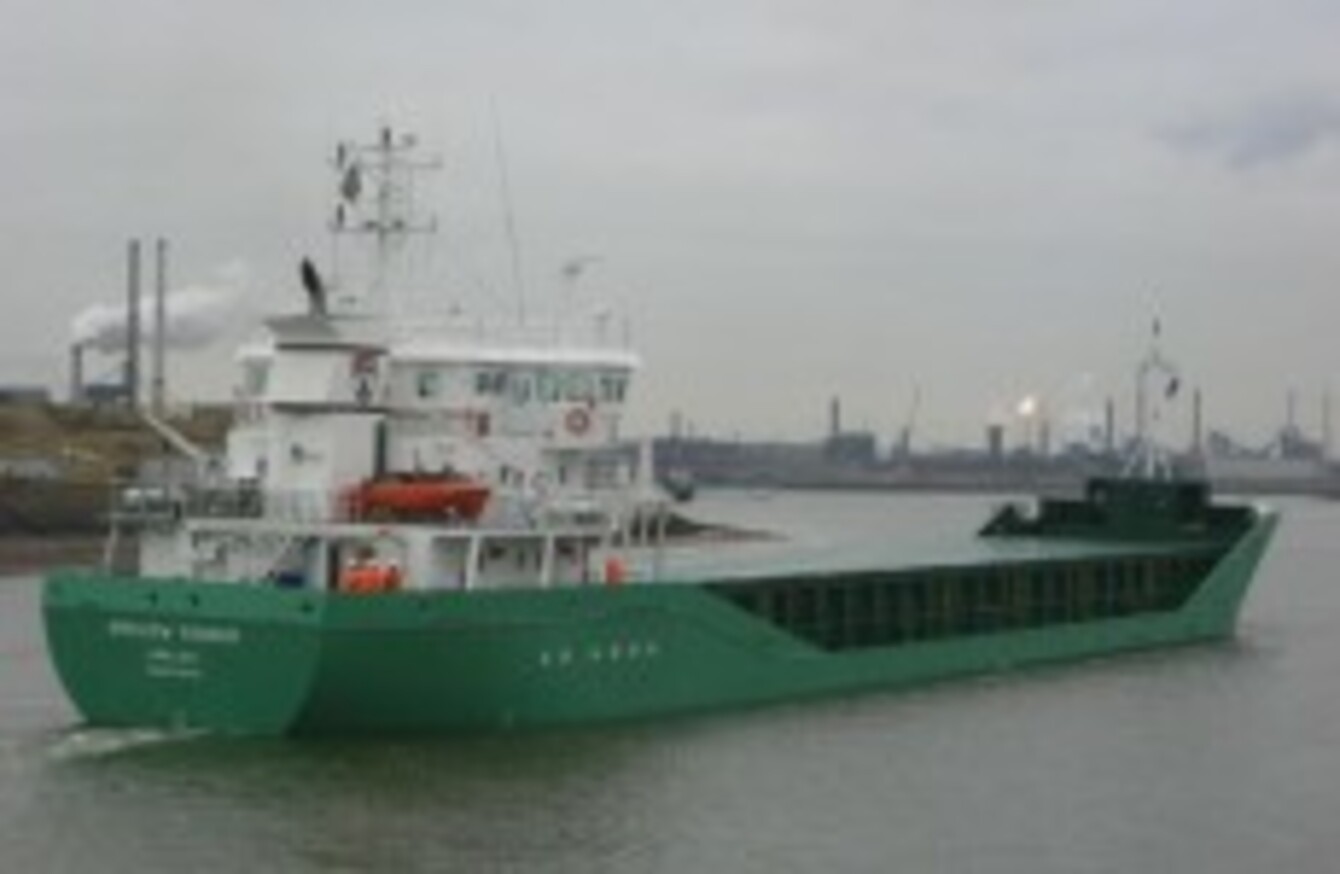 The 'Arklow Raider' which is still stuck on a sand bank off Drogheda
The 'Arklow Raider' which is still stuck on a sand bank off Drogheda
STORMS AND HIGH winds caused high drama for two vessels off the Irish coast in the last 24 hours.
One vessel, the 'Arklow Raider', ran aground as it was leaving Drogheda, Co Louth late last night in gale-force winds. The Irish Coast Guard told TheJournal.ie that the ship – which is carrying a cargo of cement – is still stuck in the port. It had been bound for Swansea in Wales.
It had been hoped to tow it away at high tide this morning, but there wasn't a tug boat big enough available at the time to help move it. The spokesperson said:
Unfortunately it is still there. The plan was to move it today but they weren't able to manage it as there was no tug big enough. The vessel and cargo is completely safe but whether or not it got moved was down to having the correct weather conditions and having a tug of appropriate size available.
It is hoped that the boat will now instead be moved at high tide tomorrow morning. The Irish Coast Guard said that the crew were safe and didn't need to be rescued.
The Coast Guard also confirmed that it is investigating an incident in which a ship lost some of its cargo in stormy seas just after 1am today. The 'Red Duchess' lost a portion of its deck cargo of logs three miles south of Carnsore Point, Co Wexford, according to RTE. The logs later washed up on the south-east coast of Ireland. The 'Red Duchess' had come from Scotland and was due to dock in Youghal, Co Cork.
Last night's weather system caused severe flooding in England with Devon and Cornwall suffering badly. Ireland escaped much of the damage with the east of the country getting some of the highest winds. Met Eireann recorded winds of 30 to 50 knots an hour in Dublin – with 55 knots an hour recorded in Malin Head.
There was some flooding on the M50 southbound between the Sandyford and Leopardstown exits and at one stage parts of the Naas and the Long Mile Roads but the AA was this afternoon reporting that all roads were free of floodwater.
Met Eireann however has issued a gale force warning for southeast winds on all Irish coastal waters and again for tonight.
Northern Ireland is dealing with flooding at Banbridge, Rathfriland and Craigavon and some ferry crossings have been cancelled.