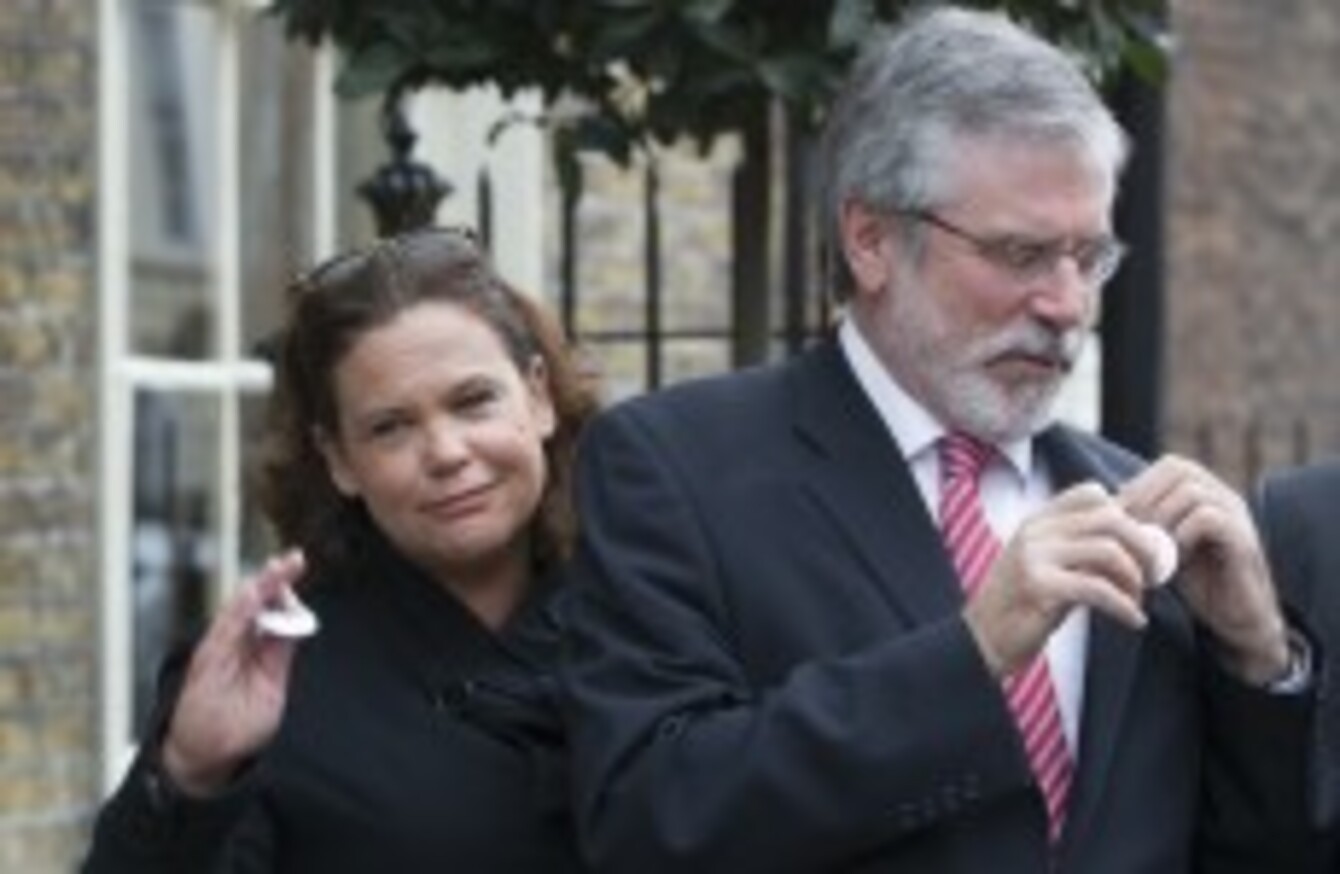 Image: Sam Boal/Photocall Ireland
Image: Sam Boal/Photocall Ireland
SINN FÉIN HAS launched its campaign for a 'yes' vote in the upcoming same-sex marriage referendum.
The party's equality spokesperson Padraig Mac Lochlainn said Sinn Féin will "campaign vigorously" over the next few weeks, with events planned in every constituency.
"There's no room for complacency. We need people to come out and vote 'yes' to ensure that this is passed on the day," Mac Lochlainn said.
The party is also advocating a 'yes' vote in the second referendum due to be held on the same day – lowering the age at which people can run for president from 35 to 21.
Gerry Adams encouraged people to get involved in the campaign – either formally or informally.
"Talk to your family and friends, talk to your workmates – if you're lucky enough to be in a job. Talk to your neighbours and ask them to vote 'yes'. Text people, Facebook people, use Twitter. Let's get the biggest vote possible and ensure that on 22 May both votes will pass.
South Dublin mayor Fintan Warfield also spoke at the launch. He said coming to terms with his own sexuality would have been easier if same-sex marriage was allowed at the time.
Speaking on behalf of many of my peers, you know, we're not in an extreme hurry to walk down the aisle, but that option genuinely reinforces that it's okay to be gay, that it's okay to come to terms with your sexuality in the schoolyard or in your local GAA club.
"It's a really rare opportunity for the Irish people to have a genuine say in shaping the Ireland that we want to live in and that we want our young people to grow up in," Warfield added.
Mary Lou MCcDonald said the campaign would not be won by "glossy posters", rather talking.
The party's deputy leader said some people have to be "convinced" on the issue and "in some cases people have to be assured", while other people need to be "challenged" about their views.
She said it would be "a huge mistake" if people voted 'no' in an attempt to "punish" the government.
Tax evasion
Meanwhile, McDonald reiterated that she stands over naming former politicians in Dáil chamber who were accused of having offshore accounts to evade tax.
The Committee on Procedures and Privileges (CPP) recently ruled that she abused her Dáil privilege, but she said saying she exercised it in a responsible way.
McDonald called on the government to act on the issues raised in the dossier, saying they were of the "most grave public concern".
Speaking of the public criticism she has received from some over the issue, she said: "I'm well able for the slings and arrows of politics."
Adams said the party "stands shoulder to shoulder with Mary Lou".