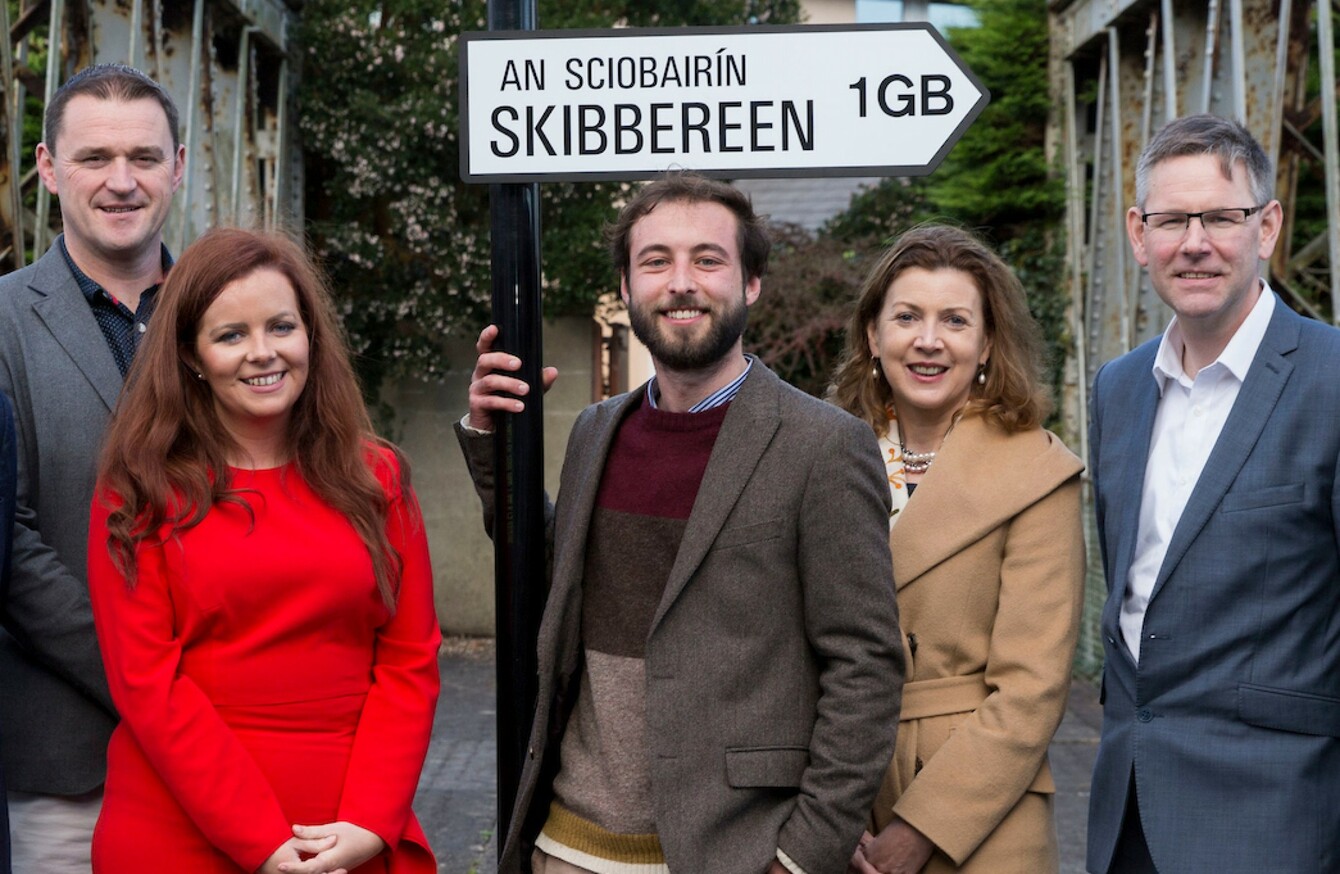 WHILE IRELAND'S CITIES jostle for foreign investment and to claim bragging rights as startup hubs, one of the country's most southerly towns is quietly carving itself a slice of the pie.
Over the past two years, Skibbereen, population around 2,000, has been forging a reputation as the 'tech capital of rural Ireland' with a scheme to bring 500 jobs to the west Cork town.
Last year, the opening of the Ludgate Hub co-working space was a significant step in that development, which has been fuelled with around €1 million in investment from business people with local connections, and other interested parties.
"We were always seen as the underdog as the most southerly town," says Gráinne Dwyer, the hub's chief executive.
"Skibbereen was overlooked in terms of investment. The nearest towns would be Clonakilty or Bantry, which both had significantly more investment in terms of innovation parks and research centres."
However in recent years, a new arts centre has been opened, flood relief work has started and a secondary school has been added in the area, while several export-oriented businesses based in the town are on hiring drives.
West Cork allure
Word has even spread internationally about the Skibbereen story, with the town attracting overseas entrepreneurs keen to run their businesses from the semi-rural setting.
One man moved to the area after he saw a newspaper article about the town's rejuvenation effort, while others have come from countries like the US and South Africa to set up shop in the Ludgate Hub.
Chris Mason relocated from Los Angeles to Skibbereen to run his online ad agency, and he says one of the main draws was having a social working environment where he could be among other entrepreneurs.
"I could get that in LA, but we want to be in west Cork. In order for me to still work, I need a certain kind of work environment, and the Ludgate Hub is perfect. The startup scene is definitely happening in LA, but this is a place where I would rather be."
The town's low cost-of-living, compared to that in Dublin or other major cities, is also a significant attraction for people looking to expand a business.
"West Cork isn't the cheapest place to live, but compared to LA it costs quite a bit less," Mason adds.
"It's also got a much more laid-back atmosphere. People look at LA as a laid-back surfer town, but it is very much all go."
According to Kevin Buckley, the head of Spearline Labs, the way of life isn't the only thing attracting talent to the area.
His tech company has been in the town since 2003, working with several Fortune 500 companies, including Google, and he has found many people choosing Skibbereen for their careers, rather than just to put their feet up.
"It's the calibre of companies down here that is attracting people. Our last three hires have come from Cork city because of the work we're doing. One has an MBA and another has a PhD," he says.
"That isn't for a simpler life, those are people with strong careers who want to keep going."
Achieve the same 
However, it's not just tech companies that are driving the mini-jobs boom in Skibbereen. West Cork Distillers recently opened a new €2.5 million facility outside the town and has been busy recruiting new staff.
John O'Connell, the distillery's co-founder, says the town previously suffered from the 'brain drain' effect, but it has plenty of local talent to fill new roles.
"Having a lot of people with strong agricultural backgrounds around us has been very good. A good farmer is also a good welder, a good plumber, a good carpenter – generally a farmer has to do a bit of everything," he says.
"So we've brought in people that may not be trained distillers, but they have embraced the work very well."
O'Connell, whose business has already applied for planning permission to extend the Skibbereen facility, says people called him "crazy" when he moved there in 2013 from another small town – but that location isn't a major obstacle in his eyes.
Buckley is of the same mind. Even when broadband was poor or non-existent, he saw the town as being as good a place as any to set up a tech company.
But he says that since Siro, a joint venture between the ESB and Vodafone, rolled out high-speed broadband for homes and businesses in the area, it has become even more attractive for new companies.
"Technology can always be done from anywhere. Maybe it was a little bit trickier back in 2003, but since we're a 1 gigabyte town now, we're the same as Tokyo, Singapore and Silicon Valley."
#Open journalism No news is bad news Support The Journal

Your contributions will help us continue to deliver the stories that are important to you

Support us now
Town-wide effect
With the town's main street fully occupied, locals have started converting other, previously unused spaces – like lots above shopfronts – for use as apartments and amenities like gyms.
There's now a palpable buzz in the town each morning, according to Dwyer, with coffee shops opening early for tech workers to grab a caffeine hit on the way to the office.
By her count, 26 towns have been in touch about attracting businesses and investment after hearing about Skibbereen's success.
She says towns need to get creative with empty buildings; in the case of Skibbereen, the Ludgate Hub was only affordable to develop because the disused complex was donated by local supermarket owner John Fields.
"I also say to all the towns and the villages that each area has a notable CEO from somewhere, whether they're in Ireland or internationally. Everybody has their roots in their hometown and they will always help to develop it if they can."
In the case of the Ludgate Hub, several business leaders, including Glen Dimplex head Sean O'Driscoll and Vodafone Ireland chief executive Anne O'Leary, lent their support to the project. A second co-working space for the town is now being considered.
"What you need is one or two strong leaders in the community to create a bit of momentum," Dwyer says.
"Once you have those people on board, the rest of the business partners will form a line."
Written by Killian Woods and posted on Fora.ie