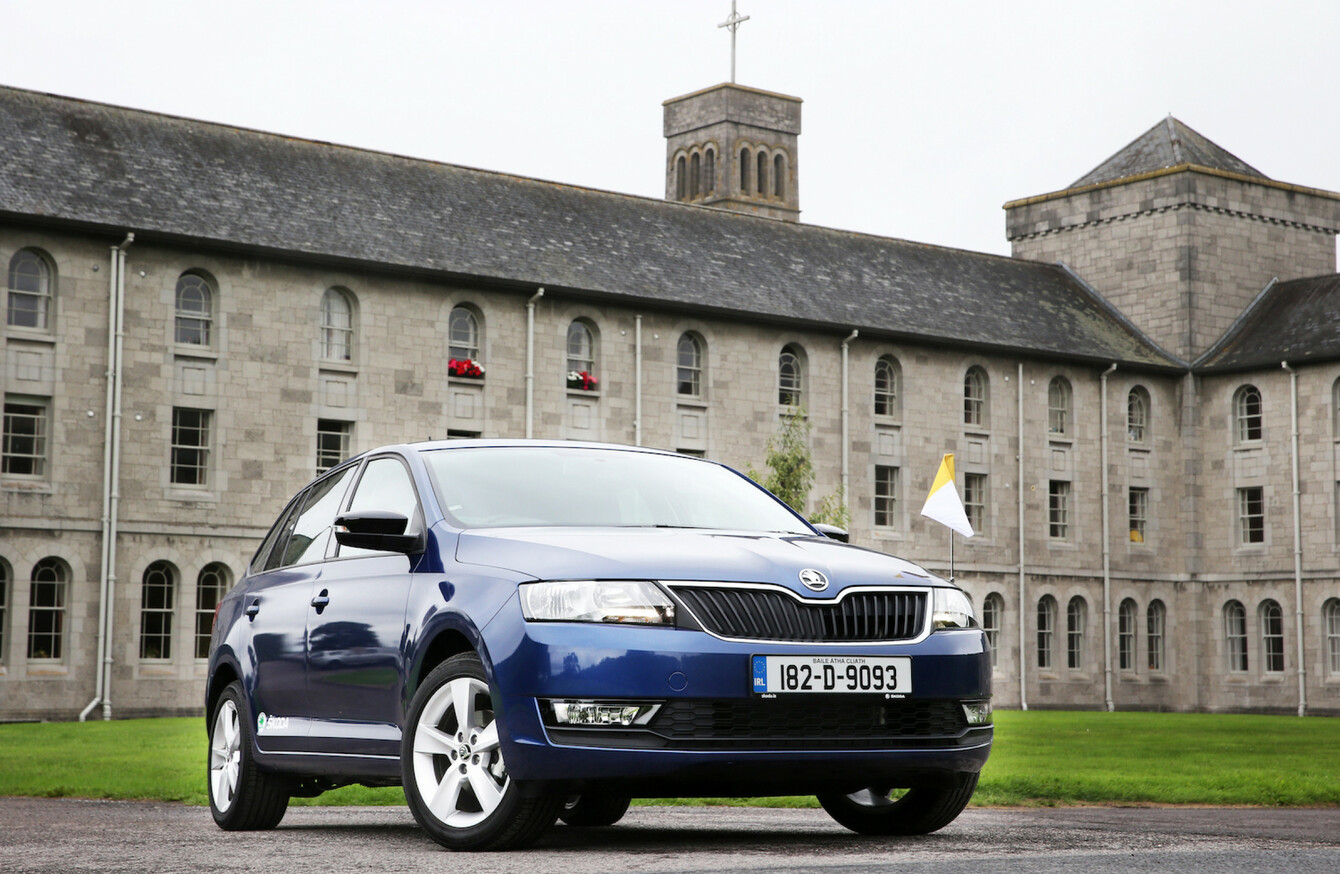 Image: Skoda Ireland
Image: Skoda Ireland
THROUGHOUT HISTORY, POPES have been serious car mod fans, modifying everything from the suspension and wheels to adding glass cages and cranks to elevate the pope's seat so he can wave to the crowds. (Pope My Ride, anyone?)
Previous Popes used to travel around in bulletproof Popemobiles. Pope Francis, however, uses ordinary cars for international trips that aren't armoured in any way. He also prefers to use open vehicles. Back in 2013, he told trainee priests and nuns:
A car is necessary to do a lot of work, but please, choose a more humble one. If you like the fancy one, just think about how many children are dying of hunger in the world.
During his first visit to the US he traveled around in a Fiat 500L, and when he is cruising around the Vatican City he is often seen in a 2008 Ford Focus. This could not be more different from the wheels of his German predecessor – Benedict XVI - who enjoyed the comfort of a bulletproof Mercedes Popemobile.
So, it is no surprise that the Pope's wheels for his Irish visit is in keeping with this modest motoring mantra. When he touches down in Dublin on the morning of Saturday, 25 August, he will be transported to Áras an Uachtaráin in a Skoda Rapid spaceback - a spacious, family-friendly motor that is quite good value for money.
The Skoda Rapid was the vehicle of choice as it has plenty of rear legroom so the Pope can stretch out, and because of its ease of access.
Three identical Rapid cars have been reserved for the event and each has a unique registration plate. Registration number 182-C-1979 commemorates Pope John Paul II's visit to Ireland in 1979 and registration 182-C-2018 marks this year's Papal visit. The Popemobile's registration number is 182-D-9093 and when the last four digits are inverted they spell the word POPE.
In each car, modified glass has been installed in an official navy-blue colour. Small chrome flag poles have also been installed to the passenger-side fenders, which will display the Vatican flag.
When the whole spectacle is over, the Pope's Skoda Rapid and one other Rapid will be donated to a charity to be nominated by Archbishop Diarmuid Martin, in accordance with the wishes of Pope Francis.
This is a much more dignified retirement than the Popemobile of the 1979 visit- a 15-seat modified Ford Transit – which is now used for stag and hen parties. Mi Dios!
Many other Popemobiles from throughout history can be seen in the Vatican Museums, including the first official white "popemobiles". The first white off-road open-air vehicle used by a pope was a 1976 Toyota Land Cruiser used periodically by Pope Paul VI.
Many different car manufacturers have produced Popemobiles – a term that didn't come into common use until the pontificate of Pope John Paul II. (He wasn't a fan of the term and called it "undignified".)
Fiat, the Italian car manufacturer supplied a modified Campagnola for the Pope to use in the Vatican City but when an assignation attempt was made on the Pope's life, bulletproof glass was added to the Popemobiles.
When Pope John Paul II visited the UK in 1982 he was driven around in a modified truck supplied by British manufacturer Leyland Motors and a modified Range Rover – two of the most well known badges in British motoring.
The Leyland trucks were fitted with running boards and handrails so two Special Branch detectives could ride on either side.
#Open journalism No news is bad news Support The Journal

Your contributions will help us continue to deliver the stories that are important to you

Support us now
However, for the 1987 Pope visit to the US, two Mercedes-Benz cars were flown over and modified by the Secret Service. When the Pope visited the Philippines it was a Philippine company that made the Popemobile. Along with the bulletproof glass it was also fitted with bombproof parts.
Pope Benedict XVII took no chances. His modified Mercedes M-Class was kitted out with bullet and blastproof windows and roof and reinforced, armoured side panels and undercarriage designed to resist bomb blasts.
This Popemobile was also the first one to be fitted with a digital radio. The upgrade was made in 2007. This Popemobile was said to cost hundreds of thousands of Euros.
This is a far cry from the modest modifying requests of the current Pope, who has been spotted driving around the Vatican in a 1984 Renault 4. Speaking about the desire not to have bulletproof glass on his vehicles, Pope Francis said it is because it is a glass "sardine can" that walls him off from people. He told a Spanish newspaper:
It's true that anything could happen, but let's face it, at my age I don't have much to lose.
Want to make sure you don't miss out on anything going on in the world of motors? Like us on Facebook and and follow us on Twitter for the latest updates.