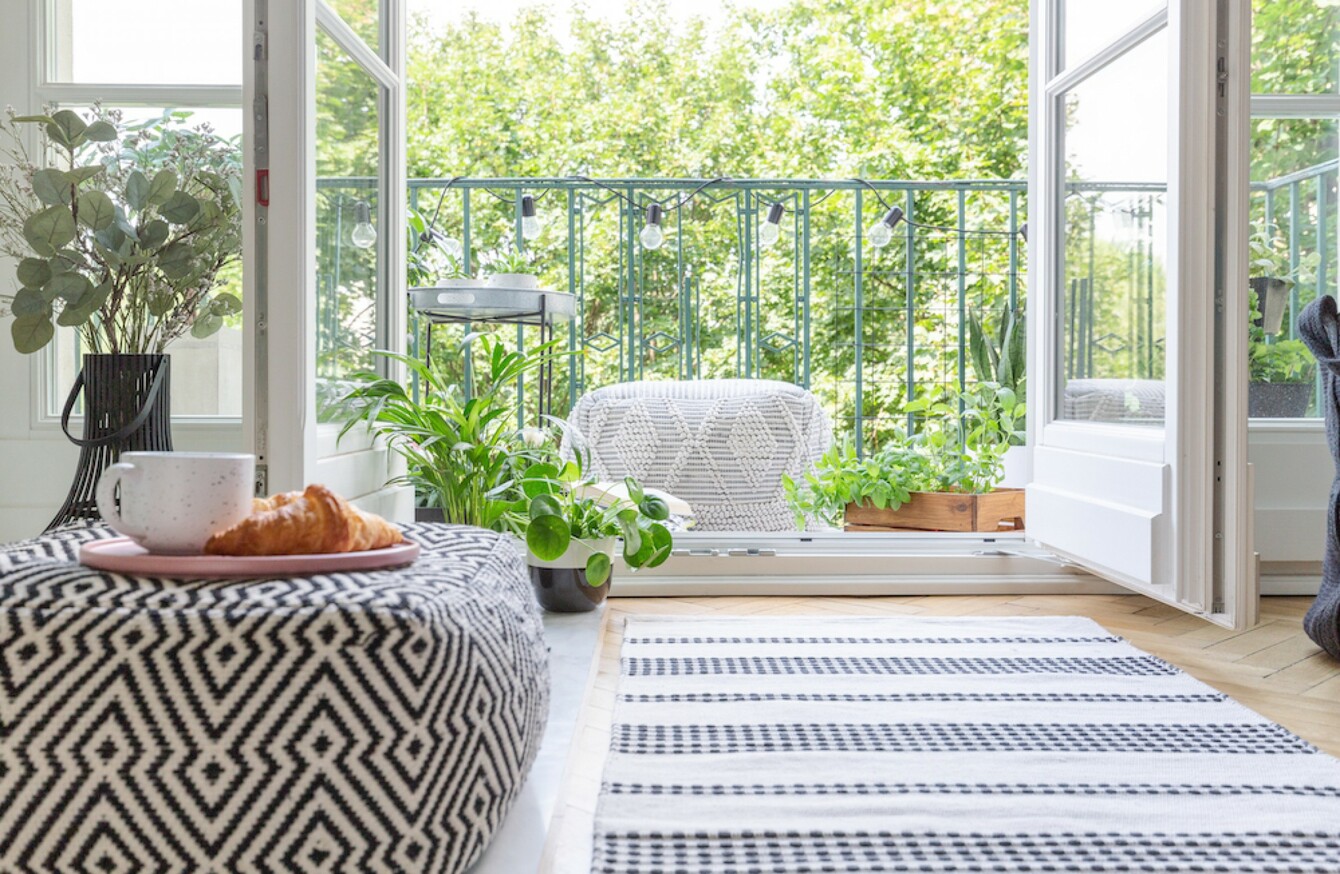 Image: Shutterstock/Photographee.eu
Image: Shutterstock/Photographee.eu
Laura de Barra regularly brings her lifestyle and home maintenance expertise to the Glenveagh Home Magazine on TheJournal.ie. This week: how to choose the right furniture for your tiny garden or balcony this summer…
WITH THE WARMER weather finally here, it's natural you'll want to get out to your garden or balcony, whether it's to relax with a book or have dinner al fresco. But if you have a small space, it's not as simple as setting up any old table and chairs. You need to think creatively to make the most of your square footage.
If you're in the market for garden or balcony furniture right now, are my tips for choosing correctly…
1. Look for foldable chairs
The bistro set is the classic patio set consisting of a small table and two neat, matching chairs. This style came about when Parisian bistros needed to fit as many outdoor diners as they could along their thin pavements. This makes them, by design, perfect for a smaller outdoor space.
High-street bistro sets are usually all-metal which makes them durable, low maintenance, and paintable too, should you want to change the colour. Traditionally, bistro chairs are stackable, but look for foldable versions if you can. Not only does it make storage easier, you can then also have two guest chairs tucked away for when you need them.
2. Short on floor space? Look for hanging furniture instead
Hanging tables are a fantastic option for balconies and there are styles to suit any budget. One thing I love about these is that there are no table legs, the table will hang securely from balcony railings meaning chairs can be tucked right under and not take up more space than needed. Vital for a small balcony! You can use them as a dinner table, outdoor office desk or to display plants.
Again, opt for a style that can fold down when not in use. It will mean the space can have multiple functions and you're not stuck with having to walk around it.
Hanging chairs are a brilliant space-saving accessory for any outdoor space and they are so relaxing to sit in. In terms of accessories, hanging planters can add some much needed colour and softness to a small city garden lacking any greenery.
3. Think multi-functional
Storage benches are great for small outdoor spaces. They can be lined along a wall and used as a seat, low rise benches can double up as a coffee table, they can house all the things you're not using… and they even make a giant ice bucket for a summer party. Stunning.
You want to make the most of the outdoor storage, so a bench that can also house a bistro set and its own cushions is ideal. Make sure you not only measure the space it's going to be sitting in, but also work out if what you need to store inside will actually fit. Many manufacturers will usually state the internal measurement in the description. 
If you are buying or making cushions, make sure you consider the above internal measurements to ensure they can fit inside the bench during the colder, wetter months. 
4. Add colour and character with accessories
Outdoor rugs are ideal for balconies and patios as they can add colour and warmth when grass is not an option. Look for a flat weave rug, suitable for both indoors and outdoors. These can instantly add a whole new look to a small outdoor space without you having to spend a fortune. Note here: You'll need to roll your rug up during times of heavy rain to keep it looking better for longer.
Garden mirrors are great for giving the illusion of space, especially if you hang or place flowers nearby. I would go for mirror sheeting instead of a heavy mirror that can knock over or break. Sheeting is also less likely to suffer from weather damage. If you have the choice, go for an antique-style finish, this muted look will stop birds flying into it, lower the glare and will also mean you don't need to clean it as often – the dust and streaks won't be as obvious. 
Rail pots (plant pots that are moulded to sit safely on a railing) take up very little space and are also brilliant for adding privacy to your balcony.
Want more tips and hacks? Laura de Barra's new debut book, Gaff Goddess: Simple Tips And Tricks To Help You Run Your Home is on shelves now, published by Transworld Ireland. Buy it here or in all good bookshops, and follow Laura on Instagram for even more cleaning and lifestyle tips.