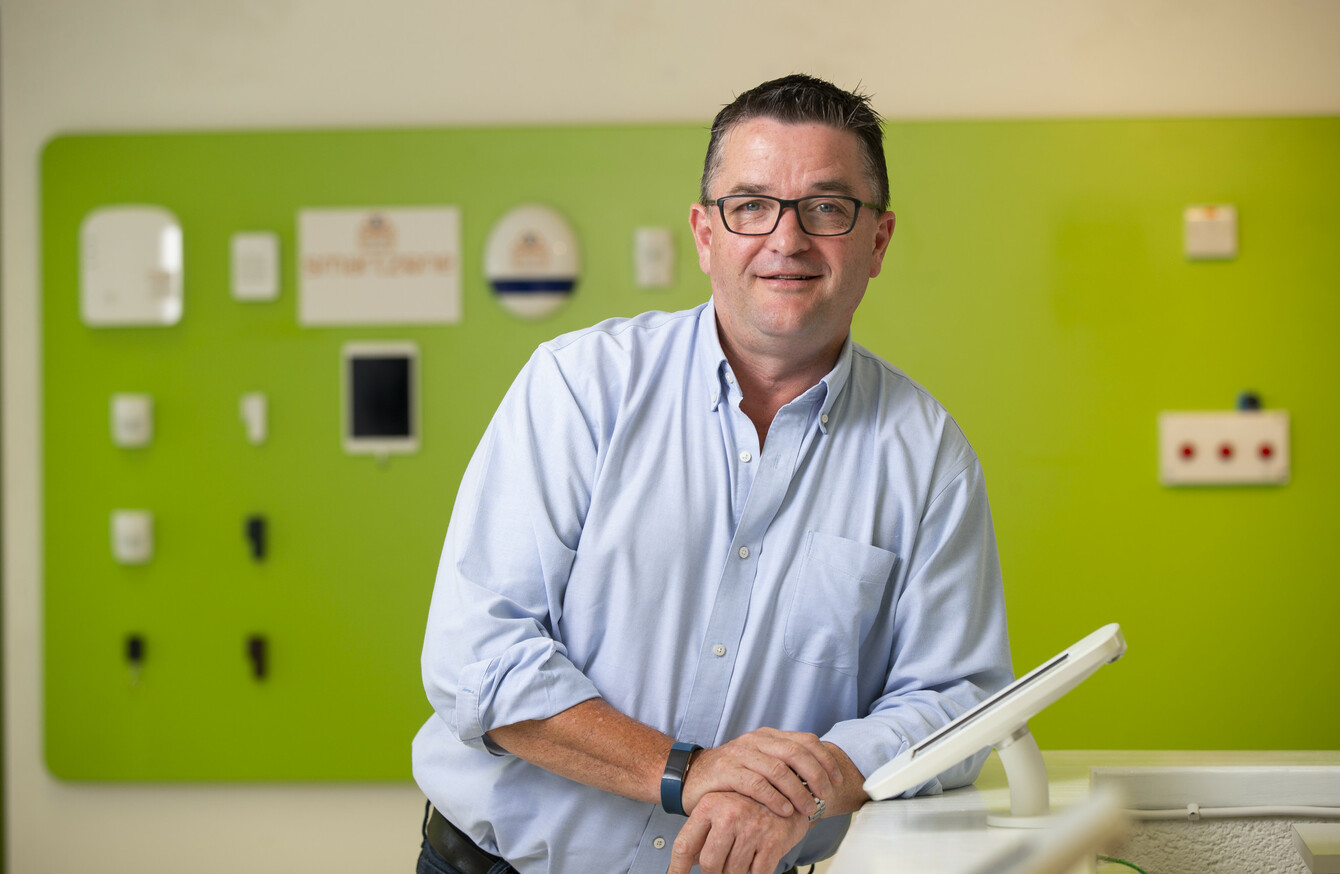 Image: Cathal Noonan
Image: Cathal Noonan
JUSTIN MCINERNEY HAS spent his working life in the heating and plumbing business – although over the years he's progressed from selling showers to something a little more high-tech.
The Cork native now runs a smart home technology firm, but at the start of his career all he was interested in was having his own company.
"When I came out of school I knew I wasn't really going to go down the college route. Every single friend of mine was working for themselves and I wanted that too," he tells Fora.
McInerney began selling bathroom suites for an uncle, who had a heating and plumbing business in Cork, before striking out on his own at the age of 24.
"I set up my own business, the Shower Shop, and we specialised in supplying and installing electric showers – they were huge at the time."
After a few years, however, McInerney decided to focus more on the wholesale and supply side of industry, changing the company's name to Pulsar Direct.
"Businesses could pick up the phone, place an order and we'd deliver it the next day, anywhere in the country – that was kind of revolutionary at the time, back in the late 80s, early 90s," he says.
In 2000, Grafton Group, the firm behind Woodie's and Chadwicks, bought Pulsar Direct and McInerney stayed on working for the company for the next decade.
"Grafton came on board and then it just grew like mad. We opened in the UK and we got up to about €35 million in sales," he says.
"But then the recession came and there was a lot of cost-cutting and changes. Grafton wanted to move our business from Cork to Dublin and consolidate it with another business they had there.
"I didn't want to be running up and down to Dublin all the time, so I decided to move on. I had an idea to start developing products around the area of smart home technology and the Internet of Things, and that's what I did next."
Home tech
In 2012, McInerney set up Smartzone – a smart home technology company based in Cork. The company develops and installs heating and security controls that can be monitored remotely using an app.
"We could see products coming to market around the areas of smart home technology – like Ecobee in Canada and Google's Nest. So we started playing around with some of those ideas," he says.
"In Ireland, we started by looking at the energy side because a lot of people were interested in the SEAI energy efficiency home upgrades – the market there was colossal."
He began developing the technology to manage hot water and heating, but soon realised it made sense to offer a broader suite of services if he was going to scale the business and separate Smartzone from its competitors.
The company now offers heating controls, security systems, and smart plugs and switches to remotely control lights and appliances.
McInerney says that most customers opt for a package that includes all of these functions, but the services people choose "depends on the demographic".
"We cater to everyone – whether you're a millennial who wants the latest technology, or you're an older person who just wants to be safer in their home. You can choose what you want and customise the service on an ongoing basis.
"Everything is in one app – you can control your lights, your heating, your lot."
Smartzone develops the products and the software, installs the systems, as well as providing consultancy, system maintenance and monitoring, and customer support.
Last month, the company signed a deal with Aviva to provide a smart home system to the firm's home insurance customers for €249 plus a €29.99-per-month recurring fee.
Challenges and competitors
McInerney says that starting out was the biggest challenge because there was a lot of technology that needed to be initially developed for the new venture.
"We spent rather a lot of money between 2012 and 2014 building our smart home heating controls before we could start selling it. I funded that myself with money that I had from the previous business.
"So I had my own funding and I had 25-30 years' experience around energy and plumbing. We had all the bits in place – it was just a matter of putting together a new team, trying to look at different strategies and finding something that works."
McInerney says that his previous experience definitely helped him – "because business is business" – but he still faced a lot of issues.
"You'll always have the challenges of a startup – am I heading down a rabbit hole, do I need to pivot what I'm doing?
"There was never an absolute 'oh shit' moment, but there were definitely some points along the way where we were just spending too much money on certain things that in reality were never going to scale."
McInerney says that the company is now in a good place to expand because there isn't too much competition in Ireland – at least for now.
He mentions products from global tech giants Amazon and Google, while closer to home there is PhoneWatch, which provides security systems, and other companies doing smart thermometers – however there are no major rivals that combine them all.
"We've an open playing field at the moment, but I'm sure competition will come quite rapidly," McInerney adds.
"There are no big smart home players here, so it's not likely that anyone's going to give us too much of a problem in the next 24 months, but after that it'll change and technology will evolve and more cool stuff will happen."
Expansion plans
Smartzone currently has a team of 22, but McInerney says that 90 new employees will be taken on over the next five months as a result of the deal with Aviva.
Around half of the team will be based at the headquarters in Cork, which includes a call centre, tech support, warehouse logistics and admin, while there will also be an office in Dublin, as well as engineers and installers working across the country.
"We're very excited. It's a big increase for us but we don't foresee it stopping there – we think it'll get a lot bigger than that."
Last year, the company posted revenue of just under €1.5 million but McInerney is expecting that to "dramatically increase" as the company expands.
At the moment Smartzone installs around 300 home systems every month and it is aiming to be in a total of 10,000 homes in Ireland by next summer.
Looking ahead, McInerney says that he's got "three or four more" partnership deals in the pipeline, as well as some new applications for his tech system.
In the next few months, the company is launching technology to monitor home water supplies with the scope to spot leaks and turn off the water immediately as needed. Next year it will also expand into heating-as-a-service.
Smartzone currently operates in Ireland and the UK, but McInerney is eyeing up a number of new markets including Dubai. In the next five years, he is hoping to have Smartzone in around 250,000 homes in these countries.
"The only danger is trying to do too much at the same time. So now we're quite focused on just rolling out our tech," he adds.
"You can do a million things with this kind of technology but you can't go off in too many directions until you've got a good established base and a good cashflow – then the rest will fall into place."
This article is part of our weekly series examining the nuts and bolts of businesses. If you would like to see your company featured please email news@fora.ie.
Sign up to our newsletter to receive a regular digest of Fora's top articles delivered to your inbox.
Written by Sarah Harford and posted on Fora.ie