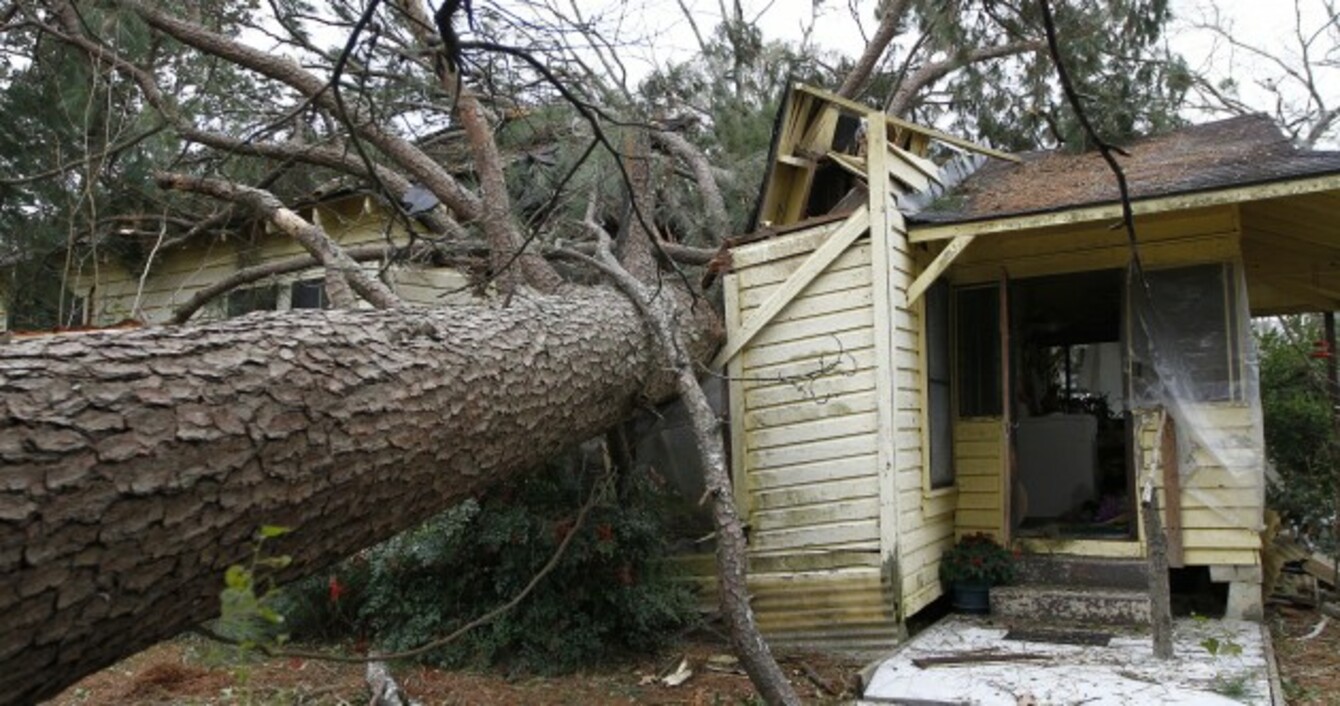 A tree blown over by a storm sits in the home of Martha Cavin in Centreville, Mississippi. Cavin had to be cut out from her home and was treated for a gash to her head.
Image: AP Photo/The Enterprise-Journal, Philip Hall
A tree blown over by a storm sits in the home of Martha Cavin in Centreville, Mississippi. Cavin had to be cut out from her home and was treated for a gash to her head.
Image: AP Photo/The Enterprise-Journal, Philip Hall
A POWERFUL WINTER storm system that pounded the nation's midsection, wrecking holiday travel plans and dumping a record snowfall in Arkansas, began lashing the Northeast late yesterday with high winds, snow and sleet.
The storm, which knocked out power to thousands of utility customers mainly in Arkansas, was blamed in at least six deaths.
Hundreds of flights were cancelled or delayed, scores of motorists got stuck on icy roads or slid into drifts and blizzard warnings were issued amid snowy gusts of 30 mph that blanketed roads and windshields, at times causing whiteout conditions.
"The way I've been describing it is as a low-end blizzard, but that's sort of like saying a small Tyrannosaurus rex," said John Kwiatkowski, a meteorologist with the National Weather Service in Indianapolis.
The system, which spawned Gulf Coast region tornadoes on Christmas Day, pushed through the Upper Ohio Valley and headed into the Northeast overnight.
High winds, snow and sleet slickened roads in Massachusetts, Rhode Island and Connecticut, causing dozens of minor accidents and spinouts. Forecasts called for 12 to 18 inches of snow inland from western New York to Maine into today.
Traffic moves in the US 41 By-Pass in Henderson, Kentucky as a snow storm moves through the area making travel treacherous. (AP Photo/The Gleaner, Mike Lawrence)
Rain and snow
The National Weather Service said early this morning that snow was falling heavily in Pennsylvania, upstate New York and some New England states.
Among the highest snow totals were 2 to five inches in southeastern Massachusetts, 3 to 6 inches in Connecticut, up to a foot in some Pennsylvania counties and 10 to 11 inches in some parts of western New York.
The system was expected to taper off into a mix of rain and snow closer to the coast, where little or no accumulation was expected in such cities as Philadelphia, Boston and New York.
The storm left freezing temperatures in its aftermath, and forecasters also said parts of the Southeast from Virginia to Florida would see severe thunderstorms.
Kraig Meyer, 20, flies off a homemade snow ramp getting airborne and he and his friends sled down Reitz Hill in Evansville, Indiana. Dozens of people flocked to the hill which was covered in seven inches of snow to enjoy an afternoon of sledding. (AP Photo/The Evansville Courier & Press, Erin McCracken)
About 40 vehicles got bogged down trying to make it up a slick hill in central Indiana, and four state snowplows slid off roads as snow fell at the rate of 3 inches an hour in some places.
Two passengers in a car on a sleet-slickened Arkansas highway were killed Wednesday in a head-on collision, and two people, including a 76-year-old Milwaukee woman, were killed Tuesday on Oklahoma highways. Deaths from wind-toppled trees were reported in Texas and Louisiana.
Power outages
The day after Christmas wasn't expected to be particularly busy for AAA, but its Cincinnati-area branch had its busiest Wednesday of the year.
By mid-afternoon, nearly 400 members had been helped with tows, jump starts and other aid, with calls still coming in, spokesman Mike Mills said.
#Open journalism No news is bad news Support The Journal

Your contributions will help us continue to deliver the stories that are important to you

Support us now
Power crews work on lines around storm debris in Monticello, Mississippi. More than 25 people were injured and at least 70 homes were damaged in Mississippi by the severe storms that pushed across the South on Christmas Day. (AP Photo/The Enterprise-Journal, Philip Hall)
Traffic crawled at 25 mph on Interstate 81 in Maryland, where authorities reported scores of accidents.
More than 1,600 flights were canceled, according to the aviation tracking website FlightAware.com, and some airlines said they would waive change fees. Lengthy delays were reported Wednesday at the three major New York City-area airports, the Federal Aviation Administration said.
In Arkansas, some of the nearly 200,000 people who lost power could be without it for as long as a week because of snapped poles and wires after ice and 10 inches of snow coated power lines, said the state's largest utility, Entergy Arkansas.
Other states also had scattered outages. Duke Energy said it had nearly 300 outages in Indiana, with few left in Ohio by early afternoon after scores were reported in the morning.
Behind the storm, Mississippi's governor declared states of emergency in eight counties with more than 25 people reported injured and 70 homes left damaged.