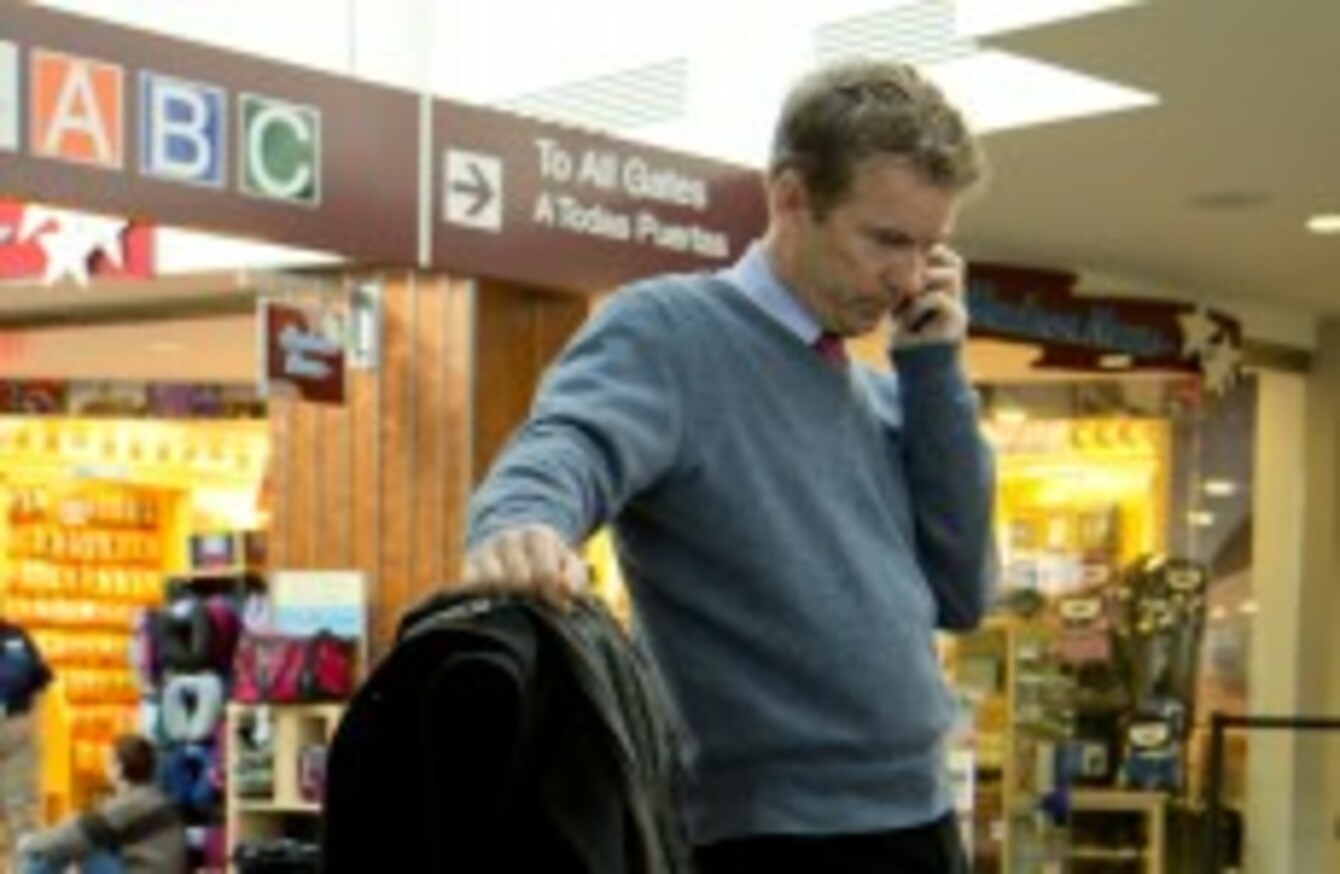 Rand Paul makes a call to book another flight after being stopped at Nashville airport
Image: Erik Schelzig/AP/Press Association Images
Rand Paul makes a call to book another flight after being stopped at Nashville airport
Image: Erik Schelzig/AP/Press Association Images
A US SENATOR AND the son of Republican presidential candidate Ron Paul was detained by airport security officials today after refusing to allow them to pat him down.
Senator Rand Paul, who has frequently criticised airport security arrangements, was stopped at Nashville airport when a scanner set off an alarm. He was then escorted away by police when he declined to allow a security officer to subsequently pat him down.
The White House has said airport security acted appropriately.
The security scanner identified an issue with the senator's knee, although Paul said he has no screws or medical hardware around the joint.
Paul, who frequently uses the airport about an hour from his home in Kentucky, told The Associated Press in a telephone interview that he asked for another scan but refused to submit to a pat down by airport security.
Paul said he was "detained" at a small cubicle and couldn't make his flight to Washington for a Senate vote scheduled later in the day.
Ron Paul, who came fourth in the recent South Carolina primary as he campaigns for the Republican presidential nomination, tweeted:
White House spokesman Jay Carney did not confirm that the incident involved Paul, but said the passenger in question was never detained. He defended the TSA.
"Passengers, as in this case, who refuse to comply with security procedures, are denied access to the secure gate area," Carney said. "I think it is absolutely essential that we take necessary actions to ensure that air travel is safe."
Rand Paul has been a strong critic of the pat-down search method, complaining that it makes passengers "feel like criminals". He has said even "six-year-old girls" are being subjected to the "invasive" treatment, and called for "targeted" searching:

(Video: CSPAN)
- Additional reporting by Michael Freeman