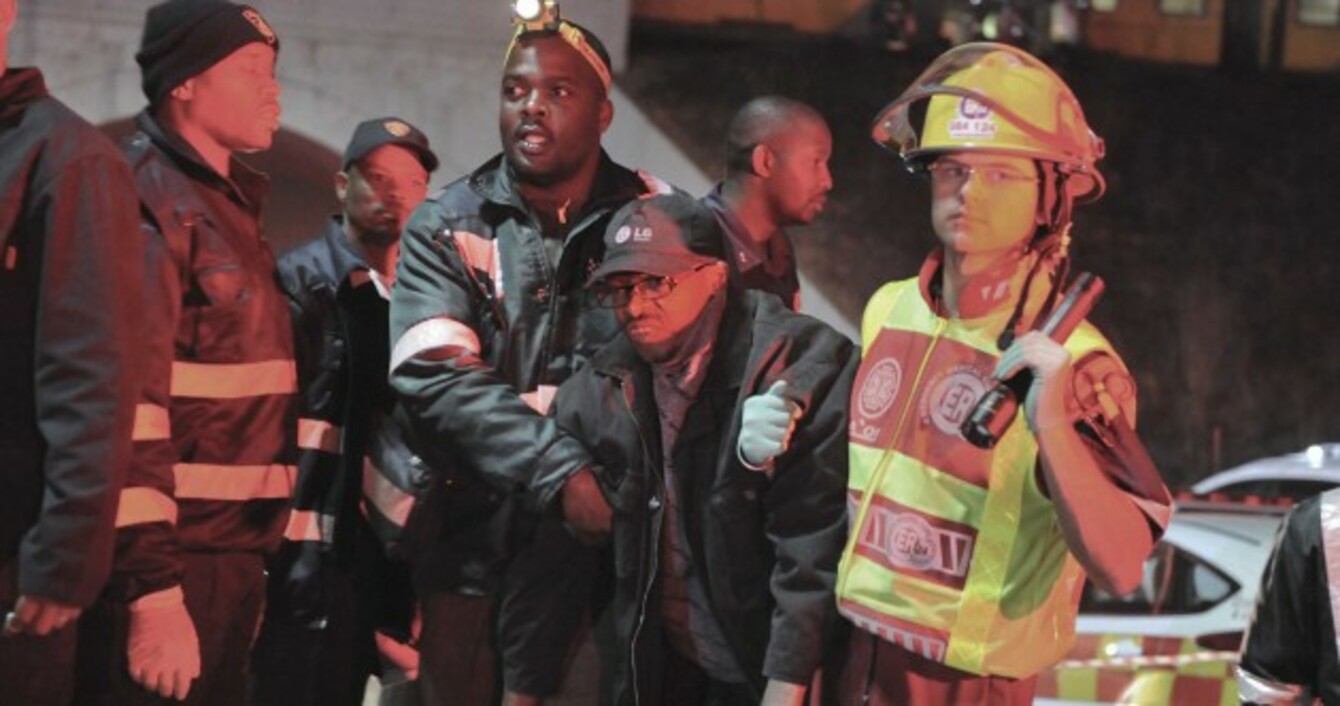 An injured passenger is helped to an ambulance at the Booysens train station near Johannesburg this evening
Image: AP/Press Association Images
An injured passenger is helped to an ambulance at the Booysens train station near Johannesburg this evening
Image: AP/Press Association Images
MORE THAN 300 people have been injured in a commuter train collision in South Africa, an emergency services spokeswoman said this evening.
Nana Radebe, spokeswoman for Johannesburg Emergency Services, said 326 people were rushed to nearby hospitals with minor to serious injuries. No fatalities have been reported.
"For now we have removed people with minor to serious injuries, but none critical," she said, adding that firefighters were still searching for commuters who may be trapped inside the train cars.
Radebe earlier said those injured numbered more than 400.
The trains were on the same track, Radebe told The Associated Press, and it appeared that a travelling train collided with a stationary train.
The accident happened at rush hour between two stations, with both trains travelling from the Johannesburg city center to the township of Soweto, said Lillian Mofokeng, the Metrorail spokeswoman for the Gauteng province.
The cause of the accident was unknown and authorities were still gathering information about the collision, Mofokeng said.
"Our priority right now is just to attend to the injured and then arrange alternative transport," she said. About 100 passengers who were not injured would be bused home, said Mofokeng.
"We don't have the exact number but it's more than 150 people injured," Russel Meiring, spokesman for the ER24 medical service that was treating people at the accident site, told AFP.
About 100 people have been removed from the scene to hospital. We believe there is no one trapped inside anymore.
A commuter told the Eyewitness News website that one train derailed and hit the other.
Rail authorities at the scene told AFP that the cause of the crash had not yet been identified and that investigations would continue overnight and in the morning.
Emergency workers carried badly injured people to dozens of waiting ambulances as shocked passengers sat on the ground and received treatment for minor injuries.
Some passengers were given medical care inside the wrecked carriages before being carefully lifted down a steep embankment on stretchers.
The accident happened at the height of the evening rush hour when the trains were packed with people heading from Johannesburg city centre to residential areas.
Buses were laid on to take uninjured passengers home, while train services were disrupted across the south of the city.
The last major train crash in South Africa was in April when a guard was killed and 240 people injured in a similar accident in Johannesburg as two crowded commuter trains collided.
With AP