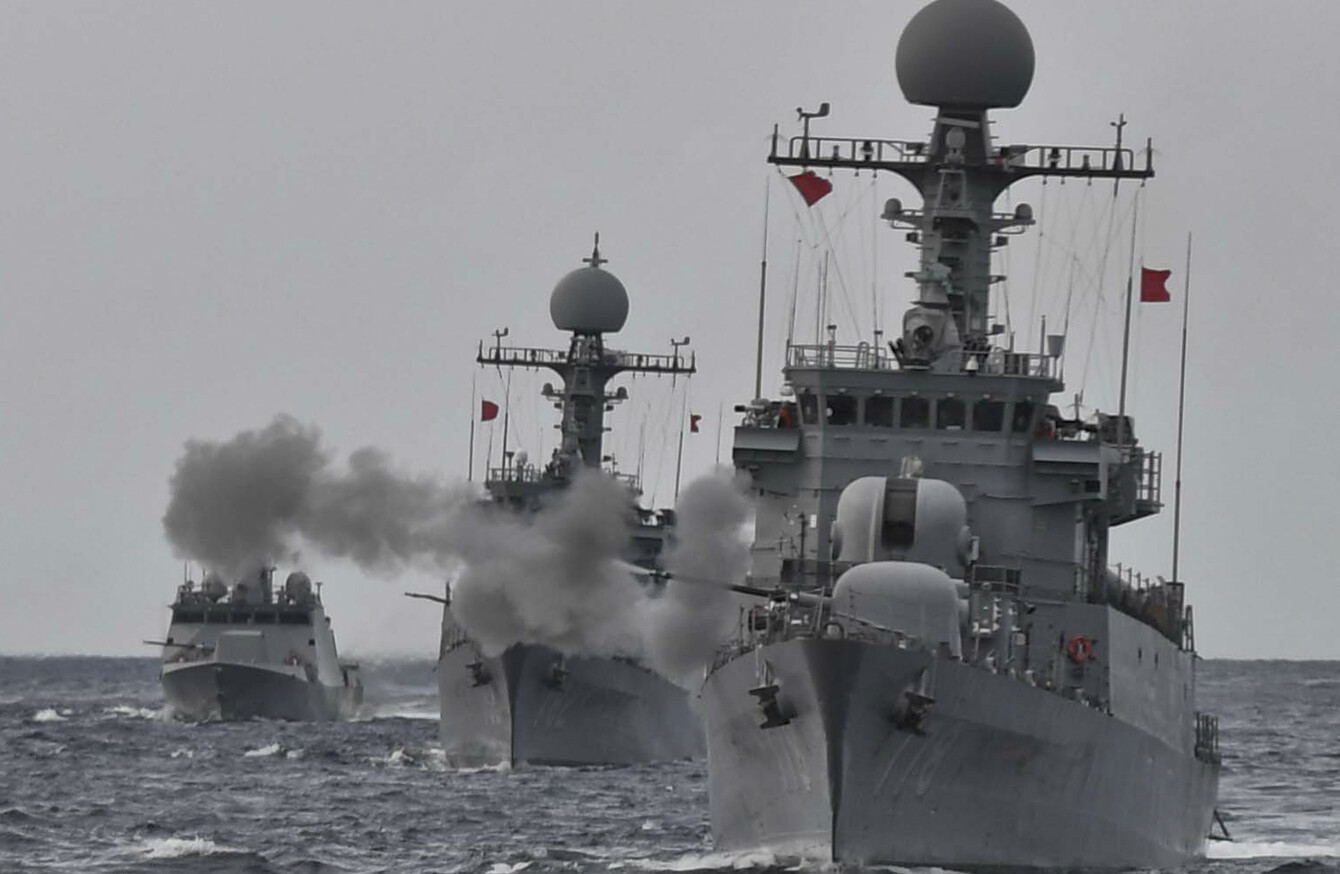 Image: South Korea Defense Ministry via AP
Image: South Korea Defense Ministry via AP
SOUTH KOREAN WARSHIPS conducted live-fire exercises at sea today as Seoul continued its displays of military capability following US warnings of a "massive military response" after North Korea detonated its largest-ever nuclear test explosion.
South Korea's presidential office also said Washington and Seoul have agreed to remove bilaterally agreed warhead restrictions on South Korean missiles, which would allow the South to develop more powerful weapons that would boost its pre-emptive strike capabilities against the North.
The South's military exercises yesterday involved F-15 fighter jets and land-based ballistic missiles simulating an attack on North Korea's nuclear test site to "strongly warn" Pyongyang over the recent detonation.
The heated words from the United States and the military manoeuvres in South Korea are becoming familiar responses to North Korea's rapid, as-yet unchecked pursuit of a viable arsenal of nuclear-tipped missiles that can strike the United States.
'Begging for war'
The most recent, and perhaps most dramatic, advance came on Sunday in an underground test of what leader Kim Jong-un's government claimed was a hydrogen bomb, the North's sixth nuclear test since 2006.
The UN Security Council held its second emergency meeting about North Korea in a week yesterday, with US Ambassador Nikki Haley saying the North's actions show that Kim is "begging for war," and the time has come for the Security Council to adopt the strongest diplomatic measures.
"Enough is enough. War is never something the United States wants. We don't want it now. But our country's patience is not unlimited," Haley said.
South Korea has been seeking to obtain more powerful missiles while it pursues a so-called "kill chain" pre-emptive strike capability to cope with North Korea's growing nuclear and missile threat.
Warhead limit
Since the late 1970s, South Korean missile developments have been limited by a bilateral "guideline" between the US and South, and it was updated in 2012 to allow the South to increase the range of its weapons from 500 kilometres to 800 kilometres.
The agreement revealed today removes the 500-kilogram warhead limit on South Korea's maximum-range missiles, which would free the South to develop more powerful weapons potentially targeting the North's underground facilities and shelters.
In addition to expanding its missile arsenal, South Korea is also strengthening its missile defence, which includes the high-tech Terminal High Altitude Area Defense battery currently deployed in the southeastern county of Seongju.
Today a 2,500-ton frigate, a 1000-ton patrol ship and 400-ton guided-missile vessels participated in drills off the eastern coast aimed at retaliating against potential North Korean provocations, the Defense Ministry said. The ministry said more naval drills are planned from Wednesday to Saturday in the country's southern seas.
Future missile launch
The ministry said yesterday that North Korea appeared to be planning a future missile launch, possibly of an ICBM, to show off its claimed ability to target the United States with nuclear weapons, though it was unclear when such a launch might happen.
Ministry official Chang Kyung-soo told lawmakers that it was seeing preparations in the North for an ICBM test, but didn't provide details about how officials had reached that assessment. Chang also said the yield from the latest nuclear detonation appeared to be about 50 kilotons, which would mark a "significant increase" from North Korea's past nuclear tests.
Each new North Korean missile and nuclear test gives the country's scientists invaluable information that allows big jumps in capability. North Korea is thought to have a growing arsenal of nuclear bombs and has spent decades trying to perfect a multistage, long-range missile to eventually carry smaller versions of those bombs.
Both diplomacy and severe sanctions have failed to check the North's decades-long march to nuclear mastery.
President Donald Trump, asked in Washington if he would attack North Korea, said, "We'll see." No US military action appeared imminent, and the immediate focus appeared to be on ratcheting up economic penalties, which have had little effect thus far.
#Open journalism No news is bad news Support The Journal

Your contributions will help us continue to deliver the stories that are important to you

Support us now
Trump in tweets earlier had threatened to halt all trade with countries doing business with North Korea, a clear warning to its patron and closest ally, China. Such a move would be radical since the US imports about $40 billion in goods a month from China. Foreign Ministry spokesman Geng Shuang said China regarded as "unacceptable a situation in which on the one hand we work to resolve this issue peacefully, but on the other hand our own interests are subject to sanctions and jeopardised. This is neither objective nor fair."
In brief remarks after a White House meeting with Trump and other national security officials, Defense Secretary Jim Mattis told reporters that America does not seek the "total annihilation" of North Korea, but then added somberly, "We have many options to do so."
Mattis also said the international community is unified in demanding the denuclearisation of the Korean Peninsula and that Kim should know Washington's commitment to Japan and South Korea is unshakeable.
'Meaningful prelude'
Sunday's detonation builds on recent North Korean advances that include test launches in July of two ICBMs. The North says its missile development is part of a defensive effort to build a viable nuclear deterrent that can target US cities.
North Korea has made a stunning jump in progress in its nuclear and missile programs since Kim rose to power following his father's death in late 2011. The North followed its two tests of Hwasong-14 ICBMs, which, when perfected, could target large parts of the United States, by threatening to launch a salvo of Hwasong-12 intermediate range missiles toward the US Pacific island territory of Guam in August.
It flew a Hwasong-12 over northern Japan last week, the first such overflight by a missile potentially capable of carrying nuclear weapons, in a launch Kim described as a "meaningful prelude" to containing Guam, the home of major US military facilities, and vowed to launch more ballistic missile tests targeting the Pacific.
Beyond the science of the blast, North Korea's accelerating push to field a nuclear weapon that can target all of the United States is creating political complications for the US as it seeks to balance resolve with reassurance to allies that Washington will uphold its decades-long commitment to deter nuclear attack on South Korea and Japan.
That is why some questioned Trump's jab at South Korea when he tweeted that Seoul is finding that its "talk of appeasement" will not work. The North Koreans, he added, "only understand one thing," implying military force might be required. The US has about 28,000 troops stationed in South Korea and is obliged by treaty to defend it in the event of war.