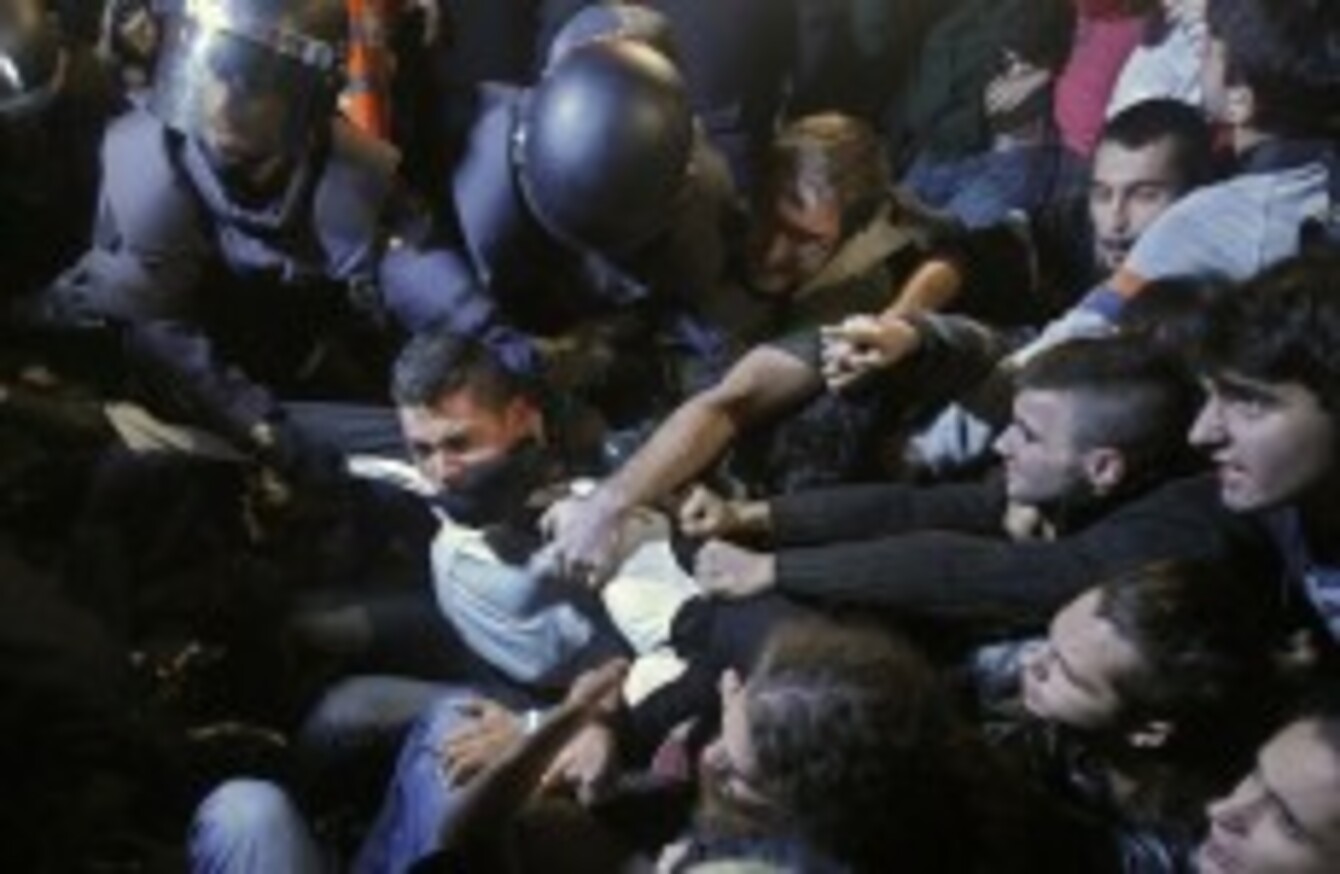 Police clashed with protesters during recent demonstrations against austerity measures
Image: Andres Kudacki/AP/Press Association Images
Police clashed with protesters during recent demonstrations against austerity measures
Image: Andres Kudacki/AP/Press Association Images
SPAIN IS SET to reveal how much trouble its banking system is in today when it releases the results of audits of 14 lenders.
The results will also help the country decide how much money it will tap from a €100 billion loan facility to prop up the country's financial sector.
The announcement will come this afternoon,  a day after Spain outlined plans to cut spending and raise taxes to convince financial markets it is on track to reduce its bloated deficit.
The government vowed to slash its deficit from 8.9 per cent of economic output last year to 6.3 per cent this year, 4.5 per cent in 2013 and 2.8 per cent in 2014.
Public sector salaries are frozen and regions which pay for health and education must find €7 billion in savings. Despite cuts, retirement pensions are expected to go up by one per cent, a promise that was made by the conservative government in the election campaign.
Social security spending accounts for nearly two thirds of the nation's expenditure with almost 25 per cent of the Spanish workforce unemployed.
Many analysts believe the budget is part of preparations for another financial lifeline to help the country reduce its high borrowing costs.
The Spanish government also announced yesterday that it will set up a NAMA-style independent fiscal authority to check any budget slippages.
The Moody's Investor Services ratings agency is also expected to issue a report that some analysts believe will reduce Spanish bonds to junk status.
Large anti austerity demonstrations have taken place in Spain in recent days with protesters calling on the government to resign.
- Additional reporting by Michelle Hennessy.