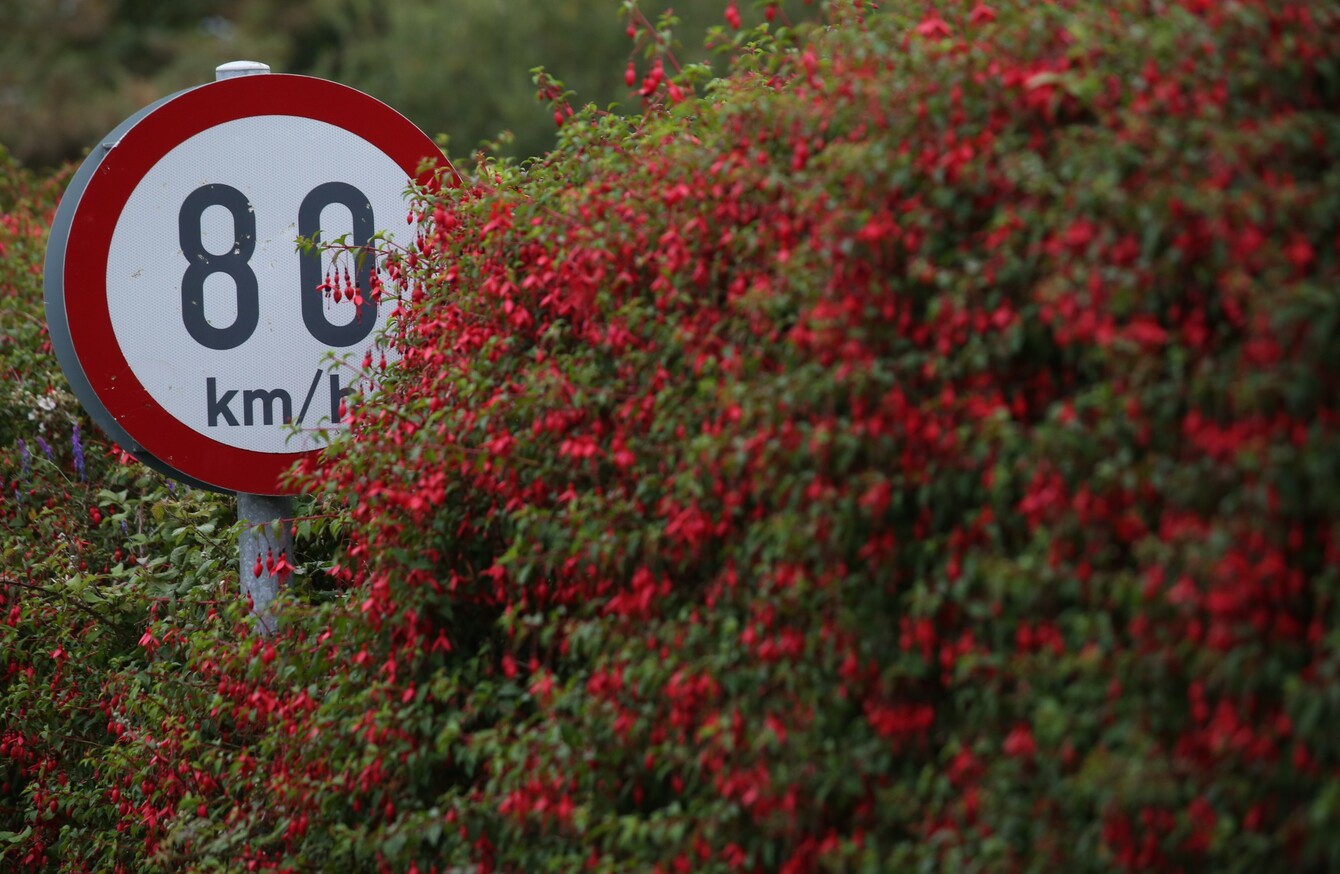 A national speed limit audit is near completion, according to the Department of Transport.
Image: Shutterstock/lonndubh
A national speed limit audit is near completion, according to the Department of Transport.
Image: Shutterstock/lonndubh
MEMBERS OF THE public who wish to query or appeal a speed limit in their area will soon be able to do so under new plans by the Department of Transport. 
In an interview with TheJournal.ie in September, Transport Minister Shane Ross confirmed that speed limits across the country are being reviewed as part of a major nationwide audit.
The work is being carried out in tandem with the minister's plans to introduce a tiered form of speeding offences, which got Cabinet approval today.
He said local authorities had been instructed to carry out a review of the speed limits in their areas in a bid to address inconsistencies between counties.
Speaking to TheJournal.ie at the time, he questioned why some small, rural, winding roads had speed limits of 80 kmph, while other similar routes might have ones of 50 kmph.
"In parallel with the speeding legislation, I asked the councils for the update on all the speeds with a view to revising them into realistic, logical speed limits," he said.
Ross said it is "quite obvious" that speed limits have an impact on road safety. They are often "insanely uncoordinated and unrelated to each other".
As part of the review, a "queries and appeals process" is to be established, whereby the public can get in touch about any concerns they have about a speed limit being too high or too low on their local roads, or if they wish for a speed limit to be changed.
A qualified engineer will then be sent to the road to carry out an assessment of the speed limit, and will then be tasked with making recommendations to the local authority about what changes are warranted. 
A government spokesperson said that the plan is very much in the "early stages" and "infancy" at the moment. 
In relation to the national audit of speed limits, Ross has previously stated that local authorities are "a bit slow on reporting on these things", adding that as of September, he has only received a number of reports back.
A spokesperson for the department said in a statement that the speed limit review is currently approaching completion.
"At this time 29 of the 31 local authorities have completed their review of speed limits and one the remaining authorities is due to complete its review in Q4 2019 with the last authority completing its review in Q3 2020," they added. 
Graduated speeding fines 
Cabinet today agreed to proposals to impose more severe sanctions on motorists who have exceeded the speed limit by greater amounts.
Under the system, drivers who exceed the limit by more than 30km/ph will face a court prosecution and a €2,000 fine. 
The new law will also see drivers that record minor infringements of the speed limit, of between zero to 10km/ph, get fewer penalty points than is currently the norm. 
Currently, speeding of any kind carries a fixed charge fine of €80, along with three penalty points. 
Under the new rules, drivers who record minor infringements will only get two penalty points along with a €60 fine.
#Open journalism No news is bad news Support The Journal

Your contributions will help us continue to deliver the stories that are important to you

Support us now
Anyone speeding between 10km/ph and 20 km/ph over the limit will receive three penalty points, and a €80 fine, with those caught speeding between 20km/ph and 30 km/ph over the limit getting a €100 fine and four penalty points. 
Yesterday Ross said he did not expect "to go to war" with anyone over the new laws, stating that the proposals had the backing of both the justice minister and the Taoiseach. 
The legislation has been placed on the government's legislative priorities, however, a government spokesperson could not predict a timeline for enactment or how long the passage through the Houses of the Oireachtas would take.