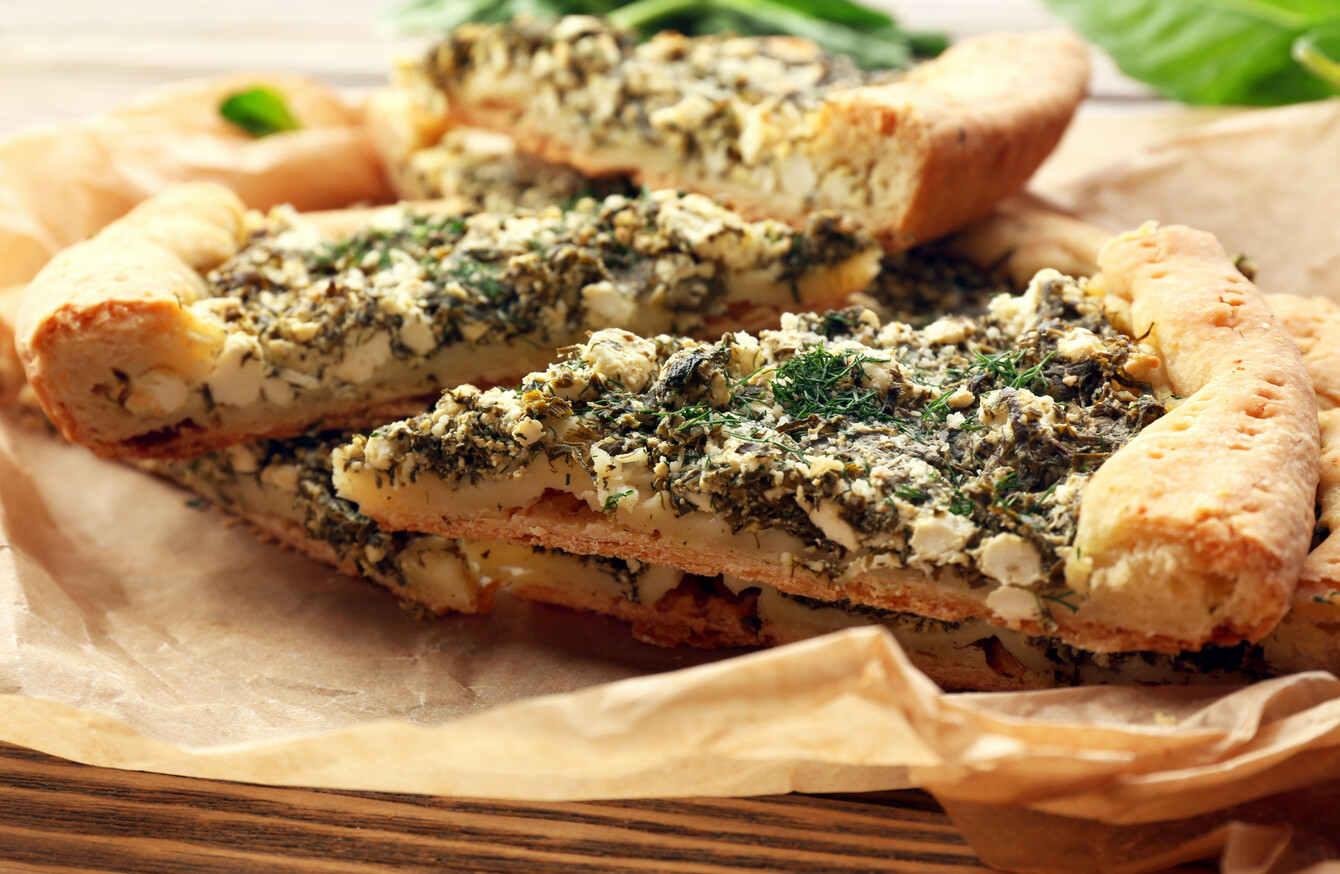 Image: Shutterstock/Africa Studio
Image: Shutterstock/Africa Studio
SPINACH IS A highly nutritious and versatile vegetable that is at its seasonal best from April through to November. Delicious raw or cooked, spinach requires very little preparation time, and makes a wonderful addition to salads, curries, omelettes and more.
We are all familiar with spinach's role in Popeye, which is why its most memorable nutritional benefit is the iron content. While spinach is a good source of non-haem iron, it's not quite as high as Popeye may have believed!
Either way, if you've been making the most of this wonderful seasonal ingredient and have an extra bag or two in the fridge, why not try making one of the recipes below.
Spinach and feta tart: This tart uses shop bought puff pastry making it super quick to make! Roll the pastry onto a baking tray, prick with a fork and bake for about 5 minutes, until starting to turn golden. Meanwhile, cook a few handfuls of spinach either on the hob or in the microwave until just wilted.
If there's any liquid, remove it before mixing through some crumbled feta cheese, a clove of crushed garlic and seasoning. Spread on top of the pastry and bake for a further 10-15 minutes. Serve warm drizzled with some fresh pesto.
Creamy spinach and bacon gnocchi bake: In a pan, fry some bacon until crisp, then lower the heat and add some sliced onion and crushed garlic. Cook for about five minutes, until the onion is soft. Add in butter (about 20g) and, once melted, stir through a heaped tablespoon of flour and mix until combined.
Next, slowly pour in a mug of milk, whisking constantly until the mixture has thickened. While the mixture is thickening, cook the gnocchi in a pan of boiling water for 3 minutes, then drain. Grate some cheese into the sauce, and add in baby spinach leaves, seasoning and the gnocchi. If you're a fan of blue cheese, we love this addition in Kenmare Foodie's recipe. Stir to combine, then tip the mixture into a gratin dish, and top with some more cheese. Bake for 10-15 minutes, and serve sharing style with salad and garlic bread.
Chicken saag: Fry onions, garlic, green chilli and ginger in a saucepan until soft, then add in some spices: a teaspoon each of cumin, ground coriander, garam masala and turmeric. Wilt some spinach in the microwave, then add it to the saucepan with a tin of chopped tomatoes, and blitz everything together using a hand blender.
Brown chopped chicken fillets in a separate pan, then place in the sauce, cover and cook on a medium heat for about 15 minutes, until the chicken is cooked. Serve with natural yogurt, coriander and naan bread. Veggie? Why not try the Hairy Bikers' sweet potato saag recipe?
Spinach soup: Melt butter in a saucepan, and gently fry chopped onion, garlic, celery and potatoes until they're beginning to turn soft, for about 10 minutes. Pour over hot chicken or vegetable stock, and simmer for 15 minutes, until the potatoes are cooked through.
Season, then add in a bag of spinach, and some basil if you have it. Leave on the heat for less than a minute, until the spinach has just wilted, then remove from the heat and blitz with a hand blender. Stir through a spoonful or two of cream or crème fraiche, and serve with warm bread.
Spinach shakshuka: Shakshuka is a really impressive and delicious breakfast, perfect for the long weekend! Heat olive oil in a large lidded frying pan (you can use tin foil if you don't have a lid) and fry sliced onions, garlic and peppers until soft. Stir through cumin, smoked paprika, salt and pepper, and add in a tin of chopped tomatoes and spoonful of tomato paste.
Simmer for 5 minutes, then add in a few handfuls of spinach, and stir through until it's wilted. Make 4 wells in the sauce, and crack in 4 eggs, then cover and turn down the heat. Cook for 5-10 minutes depending on how you like the eggs cooked, and serve sharing style. The Smitten Kitchen serves her version of this classic recipe topped with feta cheese, which we are totally on board with!