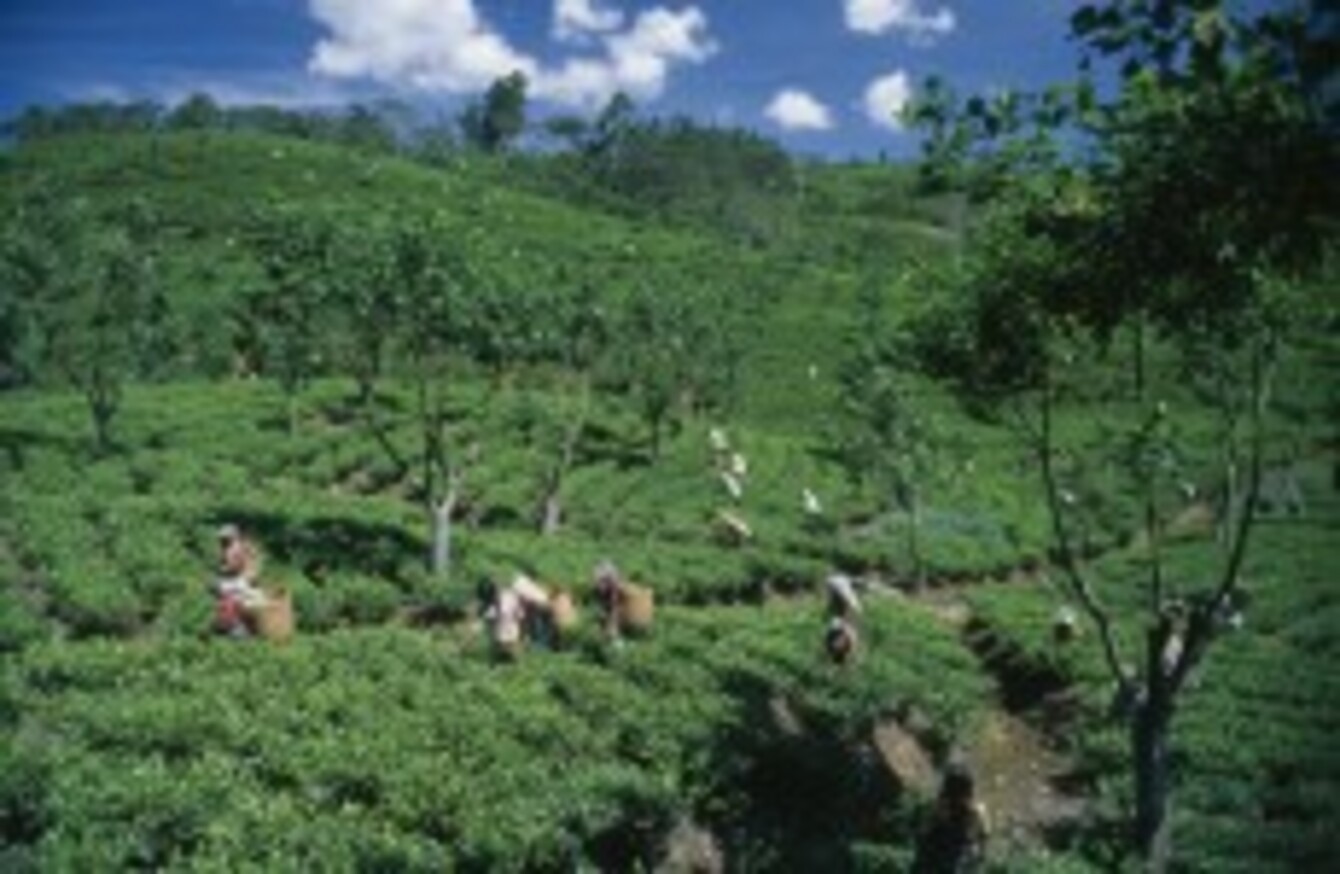 Tea pickers in a tea plantation in Sri Lanka last December.
Image: Eye Ubiquitous/Press Association Images
Tea pickers in a tea plantation in Sri Lanka last December.
Image: Eye Ubiquitous/Press Association Images
A HOT CUP of Ceylon tea is better known as being soothing and relaxing, but Sri Lanka is now marketing its most profitable export as a luxury boost for the libido.
The tea industry is increasingly plugging Ceylon's supposed aphrodisiac qualities in a bid to radically change perceptions of the brew, which manufacturers say can sell for less than water in some markets.
"We are highlighting the properties of tea that can give you an edge in the bedroom," said Rohan Fernando, whose firm HVA Foods sells a small 60-gram jar of premium Ceylon for $350.
"Tea has traditionally been the poor man's drink. We want to be at the top-end of the supply chain," he said.
The industry may not yet have hard medical proof of Ceylon's performance-enhancing powers, but they have long been the stuff of legend among Sri Lankan tea lovers.
The brews known for their potency are the top-quality white teas, known as Silver Tips and Golden Tips, which are gaining popularity among well-heeled Chinese businessmen along with rich Saudis and Japanese, Fernando said.
Unlike orthodox teas, the white varieties are made with just the tender tea buds, which are sun-dried and carefully tended until they turn gold or silver in colour.
Ceramic urn wrapped in black velvet and sealed with gold ribbon
At his tea factory in Kandana town, north of the capital Colombo, Fernando held up a ceramic urn wrapped in black velvet and sealed with a gold ribbon, explaining that a cuppa is not only good for sexual health.
The tea contains polyphenols, flavonoids and anti-oxidants – known to improve the immune system and blood circulation.
Leading tea maker Herman Gunaratne is also keen to promote such qualities in his rare "virgin white" tea, so called because it is untouched by human hands in production, unlike orthodox types hand-plucked from the tea bush.
The product retails at the Mariage Freres tea emporium in Paris for €68 for a 20-gram box, the equivalent of €3,391 per kilo.
"My virgin white tea contains 10.11 percent anti-oxidants… This could be the highest level of anti-oxidants in any tea," Gunaratne told AFP.
When your overall health improves, your sexual performance automatically increases.
Tea is not indigenous to Sri Lanka, but after Scotsman James Taylor planted the first tea bush, Camellia Sinensis, in 1849, it became a primary export. Last year, tea brought in nearly €1.15 billion to the country's coffers.
Sri Lanka also conducts the world's largest weekly tea auction where five to six million kilos change hands.
Tea purists
But the island may soon be reaching its maximum production capacity after exporting nearly 320 million kilos last year.
Gunaratne is among the tea purists who want to guard Sri Lanka's reputation as a maker of clean tea – product that is free of pesticide residue and other contaminants – and he is keen to see more high-end varieties rather than the traditional export of cheap bulk products.
"We need to re-brand tea," he said. "We have the potential to increase our tea income four-fold."
The Sri Lanka Tea Board is about to embark on a major international marketing campaign for the first time in decades, which will promote the health benefits of a high-end cup.
#Open journalism No news is bad news Support The Journal

Your contributions will help us continue to deliver the stories that are important to you

Support us now
Currently only 42 to 43 per cent of Ceylon is exported in packets of less than three kilos each, but the target is to raise this to 60 per cent in the next five years, board director Hasitha de Alwis said.
Tea museum
Anil Cooke, head of Sri Lankan tea broking firm Asia Siyaka Commodities, agreed that Ceylon – known by the country's colonial name – should be "re-positioned globally" with a focus on increasing its value.
"It is being done in a small way by a few companies, but it can be given a bigger boost," Cooke said.
Leading the way is Gunaratne's tea plantation in the south of the island, which has become a key tourist attraction with a tea museum, tours and tasting sessions.
Despite cutting daily tea leaf production from 20,000 to just 2,000 kilos a day, his gourmet products now sell at 10 times the average retail price of loose tea in the local market.
"Since shifting to highly specialised teas… I earn double what I did before," said Gunaratne.
Cooke said he was not sure if the aphrodisiac properties or the big bucks from his Ceylon had put a permanent smile on the 69-year-old tea maker's face.