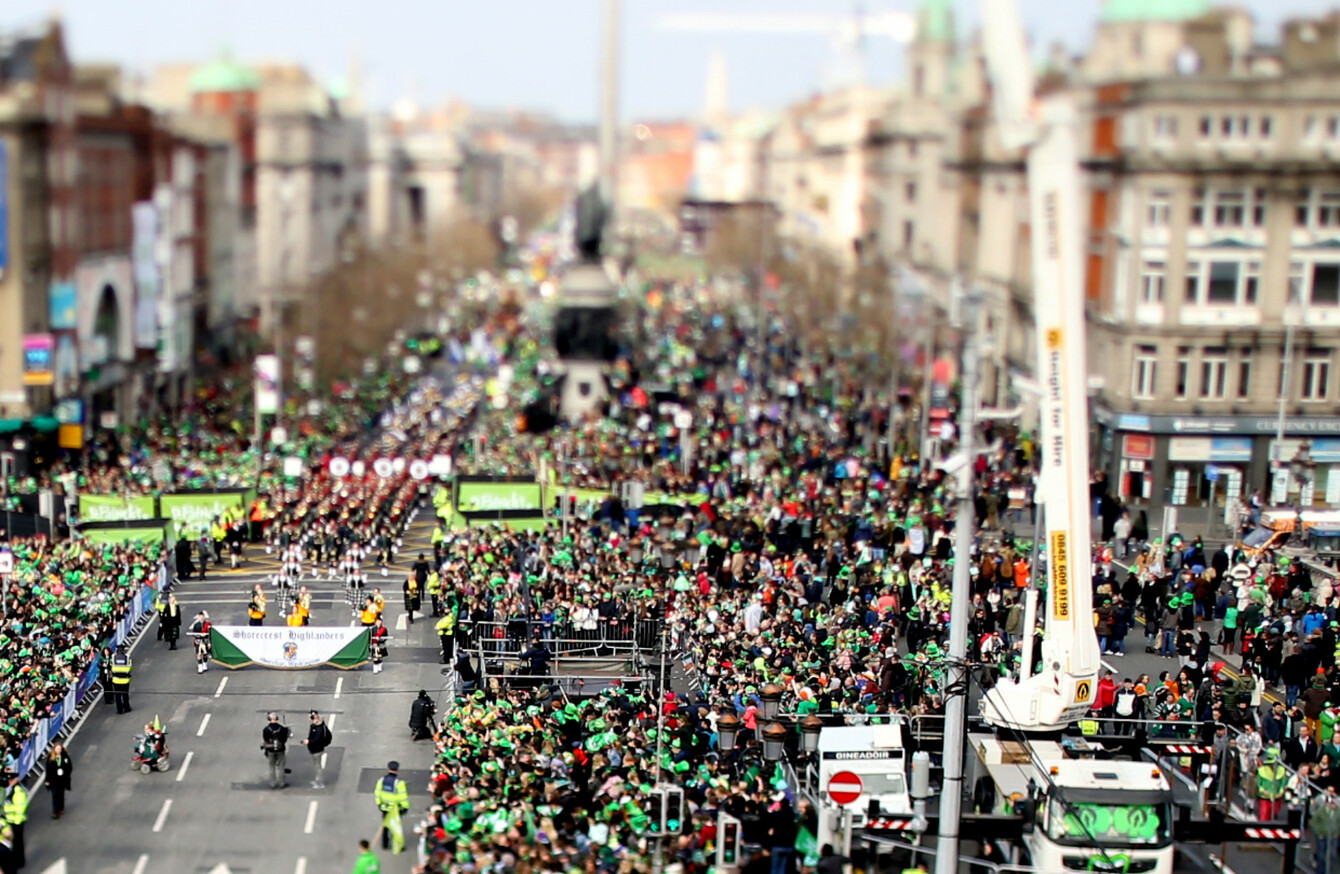 Image: Sam Boal via Rolling News
Image: Sam Boal via Rolling News
FALLING ON A Saturday this year, there's a lot happening all around the country for St Patrick's Day.
The rugby will capture a lot of attention this afternoon, but there's plenty of other celebrations in cities and towns across Ireland for people of all ages to enjoy.
Dublin
The four-day St Patrick's Festival kicked off on Thursday with history walking tours, theatre performances and dinner events.
Although festivities have been up and running for two days, the biggest event in the country – Dublin's St Patrick's Day Parade – is taking place this afternoon.
Actor Liam Cunningham will be the grand marshal of this year's parade through the capital.
The theme for this year is "Home is Where the Heart is", and performances inspired by all things home will weave their way through the capital during the parade.
An array of bands from around the world will also deliver musical scores through the streets of Dublin for the procession.
The parade will begin at Parnell Square in Dublin city centre at 12pm.
The celebrations don't end with the parade, with hundreds expected to attend the funfairs in Merrion Square and Custom House Quay today.
For those looking for something different, the Dublin Bay Prawn Festival begins today in Howth Village.
Cork
The parade through the city centre is the main event in Cork today. Kicking off at 1pm, the parade runs from the South Mall to the Grand Parade, along St Patrick's Street and finishing at Merchant's Quay.
The theme for this year's parade in Cork city is "Democracy For All – 100 Years of the Vote for Women".
There will be Irish Sign Language interpreter services at the viewing stand.
A number of city walking tours are also taking place in Cork today. The Crawford Art Gallery is hosting a guided tour at 1pm, beginning at Emmet Place.
And, for those who wish to sit back and be entertained, The Three Tenors are performing at Cork Opera House at 8pm.
For a full list of the events on in Cork – for both young and old – today, click here.
Limerick
The theme for this year's St Patrick's Day parade in Limerick city is "Circus 250″, as the circus celebrates its 250th anniversary this year.
The parade, which is being co-ordinated by Grooveyard Productions on behalf of Limerick City and County Council, is set to feature thousands of participants from various community groups, companies, bands and sports clubs from across Limerick.
For those looking for some musical entertainment, the Joyce Brothers Music Festival takes place in Kilfinane, Limerick until tomorrow.
A vintage carnival is also coming to Arthur's Quay Park, opposite the shopping centre, until tomorrow.
There's plenty more on besides, with lots of music, arts, and food to sink your teeth into next weekend at Limerick, which you can read more on here.
Galway
2018 marks the 116th anniversary of the Galway St Patrick's Day Parade.
The parade will feature an array of community, cultural, sporting and international groups.
Following the parade, family-friendly entertainment is being held at the plaza on Eyre Square. It will include live music from the Clandestinos, a vintage carousel, and children's entertainment.
Click here for more information about Galway's festivities.
New York
As New York has the largest Irish population in the US, it's no wonder major St Patrick's Day celebrations are held in the city every year.
Today's New York City St Patrick's Day Parade begins at 11am (3pm Irish time). For those across the pond, the parade can be viewed between 44th Street and 79th Street. It will also be streamed live here.
Loretta Brennan Glucksman, co-founder of Glucksman Ireland House at New York University has been named as grand marshal of the parade.
Have any pictures or video from the St Patrick's Day events you're going to attend – at home and abroad? Send them into tips@thejournal.ie.