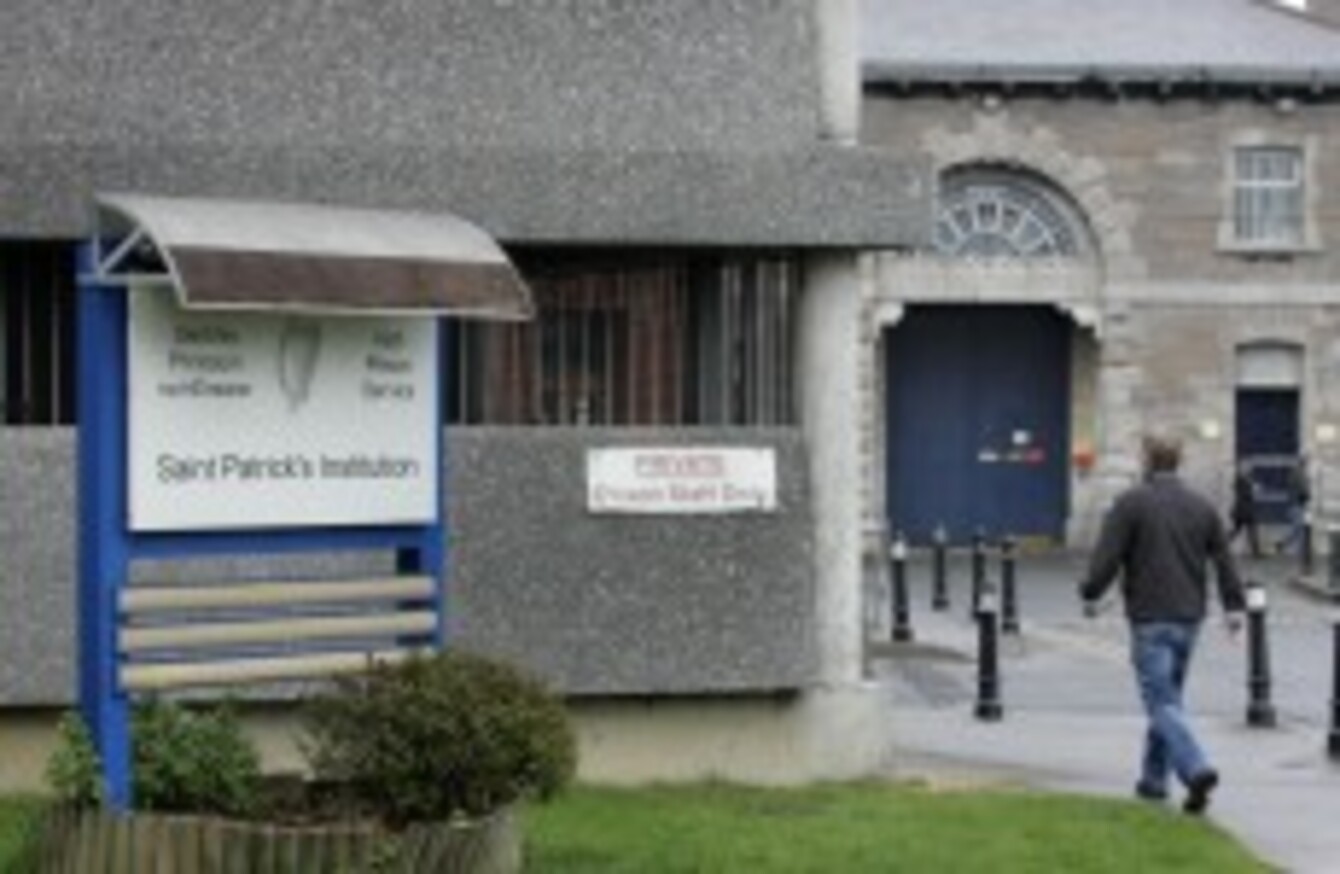 St Patrick's Institution
Image: Mark Stedman/Photocall Ireland
St Patrick's Institution
Image: Mark Stedman/Photocall Ireland
THE CLOSURE OF the country's biggest prison for young criminals has raised questions over what's going to happen to the current batch of inmates.
One prison officer who works in St Patrick's Institution said all the current problems at the facility will just be recreated when the inmates are moved to an adult prison in west Dublin.
In addition, a penal reform group raised questions over how long teenage criminals will be held in the prison with adults, which was repeatedly cited as one of the biggest problems at St Patrick's.
The closure of St Patrick's – which holds offenders aged 17 to 21 – under plans announced yesterday by Justice Minister Alan Shatter is an unexpected sideways step in the government's prison policy. Shatter and Children's Minister Frances Fitzgerald have repeatedly said that 17-year-old prisoners are to be taken out of the prison system altogether and moved to a detention centre in Oberstown, in a bid to divert them from criminality.
However yesterday's announcement means that 17-year-olds will instead be moved to Wheatfield Prison in Dublin, along with all other offenders from St Patrick's.
Minister Shatter insisted that the 17-year-olds will be held in a separate unit to the rest of the adult prison population in Wheatfield prison.
However a prison officer in St Patrick's who spoke on condition of anonymity was sceptical that the prison would have the facilities to cater for the juvenile offenders. He said moving the inmates to a new prison would not make "one iota of difference" in solving the problems at the facility.
"The same regime in Pat's is going to be recreated in Wheatfield," he said.
Wheatfield is an adult prison. Sending 17-year-olds out to an adult prison means during visits they'll be in the same area as adult prisoners. They'll have to provide a separate yard for the 17-year-olds, which means extra staff, and you can't [provide] separate recreation for lots of 17-year-olds, there won't be enough hours in the day.
Reports by the Inspector of Prisons have found conditions have improved significantly at St Patrick's in recent months but that a number of problems – including violence between rival gangs – persist, which led to the Inspector's recommendation to close the medium-security prison down for good.
The government has said it is committed to transferring all 17-year-old prisoners to the purpose-built facility in Oberstown in north county Dublin by May 2014, taking them out of the prison system. However concerns have been raised about the well-being of the teenagers if the deadline is not met.
"Legally, the only place they can be committed to at the moment is St Patrick's. That's been the case for years," Liam Herrick of the Irish Penal Reform Trust told TheJournal.ie.
"What's problematic is the lack of proper childcare procedures training, which was meant to be delivered in St Patrick's over the past year and it hasn't been. So what's changed?"
He said there needs to be more information from the Irish Prison Service and the Irish Youth Justice Service on how they're going to prepare to house 17-year-olds in Wheatfield – and how long they'll be kept there for.
Aside from the underage criminals, there have been calls for the 18-20 year old offenders to also be separated from older adults when they are moved to Wheatfield.
"While over recent decades St Patrick's unfortunately became known for the inadquacies of its facilities and regimes, the original concept of having a separate institution for young people under 21 was a recognition of the special needs of this age group within the prison population," said Eoin Carroll of the Jesuit Centre for Faith and Justice.
These young men should not be mixed in with the general population in Wheatfield Prison – or any other prison in the State.
"Given the vulnerability of young adults in prison to being drawn more deeply into criminal behaviour, but also their potential openness to being influenced to lead a life free of crime… there was a strong case for devising appropriate, age-specific provision for at least all those aged under 21, and perhaps those under 23."
Breaking point
The prison officer at St Patrick's said that resources at the institution were stretched to breaking point in part because of the Inspector of Prisons and the massive increase in the number of prisoners under protection.
#Open journalism No news is bad news Support The Journal

Your contributions will help us continue to deliver the stories that are important to you

Support us now
Prisoners who request to be put in protection because they are considered under threat or at risk are locked up for 23 hours a day. The number of prisoners request protection jumped dramatically – there were just 2 in protection in November 2011, but almost 70 in recent months.
"St Pat's got flooded with juveniles [in recent years]," the prison officer said. "Once the Inspector said anyone under 21 must be sent into Pat's, that week we took 25 [inmates] in on one day alone. We were getting prisoners sent up to us from Limerick and Cork, and that made the gang situation here much worse".
(Photo: Mark Stedman/Photocall Ireland)
The prison officer said that at times close to 50 per cent of inmates would be on protection which means they lose access to services like education, gym or the library.
"It was a nightmare but it was because of him [the Inspector] that they ended up on protection," he said.
He also said that many of the problems pointed out in previous reports have already been fixed.
"There's an answer for all the issues that he raises," he said. "We have bent over backwards and brought in everything he said."
"We brought in a High Support Unit for vulnerable patients who can't be put into the general population, we've done the training for the staff. We've done everything he wanted but now he's come in and said there's dirt behind the door. We can't clean the dirt behind the door."