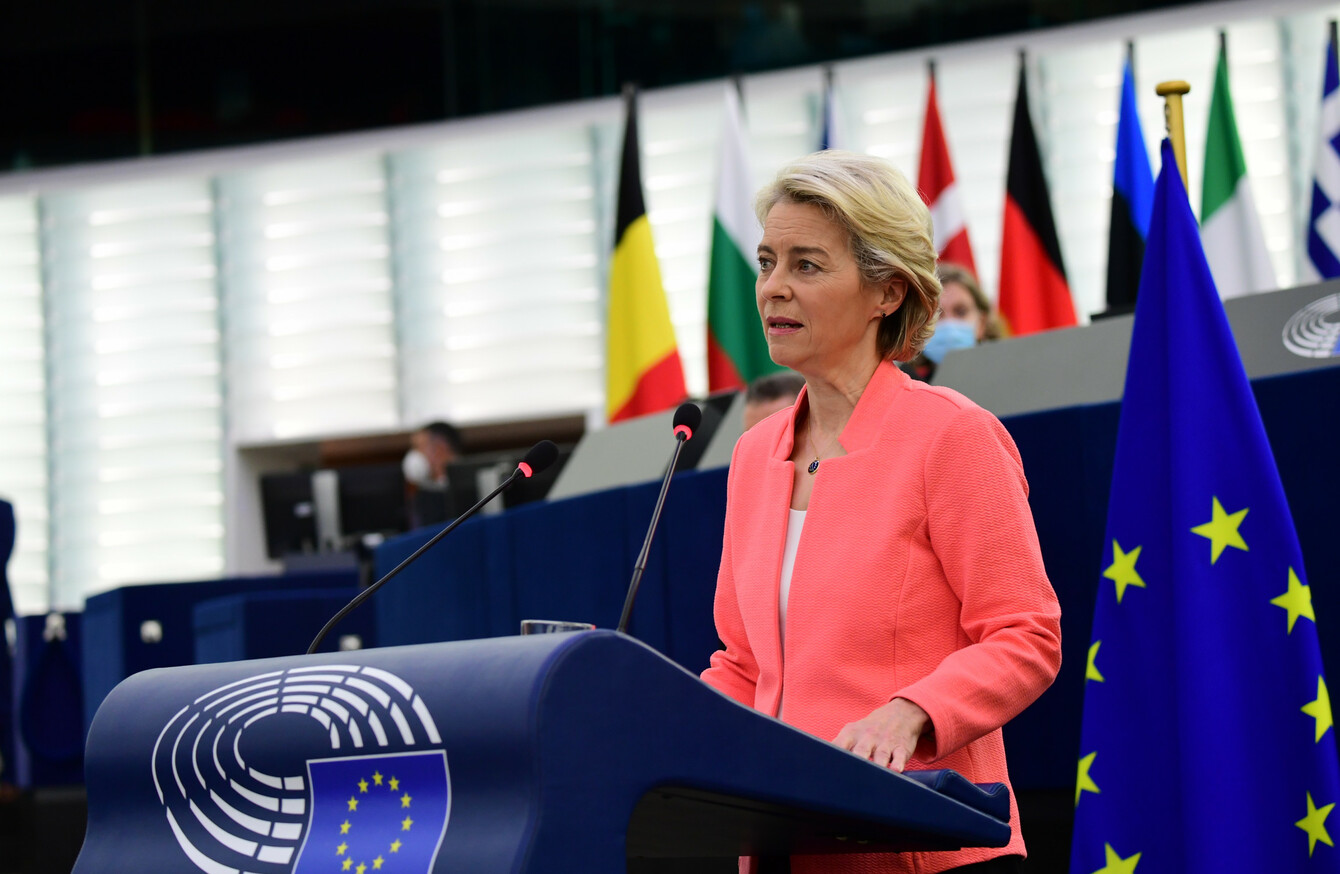 European Commission President Ursula von der Leyen delivering this morning's State of the Union address.
European Commission President Ursula von der Leyen delivering this morning's State of the Union address.
EUROPEAN COMMISSION PRESIDENT Ursula von der Leyen has said that the pace of global vaccination against Covid-19 must be ramped up in order to avoid "a pandemic of the non-vaccinated."
In her second State of the Union address to the European Parliament since she became president, she praised Europe's vaccine rollout, urged other nations to step up in the fight against climate change, pledged her support for the people of Afghanistan and announced a new policy for boost cyber security. 
Von der Leyen opened the address by reflecting on the past year under the Covid-19 pandemic, saying that the speed of events and the enormity of the challenges are sometimes difficult to grasp.
There is still much grief in our society as the pandemic lingers. There are hearts we can never mend, life stories we can never finish and time we can never give back to our young. We face new and enduring challenges in a world recovering – and fracturing – unevenly.
Looking ahead, she said that while the next year will be "another test of character", the EU must look to Europe's young people for inspiration. 
"Our Union will be stronger if it is more like our next generation: reflective, determined and caring.  Grounded in values and bold in action."
Health: Vaccines for Europe, vaccines for the developing world
Von der Leyen praised the EU's response to the Covid-19 pandemic over the last year, saying that Europe was "among the world leaders" in the fight against the virus.
The Commission president spoke of the EU's vaccination strategy, which aims to ultimately procure more than 700 million vaccines for EU member states, and to export more than 700 million doses to 130 countries.
Over 70% of Europe's adult population is now fully vaccinated. In Ireland, this figure currently stands at over 90%.
Earlier this year, the EU was criticised for delays in the procurement and subsequent rollout of Covid vaccines.
In April, the EU launched legal action against AstraZeneca after the pharmaceutical company cut its expected deliveries for the first quarter of the year, leading to a shortfall in supply for EU member states. The lawsuit was settled earlier this month.
Von der Leyen said that the next step is speeding up the rate of global vaccination.
Acknowledging that less than 1% of global doses have been administered in third world countries, she announced that the EU could pledge another 200 million doses to low and middle-income countries by the middle of next year on top of the 200 million already pledged by the end of 2021.
She also announced an investment of €1 billion to ramp up mRNA vaccination in Africa. This is an investment in solidarity, but also in global health.
The EU has secured an additional 1.8 billion vaccine doses for Europe, which von der Leyen said would be enough for when booster doses are needed.
"Let's do everything possible to ensure that this does not turn into a pandemic of the unvaccinated," she said.
Pandemic preparedness: Safeguarding ourselves against future health threats
Von der Leyen also announced that the Commission is working to create the European Health Emergency Preparedness and Response Authority (HERA), a new authority which will aim to prepare against future pandemics.
HERA will provide a permanent structure for risk modelling, global health surveillance, vaccine development and medical research.
"This will be a huge asset to deal with future health threats earlier and better," von der Leyen said.
She also praised the EU's post-pandemic economic recovery. 
While the speed of the recovery may vary across member states, she said that 19 countries are expected to be at pre-pandemic levels this year, with all member states projected to at least reach their pre-crisis economic level by the end of 2022.
Von der Leyen also confirmed that with NextGenerationEU, the EU will both invest "in short-term recovery and in long-term prosperity", pledging to address structural issues in Europe's economy.
Tackling climate change: More funding, stronger policies
On the topic of climate change, von der Leyen reflected on the fires and floods that marked this European summer and the report released last month by the UN's Intergovernmental Panel on Climate Change (IPCC), saying: "If we don't believe our own eyes, we have to follow the science."
The report leaves no doubt that climate change is only man-made, but since it is man-made, we can do something about it.
Presented in June, the European Green Deal outlined the EU's commitment to becoming climate neutral by 2050. It also set a target of reducing net greenhouse gas emissions by at least 55% by 2030, compared to 1990 levels.
Von der Leyen said that the EU will double its external funding for biodiversity, in particular for the most vulnerable countries, and proposed an additional €4 billion for climate finance until 2027.
But she also said that some countries leave a "gaping hole" towards reaching global climate targets, and called on the US and China to step up their efforts.
"It is time to deliver now. We have no time to wait any more," she said.
Humanitarian aid: Support for Afghanistan and a better migration framework
Moving on to global issues, von der Leyen said the world is entering a new era of hyper-competitiveness in which regional rivalries and major powers are "refocusing their attention towards each other".
Acknowledging the recent events in Afghanistan, she said that Europe stands by the Afghan people, in particular women and children, prosecutors, journalists and human rights defenders."
We must support them and we will coordinate all efforts with member states to bring them to safety.
She confirmed €100 million in increased aid for Afghanistan as part of a new Afghan Support Package that will be presented in the next few weeks.
However, she did not share how the EU will actually deliver this assistance given that the Taliban are now in full control of the country.
On migration, she said that unless the EU finds a common ground on how to manage it, it will be exploited.
She said that the New Pact on Migration and Asylum is a balanced and humane system that works for all member states.
The pact provides a common European framework for migration and asylum management. However, it has yet to be adopted and there is currently no unified refugee plan for all 27 member states.
Von der Leyen acknowledged that progress has been "painfully slow" in this regard and urged member states to speed up the process.
"I know that there are many strongly held views on migration in Europe, but I believe the common ground is not so far away," she said.
Cybersecurity: Strengthening our defences and protecting our data
On increasing cyber security, von der Leyen said disruptive technology had been "a great equaliser" in the way power can be used today by rogue states or non-state groups.
You no longer need armies and missiles to cause mass damage. You can paralyse industrial plants, city administrations and hospitals – all you need is your laptop. You can disrupt entire elections with a smartphone and an internet connection.
Ireland's Health Service Executive is still recovering from the cyber attack that occurred in May, when hackers encrypted private data from its IT systems and demanded a ransom to prevent its release, causing widespread disruption across the health service as a result. 
Today, von der Leyen announced a new European Cyber Defence Policy, which will include legislation on common standards under a new European Cyber Resilience Act.
"We should not just be satisfied to address the cyber threat but to become a leader in cyber security," she said.
Concluding her speech, von der Leyen welcomed Italian Paralympian Beatrice "Bebe" Vio to the European Parliament. 
Vio, a double amputee due to a bout of meningitis in childhood, was told her life was in danger in April, but won gold in fencing in Tokyo 119 days after she left the hospital. 
Von der Leyen said her story was "one of rising against all odds, of succeeding thanks to talent, tenacity and unrelenting positivity", and said that Europe could be inspired by her motto: "If it seems impossible, then it can be done."
"This was the spirit of Europe's founders and this is the spirit of Europe's next generation. So let's be inspired by Bebe and by all the young people who change our perception of the possible.
"Who show us that you can be what you want to be. And that you can achieve whatever you believe."
You can read the full text of European Commission President Ursula von der Leyen's speech, or watch the speech back, right here.