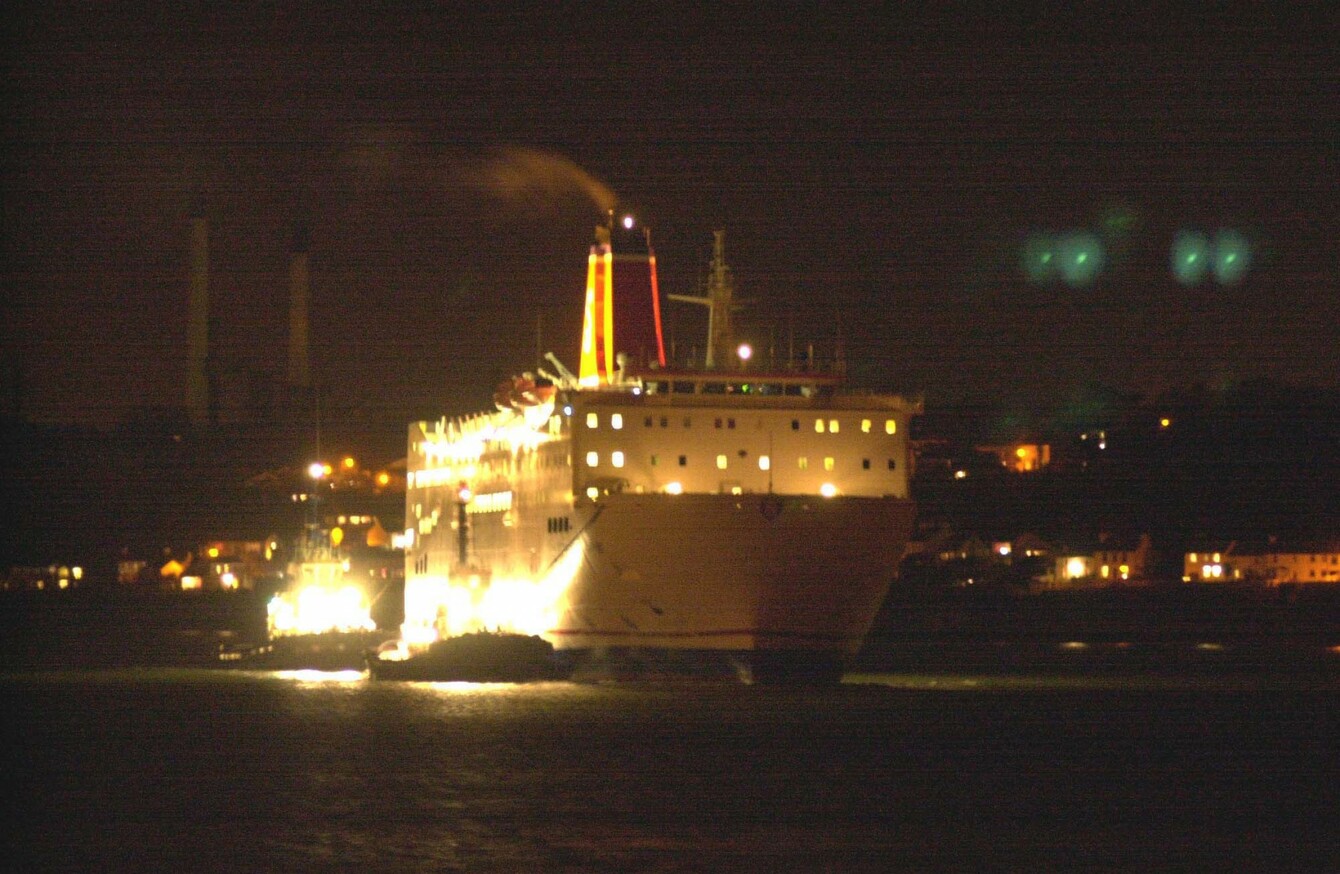 Stena Europe is tugged into Pembroke Dock in 2003, after engine failure.
Image: PA Archive/PA Images
Stena Europe is tugged into Pembroke Dock in 2003, after engine failure.
Image: PA Archive/PA Images
Updated 12.55pm
A STENA LINE FERRY that spent the night at sea after it was unable to dock, has finally berthed at Fishguard in Wales.
The ferry was carrying 146 people, including 87 passengers who have now disembarked.
According to a Stena Line spokesperson, the ferry docked at 11am today – almost 23 hours after the intended docking time.
The ferry left the Wexford port of Rosslare yesterday morning at 9am, but passengers were unable to disembark at the Welsh port due to Storm Angus, which has inundated the UK with heavy rain and high winds.
There are 19 separate flood alerts in place across Wales – including seven in south-west Wales, around Fishguard – and several train services have been suspended.
Earlier
The first attempt to dock at Fishguard was made at 12.30pm yesterday, but to no avail. A second attempt was made at 3.30pm, "but due to extreme weather conditions this was unsuccessful".
A Stena Line spokesperson told TheJournal.ie:
"The health and safety of passengers and crew is of paramount importance to Stena Line, therefore we spent a comfortable night onboard sheltering at Cardigan Bay.
We are sailing south now and as soon as berthing parameters are safe we aim to have our passengers on their way by 11am this morning.
Separately, Stena spokeswoman Diane Poole told RTÉ's Morning Ireland:
"The latest news is that the captain has departed for Fishguard a little while ago, and we will assess the situation around 10am this morning again as he approaches Fishguard.
"The wind is abating, which is great news, so we may be able to dock earlier than we originally anticipated.
"The passengers are actually are in great spirits this morning, considering they've spent almost 24 hours on board. Spirits are good, they're very relaxed, although obviously anxious to get home, or to the destination they're going to, which I'm sure we would all be at this stage."
The ferry tried to dock twice yesterday afternoon, Poole added.
"It did try to dock twice, the weather was just horrendous, the winds were just totally against our docking procedure, so the captain.
"Safety is of paramount importance to us, to our passengers and our crew, and the captain would not take any risk whatsoever. So he made the best judgment call, [and] decided to shelter off Cardigan.
"[The weather] certainly has improved," she said, adding that the company has a compensation policy in place. "All the passengers will be well looked after."
Stena's Dublin-Holyhead sailings are also disrupted today due to the inclement weather.
With reporting from Gráinne Ní Aodha