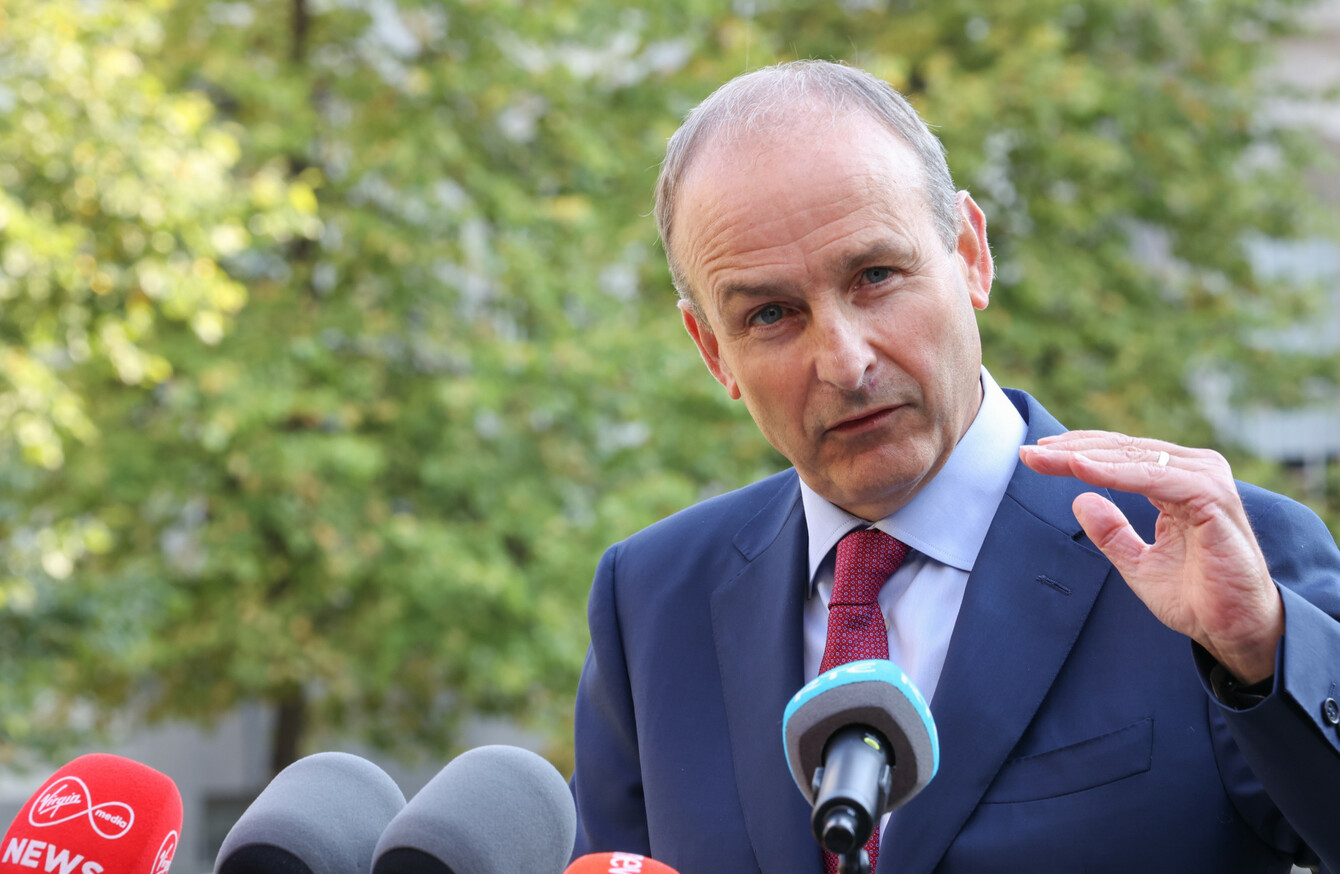 Taoiseach Micheál Martin
Image: Sam Boal via RollingNews.ie
Taoiseach Micheál Martin
Image: Sam Boal via RollingNews.ie
Updated Sep 1st 2021, 2:10 PM
TAOISEACH MICHEÁL MARTIN has said an "evaluation" will be carried out into the handling of the Covid-19 pandemic in Ireland.
Speaking to RTÉ's News at One, Martin said "the pandemic isn't over" and it is his "preference that we manage the pandemic first with all hands on deck". 
"But, without question, we have to evaluate how we performed and learned lessons to equip us for the next emergency, be it a pandemic or whatever," he said. 
The Taoiseach explained that he uses the world "evaluate" because the word "inquiry" sometimes "conveys a sense that we're able to get people".
He added that he would "hate to think" in future emergencies "that we'd hamstring people on the basis of that they wouldn't take action and they're worried about an inquiry coming down the line". 
Yesterday, Martin announced the final phased easing of restrictions, with 6 September, 20 September and 22 October the three key dates. 
Addressing the nation yesterday evening, he said the "time is now right to begin to move from regulation and widespread restrictions on people's personal freedom to an approach primarily defined by public health advice, personal judgement and responsibility". 
Explaining why the government has made the decision to move from regulation and widespread restrictions to allowing people to use personal judgement, Martin told RTÉ News at One that the vaccination rollout has been key. 
"We've nearly completed the vaccination programme in terms of its current phase. We're close to 90%," he said. 
Watch: @RTENewsAtOne interview with Taoiseach @MichealMartinTD following last night's announcement that most Covid-19 restrictions will be lifted by 22 October | Read more: https://t.co/MuQbOHc90W https://t.co/aA2evSq19M

— RTÉ News (@rtenews) September 1, 2021
The Taoiseach said the Cabinet Covid-19 sub-committee has been told it is unlikely the vaccination rates will rise much further. 
"In other words, we will be maxing out in terms of the protection that will be available," he said. 
"So there does come a time when you have to balance and be proportionate in respect of how we organise society." 
Amárach Research carried out on behalf of the government indicates that around one in five people would like the Government to reopen slower, one in five would like the Government to reopen faster, and three in five "believe the pace is about right".
NPHET letter
In a letter to Minister for Health Stephen Donnelly on 25 August, published online today, Chief Medical Officer Dr Tony Holohan warned that Ireland could see a peak infection level this month of between 3,000 and 5,000 cases per day. 
Dr Holohan said this could result in a later peak in healthcare demand with 750 to 1,300 people in hospital and 150 to 250 people requiring critical care. 
He warned that "we can expect the situation to get worse before we begin to see an improvement". 
Dr Holohan outlined in the letter "in the coming weeks, we will attain a level of vaccine coverage within the population which, together with a number of continued protective measures … will facilitate a transition in our approach to the public health management of Covid-19 in Ireland". 
He wrote: "Accordingly, it is the view of NPHET that it may be appropriate in those circumstances that the public health management of Covid-19 in Ireland transitions, in broad terms, from a focus on regulation and population wide restrictions to a focus on public health advice and personal judgement and personal protective behaviours."
'Not without risk'  
Earlier today, Donnelly said that the plan to reopen the final sectors closed for months due to the pandemic "is cautious", adding "it's a good plan, but it's not without risk".
#Open journalism No news is bad news Support The Journal

Your contributions will help us continue to deliver the stories that are important to you

Support us now
Donnelly told RTÉ's Morning Ireland that the testing and tracing system has been "excellent" and additional capacity has been added to the hospital sector. But he also pointed out to Ireland's high incidence rate, and the "very serious spikes" in Northern Ireland, Scotland and Wales.
"We have to be careful," Donnelly said. "What we're trying to do is find a cautious path."
'It's not a public health recommendation' - Minister for Health @DonnellyStephen says the decision to return public transport to full capacity was taken by Cabinet due to the 'pressure' capacity restrictions were placing on the transport system | More: https://t.co/HI6W714gf7 pic.twitter.com/UKfV2nCngK

— RTÉ News (@rtenews) September 1, 2021
It was confirmed yesterday that live indoor music at weddings, religious ceremonies and a phased return to the office are among the measures to be eased over the coming weeks. Today, full capacity on public transport resumed.
When asked why public transport was resuming at full capacity at this stage, Donnelly said: "It's not a public health recommendation, it's something that Minister [for Transport Eamon] Ryan was very keen that it could be facilitated."
He added that he was on board with the decision, and he wasn't sure if NPHET had given official advice on it.
NPHET have advised that at least 90% of people aged 16 and older should be fully vaccinated by 22 October to proceed with that phase of reopening.
When asked whether lockdowns were over, Donnelly said "let's hope so", adding that he was particularly conscious of cases in Scotland, Wales and Northern Ireland.
With reporting by Hayley Halpin